A tale of two cities
Graffiti artists are up in arms over a proposal to tear down 5Pointz, a building in Queens, New York, "taggers" are legally allowed to paint, for luxury apartments
Graffiti artists are used to escaping cops, jumping from roofs, and dodging trains, but New York painters who turned an abandoned factory into a street art legend now face their real nemesis: gentrification.
5Pointz in the borough of Queens is one of the city's most arresting sights — a huge building plastered in brilliantly colored, skillfully executed graffiti works that have won international acclaim.
Taggers, as they're known, are invited to paint legally at 5Pointz, watched by an audience of graffiti cognoscenti, tourists and passengers on the number 7 subway train rattling every few minutes along an overhead line.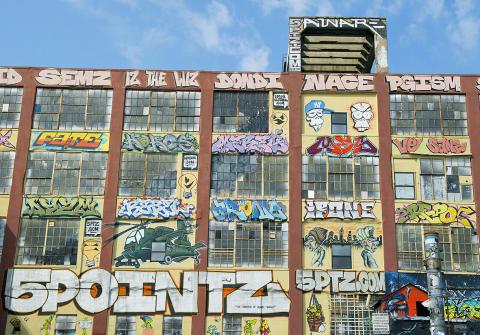 Views of the outdoor graffiti art exhibit 5Pointz in New York. The building is considered to be the world's premiere graffiti mecca, where aerosol artists from around the globe paint on the walls of a 200,000-square-foot factory building.
Photo: AFP
But after two decades of brightening the drab neighborhood, 5Pointz is slated to vanish in early 2013, replaced by New York's latest luxury, high-rise apartment buildings.
Site owner David Wolkoff, who long supported the graffiti free-for-all, says progress is unstoppable, and many will welcome exchanging a graffiti-encrusted hulk for shiny residential towers.
But 5Pointz's disappearance will mark the end of a unique New York experiment.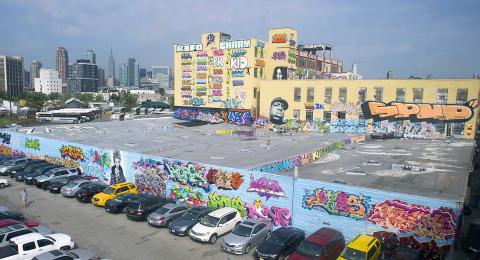 Views of the outdoor graffiti art exhibit 5Pointz in New York. The building is considered to be the world's premiere graffiti mecca, where aerosol artists from around the globe paint on the walls of a 200,000-square-foot factory building.
Photo: AFP
"It's one of the most fabulous places in the world," said Banga, a well-known French street artist, sweat pouring off his arms as he sprayed a complicated piece on one of the few remaining blank patches of wall.
"It's the most prestigious place. I've never seen anything like it," he said. "I get a feeling of freedom and people can appreciate my work. We're harming no one."
Wolkoff says that after nearly 20 years of helping street artists, he wants them to move on.
"We believe they enlivened the building and gave it great character. We've really enjoyed having them," he said.
However, "everything progresses. The city is progressing ... As a businessman it's an opportune time to take advantage of that growth."
That will mean two towers of more than 40 floors each and a total of nearly a million square feet of developed space, with apartments getting a stunning view of Manhattan's skyscrapers.
"The building will have a tremendous amount of amenities: indoor pool, big gym, yoga room, spinning rooms, media rooms, billiard rooms, party rooms and outdoor space for the tenants to barbecue or hang out," Wolkoff said.
With only final approval pending and plans to start demolition before next summer, there seems little chance of 5Pointz getting a reprieve.
Graffiti sell out?
Wolkoff promises to retain echoes of the graffiti haven, with gallery space and "art walls" in a pedestrian area.
But the wild style days are over.
"It can't be all, it can't be 100 percent of the building, it can't be two 47-storey towers with graffiti all over it," he said.
Graffiti is an inherently uncertain, temporal business, so, in a sense, the death of 5Pointz might be expected.
But artists say the building has transcended its raw street roots, achieving the status of a bona fide gallery — or even museum — for a popular art form.
"At the end of the day, this is a place where people come for cultural enrichment," said Andre Pinard, a market researcher who follows the graffiti world.
Perusing the walls, a visitor will find works by graffiti luminaries like Stay High 149, Cope2, and Tats Cru, some of them coming from as far away as Brazil and Japan.
"There's a sense of history," a visitor, Jay Diaz, 31, said. "I wish (the building) could stay up. It's like any gallery."
While regular New York graffiti artists — many would call them vandals — risk fines and even jail every time they spray walls, the denizens of 5Pointz enjoy a more comfortable existence.
There's a rebel vibe. "Dear ARTWORLD, when we inherit the EARTH, YOU aren't invited. Love, MY Generation," reads one painted slogan.
But the tour groups, corporate team building opportunities, and sales of graffiti-emblazoned baseball caps and other merchandizing, tell another story. Graffiti has become a business.
Banga remembers the thrill of painting illegally — "the adrenalin, the fear of dying all the time" — but at 42 and with children, says, "I don't do that anymore."
"I sell canvasses," he said.
Still, for young street artists, the more elemental lure of graffiti will survive 5Pointz's disappearance.
"I remember first time I was on a roof I was scared. I cried," a young man who said his tag was Peal GI, told AFP. "But you get a rush. You're climbing, you're breaking the law. It's wild."
Comments will be moderated. Keep comments relevant to the article. Remarks containing abusive and obscene language, personal attacks of any kind or promotion will be removed and the user banned. Final decision will be at the discretion of the Taipei Times.