Al fresco art
Exposure, an expat-run outdoor art fair, takes place tomorrow with artists and musicians showcasing their work at Taipei Artist Village
Shawn May and Felicia Rodrigues have a plan to liven up a Saturday afternoon in Taipei. The expat artists are holding Exposure, an outdoor art fair that takes place tomorrow in the courtyard of Taipei Artist Village (台北國際藝術村百里廳).
May, who has lived in Taiwan for two and a half years, sums up Exposure as the perfect day of leisure. "What's better than great art, live music, excellent food and a day drinking in the sun?" he told the Taipei Times.
May and Rodrigues initially started Exposure as a way to showcase their work, as well as that of like-minded artists. May specializes in gig posters and T-shirt design. Rodrigues says she left Toronto for Taiwan three and a half years ago because she was looking for "inner growth and experience."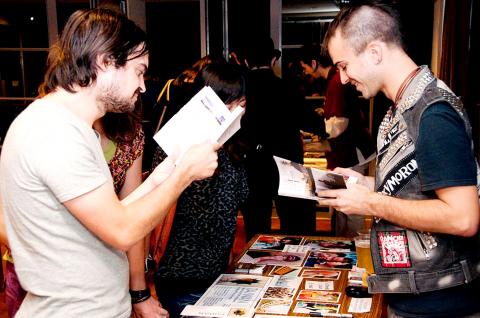 Writer Nick Kembel shows customers his books at Exposure 2.
Photo courtesy of Felicia Rodrigues
"When I first came to Taiwan, I really didn't know what was going on in the art scene," she said. "But since moving here, my art has blossomed and I'm quite impressed with what Taiwan has brought out of me."
The pair held the first Exposure in June last year to rave reviews, which led to a second one in October. The event also features live music (tomorrow there will be four acoustic artists). They met only shortly before the first event, but quickly clicked as a team.
"We split the duties to get everything ready," May said. "Felicia is fantastic in dealing with all the artists. She handles getting all of their deposits [for the venue]. I deal with the venue and making sure we get all the right equipment lined up. I'm the nuts-and-bolts guy; she's the people person."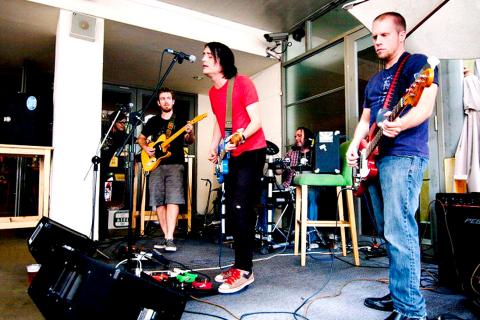 Windy City 4 rocks Exposure 2.
Photo courtesy of Felicia Rodrigues
The DIY effort behind the event has been personally gratifying for Rodrigues.
"Many artists, myself included, had never done an art show or gallery, so there were many questions to answer," she said. "As I was checking out the artists' profiles, I was truly amazed and inspired with everyone's skills. I got to meet a lot of amazing people that had interesting thoughts and ideas. Bringing together 22 artists is a little nerve-racking and hard work, but worth it in the end. It makes me happy to see that the reason Exposure was created is reality."
Publication Notes
Performance notes
WHAT: Exposure 3 WHEN: Tomorrow from noon until 5pm. Acoustic music with Stu Wilson, Nick Brown, Mark Davil and Arman Torus begins at 1pm WHERE: Taipei Artist Village (台北國際藝術村), 7 Beiping E Rd, Taipei City (台北市北平東路7號), tel: (02) 3393-7377 ADMISSION: Free ON THE NET: Search for Taiwan Artists Collective on Facebook
Comments will be moderated. Keep comments relevant to the article. Remarks containing abusive and obscene language, personal attacks of any kind or promotion will be removed and the user banned. Final decision will be at the discretion of the Taipei Times.