Pop Stop
This week's gossip pages have been filled with matrimonial lies, bickering action heroes and Lady Gaga's little monsters. First up, television hostess and actress Chen Mei-fen (陳美鳳) made headlines when she revealed that she and her husband are heading for a divorce. The news came as a shock as very few people knew the couple were married in the first place.
Dubbed the country's "most beautiful obasan" (最美麗的歐巴桑) — obasan is a Japanese word often used to refer to an older woman — the 55-year-old Chen made it public earlier this month that she had split from her lover, known as David by local media, because of the existence of a xiaosan (小三), or "other woman."
In response to the star's announcement, David issued a tell-all statement on Friday last week, revealing that he and Chen have been married for nine years and calling on his wife, who is currently refusing to communicate with him, to "peacefully negotiate a divorce settlement and start divorce proceedings." Later, when questioned by the Apple Daily, David said he wanted to save the marriage.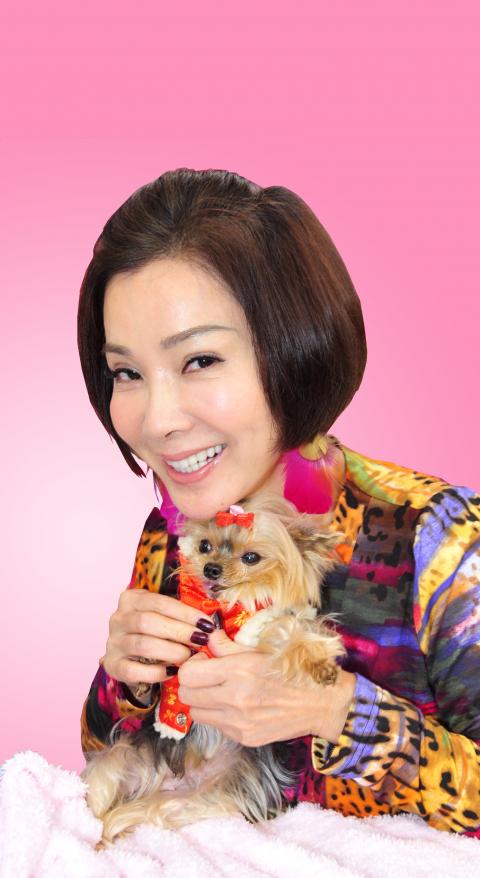 Breaking up is hard to do, especially if you're Chen Mei-fen.
Photo: Taipei Times
Chen apologized to her fans on Facebook for concealing the marriage, and has reportedly decided to implement a cooling off period instead of a legal separation. Meanwhile, the media are already hard at work figuring out how much a divorce will cost Chen, who has an estimated personal fortune exceeding NT$500 million. She is said to have been supporting not only David, but also his children from two previous marriages.
While Chen's domestic affairs sound like an epic divorce case in the making, the curtain on the tired soap opera separation between TV entertainer Frankie Kao (高凌風) and his wife Chin Yu-chuang (金友莊) looks likely to finally fall.
Devoted celebrity gossip fans might recall the high-profile announcement Kao made in front of assembled media on his 62nd birthday last month, when he claimed that Chin had agreed to "maintain the status quo" (維持現狀) status of their marriage.
The next installment of this turgid soap opera unfolded last week when Kao held a press conference to claim he had evidence of Chin's dalliance with another man. He then declared his undying faith to his wife. Chin, who is 20 years Kao's junior, hit back by announcing she and Kao had already divorced last year. Yes, you heard it right the first time, divorced.
It turns out Pop Stop was correct when it suspected in an earlier report that the Kao-Chin affair smelled of a drama specially staged to whip up a media frenzy. But we're not going to gloat.
On the music front, advance tickets for the Taipei leg of Lady Gaga's Born This Way Ball world tour went on sale at 9am on Saturday last week at the National Taiwan University Sports Center (台大體育館) in Taipei. By 5pm, 90 percent of the tickets were sold, and organizer Kuang Hong Arts (寬宏藝術) had to deploy armored carriers to transport a box office haul of NT$100 million in cash.
But not every little monster, a term used to describe Lady Gaga's fans, is happy. Unable to afford the hefty ticket prices, which go up to NT$12,800, a group of Gaga devotees posted a petition on the pop diva's fan site at littlemonsters.com, pleading for help from their idol. Stay tuned for Lady Gaga's response. She will perform at the Taipei World Trade Center Nangang Exhibition Hall (台北世界貿易中心南港展覽館) on May 17.
In other pop diva-related news, Shu Qi (舒淇) has taken a blow for sticking up for her friend Donnie Yen (甄子丹). The Hong Kong martial arts superstar recently quarreled with Chinese action actor Vincent Chiu (趙文卓), who was to co-star in Yen's latest kung fu flick Special Identity (特殊身份). Chiu was subsequently ousted from the production.
Shu voiced her support for Yen in a Weibo (微博) post. The star's act of friendship for the Hong Kong actor reportedly irked some Chinese netizens who decided to unearth and circulate nude photographs of Shu from 1996, when the then unknown starlet featured in a soft-core skin flick. Seemingly unwilling to engage in this type of online brouhaha, Shu removed all of her Weibo micro blog entries on Monday.
Comments will be moderated. Keep comments relevant to the article. Remarks containing abusive and obscene language, personal attacks of any kind or promotion will be removed and the user banned. Final decision will be at the discretion of the Taipei Times.