Art exhibition listings
The Taipei Fine Arts Museum will open two retrospective exhibitions this weekend. Exploring Visual Language (縱探語境) displays the work of veteran artist Chen Shu-ming (陳世明). The exhibit covers Chen's three-decade career and includes early pencil drawings, mid-period geometric abstract paintings and his most recent photographs, which transform cityscapes and landscapes into dense, kaleidoscopic images. "Chen's paintings are a visual language reflecting his artistic philosophy that has arisen from his spiritual cultivation," according to TFAM's press blurb. The artist will deliver a lecture about his work on April 7 from 2:30pm to 4:30pm. The lecture will be in Chinese. A Field in the Heart (一方心田) brings together the work of Huang Ming-chang (黃銘昌) and covers three series: Gazing Out (遠眺), Paddyfield (水稻田) and Gazing at the Sea (海看). As the title of each series suggests, Huang's realist paintings depict landscapes and seascapes. A number of works from when he studied in Paris will also be on view. Curator Jason Wang (王嘉驥) will give a lecture on Huang's work on April 21, from 2:30pm to 4:30pm.
■ Taipei Fine Arts Museum (TFAM, 台北市立美術館), 181, Zhongshan N Rd Sec 3, Taipei City (台北市中山北路三段181號), tel: (02) 2595-7656. Open Tuesdays to Sundays from 9:30am to 5:30pm and until 8:30pm on Saturdays. Admission: NT$30
■ Both exhibits begin on Saturday. Until June 17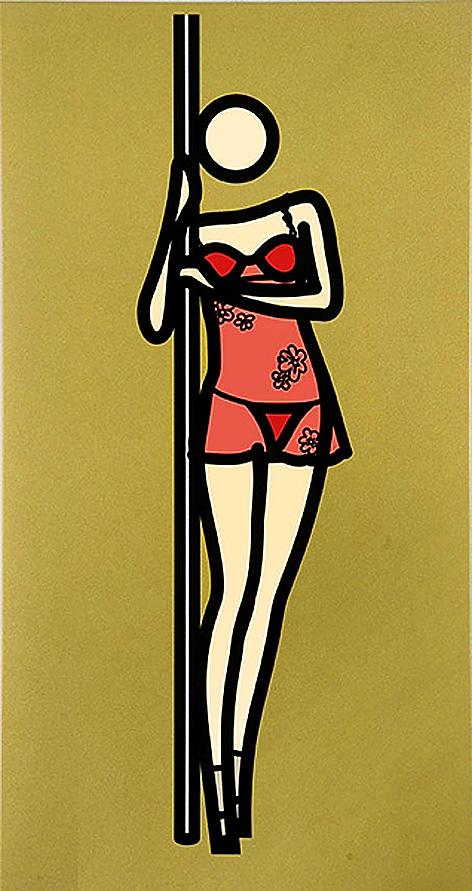 Julian Opie, This is Shahnoza 03 (2006).
Photo courtesy of Sakshi Gallery
Employing the visual language of billboard signs, portraiture, Japanese woodblock prints and sculpture, London-based artist Julian Opie's sculptural paintings offer a unique approach to representational art and how images are perceived and understood. Sakshi Gallery will display 10 of Opie's portraits and landscapes.
■ Sakshi Gallery (夏可喜當代藝術), 33 Yitong St, Taipei City (台北市伊通街33號), tel: (02) 2516-5386. Open Tuesdays to Saturdays from 1:30pm to 9:30pm, Sundays from 1:30pm to 7:30pm
■ Begins Saturday. Until May 19

Chung Chen-sun, Women (2003).
Photo courtesy of NMH
Japan-born, Canada-based Taiwanese artist Lo Shyh-charng (羅世長) will hold a solo show at 99 Degree Art Center starting this weekend. Lo's oil-on-canvas landscape paintings use light and shading as a means of creating an emotional dialogue with nature and are rendered in a neo-impressionist visual language reminiscent of Georges Seurat.
■ 99 Degrees Art Center (99°藝術中心), 5F, 259, Dunhua S Rd Sec 1, Taipei City (台北市敦化南路一段259號5樓), tel: (02) 2700-3099. Open Tuesdays to Sundays from 11am to 6:30pm
■ Opening reception on Saturday at 3pm. Until April 8
Chinese artist Zhang Qikai (張琪凱) examines the contradictions of China's recent history in Insights (洞見), a new series of conceptual works. Zhang, more widely known for his surrealist paintings of China's iconic panda bears overcoming all manner of obstacles, here presents sculptural installations that draw the viewer's attention to the conflict between freedom and power and tradition and the modern.
■ Galerie Grand Siecle (新苑藝術), 17, Alley 51, Ln 12, Bade Rd Sec 3, Taipei City (台北市八德路三段12巷51弄17號), tel: (02) 2578-5630. Open Tuesdays to Sundays from 1pm to 6pm
■ Until April 1
Time Traveling Through the Arts (薰風藝遊) is a group exhibit of ink paintings depicting humans and animals by Li Chi-mao (李奇茂) and Chung Chen-sun (鍾正山).
■ National Museum of History (國立歷史博物館), 49 Nanhai Rd, Taipei City (台北市南海路49號), tel: (02) 2361-0270. Open Tuesdays to Sundays from 10am to 6pm. General admission: NT$30
■ Until April 15
Canal Is Formed When Water Comes (水到渠成) explores China's history of water management policies through archival and cartographical materials. Presented in three sections — Famous Rivers and Lakes (名川巨泊), Measures in River Regulation (治河對策) and Famous Governors in River Regulation (治河名臣) — the exhibit seeks to give viewers a glimpse of the evolution of canal building and land reform during the Qing Dynasty.
■ National Palace Museum (國立故宮博物院), 221, Zhishan Rd Sec 2, Taipei City (台北市至善路二段221號), tel: (02) 8692-5588 X2312 (10:30am to 6:30pm). Open daily from 9am to 5pm. General admission: NT$160
■ Until Sept. 16
Call for submissions
From now until May 20, Taipei Artist Village (台北國際藝術村百里廳) is accepting submissions for its 2013 artist-in-residence program at one of its two locations: Taipei Artist Village and Treasure Hill Artist Village. Taipei Artist Village is also accepting exhibition proposals for next year. Complete details and submission guidelines can be downloaded from the Taipei Artist Village Web site: www.artistvillage.org (Chinese and English). Applications submitted by e-mail will not be accepted.
■ For inquiries, send an e-mail to air@artistvillage.org. Tel: (02) 3393-7377 X208
Comments will be moderated. Keep comments relevant to the article. Remarks containing abusive and obscene language, personal attacks of any kind or promotion will be removed and the user banned. Final decision will be at the discretion of the Taipei Times.