Book review: WATERGATE
Thomas Mallon's novel is so seamlessly written it's difficult to tell where reality ends and the fiction begins
In a stealth bull's-eye of a political novel, Thomas Mallon invests the Watergate affair with all the glitter, glamour, suave grace and subtlety that it doesn't often get. His cleverly counterintuitive Watergate even has the name-dropping panache of a Hollywood tell-all. In one typically well-waltzed episode the guests at an Oct. 20, 1973, birthday party for columnist Art Buchwald include the Washington Post editor, Ben Bradlee, "with an attractive, sharp-eyed girlfriend, apparently a reporter"; "Lyndon's little poodle, Jack Valenti — now a miniature, silver-haired version of the MGM lion, cheerleading the movie business on"; ancient Alice Roosevelt Longworth, the most caustic party guest in town; and network television newscaster Roger Mudd.
Only when a loudspeaker begins paging Mudd does it become apparent that this is that Saturday night: the night of former US president Richard M. Nixon's executive dismissal of Archibald Cox, the Watergate special prosecutor; Elliot Richardson, the attorney general; and William Ruckelshaus, the deputy attorney general. These events, which earned the sobriquet "Saturday Night Massacre," happen almost casually in the midst of Mallon's fine, boisterous historical tableau.
How accurate will hair splitters find this episode? "The text contains deviations from fact that some readers will regard as unpardonable and others will deem unworthy of notice," Mallon writes blithely in an afterword. So readers who deem the book's liberties too free can stick to the tonnage of Watergate memoirs, transcripts, investigative reports and marginalia. More fun-loving types can take Watergate as lively, witty drama and give Mallon a pass on the grueling fact-checking his story might otherwise warrant.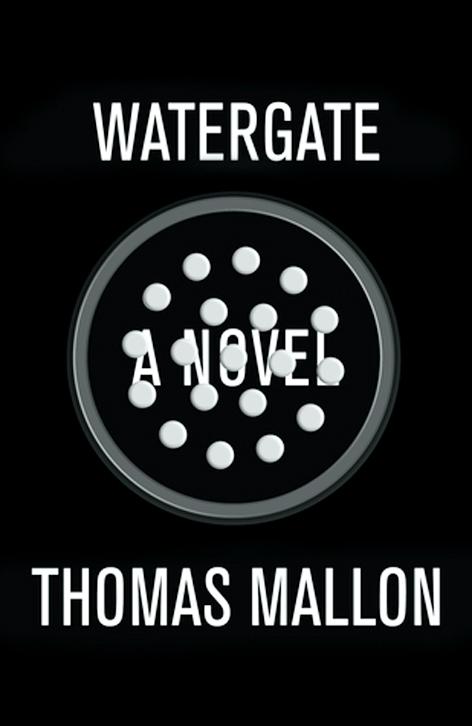 WATERGATE, by Thomas Mallon
Mallon, the director of the creative writing program at George Washington University, recently talked to the student newspaper there about his research process. At a certain point he began investigating on a need-to-know basis for fear of bogging down in details and giving Watergate the feel of a dissertation.
He also felt free to make things up, so a few characters — like an old flame of the first lady, Pat Nixon — are clearly inventions. But most of the time the book is laced together so seamlessly that it's impossible to be sure where the reality leaves off and the fabricating begins.
A couple of tactical conceits work very well here. One is Mallon's decision to zero in on Watergate's most colorful characters and give each of them a distinct point of view. Most of them are women: Even when the book follows the worried thoughts of former US attorney general John Mitchell, it offers a sad but riotous depiction of his loose-cannon wife, Martha, to whom he is still deeply, romantically attached.
But the book's uncontested star is Longworth, who remembers the Teapot Dome scandal and certainly knows how to put this one in perspective, and who is never at a loss for a scorching one-liner. "I believe she's to be released back into the wild after the benediction," she says of singer Ethel Merman. The gentleness with which Longworth makes Nixon a confidant and tries to help him are especially touching, given what a she-demon she is to everyone else.
Mallon also reanimates Rose Mary Woods, the president's fiercely loyal secretary, whose way with a tape recorder became the centerpiece of the Watergate investigation. Here she's very human indeed: tipsily fun loving, easily flattered and sharply opinionated about other White House personnel. (She hates H.R. Haldeman but loves the macho good cheer of Alexander Haig.) Dorothy Hunt, the tough, stubborn wife of the ex-CIA man E. Howard Hunt, is also made three-dimensional, and her husband's pain over her death becomes palpable on the page. Refreshing note: The Watergate burglars themselves, so often a source of confusion in unraveling the story's criminal aspects, are mere walk-ons to Mallon. G. Gordon Liddy, a character who could wear out his welcome in no time, is just the butt of occasional jokes.
The other smart tactic on display in Watergate is Mallon's understated way of working vital information into his account. Important events — like the discovery that Woods somehow erased part of a crucial White House recording — are mentioned almost in passing. ("The story of the blank stretch had broken yesterday," the book simply says.)
Veteran Watergate watchers will also notice Mallon's unusual way of dealing with the press: He ignores it. There is a reference to "Bernstein and Woodward," who were not a brand name to the White House then. And there is an apt jibe at broadcast journalists for using the word "unprecedented" until it "seemed a synonym for 'routine."' In Watergate the media are most alive in the pipe dreams of those characters who imagine the laurels that await them after this little historical blip has run its course. The most wickedly drawn is Richardson, aka "the Former Everything" because of all the cabinet-level posts he has held. It is he who, for all his patrician bonhomie and very false modesty, harbors the most vanity and ambition in this story. Mallon mocks him mercilessly, never more so than when Richardson is indulging his habit of painting bird watercolors while Rome, figuratively, burns.
Richardson is on the extreme other side of the sympathy scale from Fred LaRue, the moneyman from Mississippi who served as deputy director of the infamous Committee for the Re-Election of the President. LaRue is made to seem a hapless dupe caught up in scandal on a scale he could never have imagined. An envelope of his, labeled "moot," serves as the "Rosebud" of Mallon's story.
Then of course there's Nixon himself. Mallon wastes no time on the familiar caricatures of a sloshed, foul-mouthed chief executive and his wooden wife. His Nixons are an affectionate couple, surprisingly relaxed and intimate after three decades of marriage. And the president's public awkwardness masks something more human.
"Nixon's self-pity was a mere overlay, a kind of plastic transparency protecting the authentic anguish visible beneath," Mallon writes. Even a cap on his teeth poignantly appears to be "infinitesimally whiter, and curiously more sincere, than the rest of his smile."
Publication Notes
Publication Notes
WATERGATE
By Thomas Mallon
432 pages
Pantheon Books
Hardcover: US
Comments will be moderated. Keep comments relevant to the article. Remarks containing abusive and obscene language, personal attacks of any kind or promotion will be removed and the user banned. Final decision will be at the discretion of the Taipei Times.