Pop Stop
Some celebrities are getting off to a more auspicious start to the Year of the Dragon than others.
S.H.E singer Ella Chen (陳嘉樺) began the lunar year with a marriage announcement. Chen plans to tie the knot with her Malaysian beau Alvin Lai (賴斯翔), a cosmetics executive, on May 5. She broke the news on her micro blog by posting a photo of her and Lai holding hands in front of a wooden plaque that read "love's beautiful destiny" (良緣).
According to our sister paper, the Liberty Times, Chen and Lai's families met for the first time over the Lunar New Year holiday at Chen's home in Pingtung, which was described as a "joyous" occasion. The wedding will be held in Taiwan, according to Chen's management, which said the couple are considering whether to hold a second banquet in Malaysia.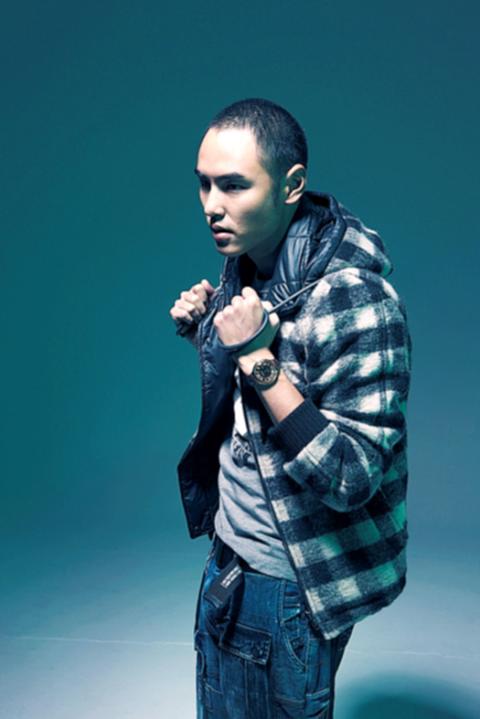 It's all quiet on the central front for Ethan Ruan.
Photo: Taipei times
For Andy Lau (劉德華), the coming year will bring a baby girl. The 50-year-old Hong Kong superstar, who announced at the end of last year that his wife Carol Chu (朱麗倩) was pregnant, told fans at a meet-and-greet in Hong Kong that they are expecting a "little dragon girl," due in June. Sharing such news is a turnaround for the famously secretive Lau, who previously tried to hide his marriage to Chu.
In other celebrity news, actor Ethan Ruan (阮經天) is finally doing his military service. The 29-year-old star of the hit gangster flick Monga (艋舺) has been one of a number of male entertainers who have delayed their compulsory service by remaining enrolled in college. This would have been Ruan's eighth year as a "student" at the Hsing Wu Institute of Technology (醒吾科技學院).
Ruan, who is disqualified from joining the military because he has flat feet, will perform alternative service. The actor fended off accusations that he had been let off lightly because of his fame, telling reporters waiting outside the door of his Taipei home earlier this week that his condition was determined during high school, well before he became an actor.
But the Apple Daily, among other news gatherers, naturally had its doubts and dutifully joined the paparazzi circus that trailed Ruan during his last few days in Taipei and followed him all the way to Taichung's Chenggong Ling (成功嶺) training camp where he was whisked away in a van to report for duty.
The press got in a huff over Ruan's "preferential treatment." Why did he get to skip the standard procedure of having his temperature taken upon entering the training grounds? And why was his private car allowed past the sentry gate without undergoing inspection?
A spokesman for the training camp insisted that none of the base's rules were broken in allowing Ruan's car to pass without inspection. He also assured the reporters that Ruan would have his temperature taken like everyone else, but at a different location because "there were so many media [outlets] at the site."
Ruan will spend three weeks at Chenggong Ling, where he will live among 1,100 fellow servicemen and follow a regimen of waking up at 6am every day, running 3km, and undergoing training in first aid and public service. And it's a safe bet the paparazzi will be on the lookout when he moves on to his next post.
The Lunar New Year holiday is a good time for Chinese-language movie premieres, and pop superstar Jay Chou's (周杰倫) new blockbuster action flick The Viral Factor (逆戰) proved to be a dragon at the box office in China, raking in the equivalent of NT$470 million.
But in Taiwan, the film, directed by Dante Lam (林超賢) and co-starring Nicholas Tse (謝霆鋒), met with a comparatively lukewarm response, bringing in only NT$10.5 million.
Even the feel-good movie Perfect Two (新天生一對), which stars Vic Chou (周渝民) and Ella Chen, saw higher returns of NT$27 million.
The holiday box office winners in Taiwan were all homegrown productions: Black and White Episode 1: The Dawn of Assault (痞子英雄首部曲:全面開戰), an action flick that was filmed in Kaohsiung and stars Mark Chao (趙又廷), has earned nearly NT$90 million to date; and Din Tao: Leader of the Parade (陣頭), which is about a Taichung folk drumming troupe, took NT$65 million in ticket sales.
Pop-rock idols Mayday (五月天) made a big splash in Cannes, France, earlier this week, drawing fans from all over Europe to the Marche International du Disque et de l'Edition Musicale (MIDEM), the world's largest music industry trade fair.
Mayday was one of the high-profile acts for the festival's Taiwan Night, and the audience's enthusiastic response garnered attention from French media and international music critics, according to various Chinese-language reports. The mostly Chinese-speaking crowd was small for a typical Mayday concert — only 500 seats were available for the sold-out show — but the Apple Daily reported that scalpers were charging up to 400 euros (approximately NT$15,500) for tickets that originally cost 16 euros (approximately NT$620).
Comments will be moderated. Keep comments relevant to the article. Remarks containing abusive and obscene language, personal attacks of any kind or promotion will be removed and the user banned. Final decision will be at the discretion of the Taipei Times.