Restaurant review: Woolloomooloo
"Don't leave," Jimmy Yang (楊啟鉉) entreats several office workers as they exit Woolloomooloo's recently opened second location. The crowd pauses at the door, exchanging a few words with Yang, the restaurant's owner and resident barista, before trudging back to work. It is an exchange I witnessed several times on Tuesday afternoon.
In addition to the sound of Yang's affable banter, what strikes you on entering the restaurant, located near the intersection of Xinyi Road (信義路) and Keelung Road (基隆路), is its urbane interior design and the mingling aromas of brewing coffee — imported from Australia — and freshly baked bread.
Yang, a Taiwanese-Australian architect, has poured his considerable aesthetic talent into Woolloomooloo, the decor of which could be classified as communal canteen executed in a warehouse-industrial style. It riffs off two dissonant, though surprisingly complementary, elements: the cold of metal and warmth of wood. The walls are covered with sheets of gray steel, as are the bookshelves and newspaper racks. Patrons eat off large, custom-built wooden tables (one of which is several meters long and seats roughly 25 people), which you often share with other parties.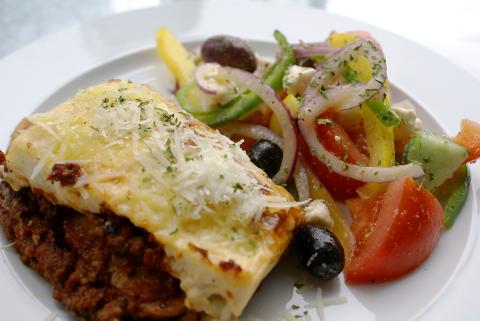 Once seated, you won't want to leave Woolloomooloo.
Photo: Noah Buchan, Taipei Times
The menu is a limited mixture of fusion cuisine with an emphasis on pizza (NT$400 to NT$550) and pasta (NT$250 to NT$280). With headings such as "Love is a pho Vietnam" and "It's all Greek to us," though, the menu can sometimes read as, well, Greek. But that's not a problem. The efficient and attentive servers will patiently explain the contents of the more mystifyingly titled dishes. "Love," it turns out, is Vietnamese-style beef noodles (NT$250), and "It's all Greek" is moussaka, an eggplant dish similar to lasagna, served with Greek salad (NT$300). I went with the latter as well as an order of linguini with pesto and chicken (NT$260).
The quality and freshness of Woolloomooloo's ingredients is obvious in every bite. The moussaka features eggplant layered with an onion, garlic and meat filling seasoned with nutmeg, all topped with a subtle bechamel sauce. It was rich and savory with a slightly sweet finish. The Greek salad of feta cheese, Kalamata olives, pepper, purple onion, cucumber and tomato was mixed together in a robust dressing.
The pesto and chicken pasta ranks among the better varieties I've had. One small quibble though: It isn't served with a slice of Woolloomooloo's homemade sourdough bread, which has to be ordered separately (NT$100, NT$180 with pesto, oil and balsamic vinegar).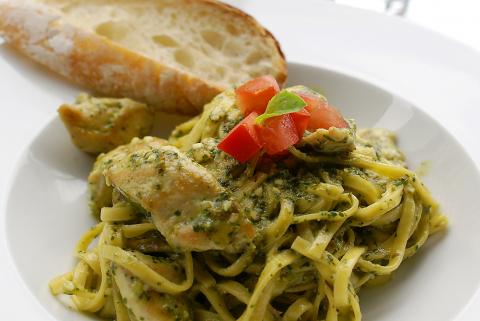 Once seated, you won't want to leave Woolloomooloo.
Photo: Noah Buchan, Taipei Times
No visit to Woolloomooloo would be complete without trying one of its fabulous coffees and homemade desserts (NT$60 to NT$150). The banana cream pie (NT$150), for example, is a sinfully scrumptious concoction made from layers of chocolate crust, soft banana and sweet whipped cream topped with chocolate sauce.
The restaurant stocks an extensive selection of Australian beers (NT$160 to NT$190).
Woolloomooloo's other branch, which was reviewed on page 15 of the March 14, 2008, edition of the Taipei Times, is located at 95 Fujin St, Taipei City (台北市富錦街95號), tel: (02) 2546-8318, and opens Tuesday to Friday from 11am to 6pm, and Saturday and Sunday from 10am to 6pm.
Publication Notes
Woolloomooloo
Address: 379, Xinyi Rd Sec 4, Taipei City (台北市信義路四段379號)
Telephone: (02) 8789-0128
Open: Daily from 8am to midnight
Average meal: NT$400
Details: Chinese and English menu, credit cards accepted, no service charge
Comments will be moderated. Keep comments relevant to the article. Remarks containing abusive and obscene language, personal attacks of any kind or promotion will be removed and the user banned. Final decision will be at the discretion of the Taipei Times.