Restaurant review: Ifankuan (一番館)
Ifankuan (一番館) on Changchun Road (長春路) near the corner of Yijiang Street (一江街) promises "smokeless" Japanese-style barbecue. The grills set in each table are fueled with charcoal and indeed remain smokeless as promised, unless you and your fellow diners burn a piece of meat (which is unlikely thanks to the restaurant's attentive servers). Ifankuan is also very well ventilated: my companion and I emerged with our clothes unscented by our meal. The menu is pricier compared to other barbecue joints in Taipei City (our meal for two people with one soda each set us back about NT$1,200), but the extra money is worth it for Ifankuan's easygoing, comfortable atmosphere and delicious, mouthwatering meat and seafood.
Most of Ifankuan's meat is marinated and so tasty that the dipping sauce served at each table is usually unnecessary. The star of our meal was the sirloin steak (特上沙朗牛排, NT$390 for 200g), sliced into cubes for easy grilling. It didn't take long to cook the meat on the hot grill until it was medium rare. The steak was meltingly tender and flavorful. The restaurant's other premium meats include filet mignon (菲力角切牛排, NT$390 for 150g) and a slightly less pricey cut of sirloin that is NT$320 for 200g.
The pork belly (豬五花, NT$160) was equally delicious. Each slice is richly marbled with fat and topped with a small heap of chopped green onions. We grilled them until they were just slightly crisply around the edges, but tender and juicy in the middle.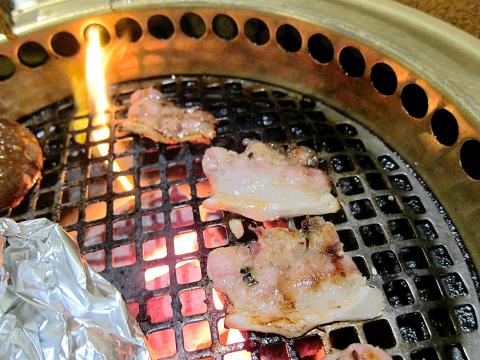 Ifankuan's smokeless barbecue grills and delicious meat make for a fun dining experience.
Photo: Catherine Shu, Taipei Times
Though Ifankuan's prices are relatively high, our server made sure we did not order too many dishes. We were told that two meats and a vegetable (one serving of shiitake mushrooms) were enough for two people to start with, though my companion and I also decided to add a seafood variety platter (綜合海鮮, NT$280), which is one of Ifankuan's best deals.
The platter came with two fresh scallops, a pair of tiger prawns, several slices of squid, one capelin (a small fish) and a slice of cod wrapped in tin foil, which our server showed us how to grill until it was just the right texture. Everything was delicious and easy to cook (take care with the squid, which becomes tough and chewy if left on the heat for too long). Other seafood items include giant prawns (大明蝦) and giant shrimp (大草蝦) for NT$120 each.
The only thing I used the tart grated daikon dipping sauce on were the plump shiitake mushrooms (香菇, NT$100), which come very lightly brushed with a touch of sweet teriyaki sauce. (A variety of salads and cold dishes, such as kimchi, are also available if you would rather not grill your own veggies).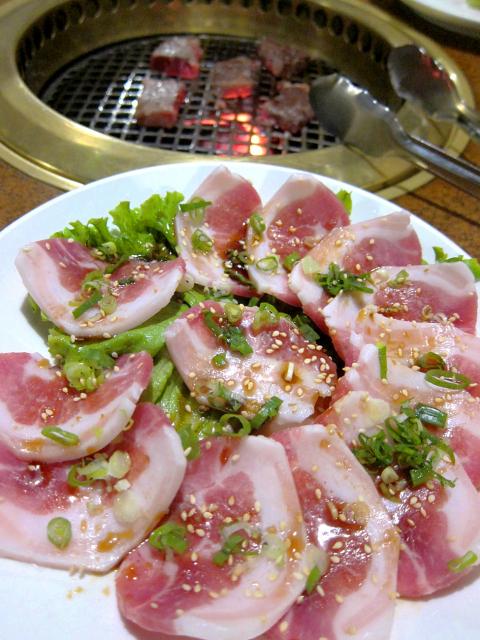 Ifankuan's smokeless barbecue grills and delicious meat make for a fun dining experience.
Photo: Catherine Shu, Taipei Times
The menu features plenty of offal and specialties like chicken cartilage (雞軟骨), which does not have a lot of flavor on its own, but is favored for its chewy, springy texture. Diners can also avail themselves of Ifankuan's large selection of Japanese beer, including Orion, and sake. A large table downstairs and an upstairs area are available for parties.
Publication Notes
Ifankuan (一番館)
Address: 147 Changchun Rd, Taipei City (台北市長春路147號) Telephone: (02) 2581-7062
Open: Daily from 5pm to 11pm Average meal: NT$600 per person
Details: Chinese and Japanese menu, credit cards accepted
Comments will be moderated. Keep comments relevant to the article. Remarks containing abusive and obscene language, personal attacks of any kind or promotion will be removed and the user banned. Final decision will be at the discretion of the Taipei Times.