Man of the moment
Among the dancers appearing next weekend in the Sixth International Ballet Star Gala is 24-year-old Daniil Simkin, who wowed Taipei audiences with his first gala appearance in 2008, shortly before he joined the American Ballet Theater as a soloist.
Despite coming from a ballet family — his parents, Dimitrij Simkin and Olga Aleksandrova, were both dancers, as is his older half-brother Anton Alexandrov, who is with the Hamburg Ballet — the Russia-born Daniil is not your average ballet dancer. His family moved to the West in 1990, ending up in Germany where his parents became members of the Hessisches Staatstheater Wiesbaden.
In addition to working for the American Ballet Theater, Daniil Simkin travels the world appearing in galas and as a guest artist. Tracking his travels on Twitter gives one a whole new appreciation of the term jet-setter; the man is always on the move. However, he did sit down at his computer shortly before Christmas to take part in an e-mail interview.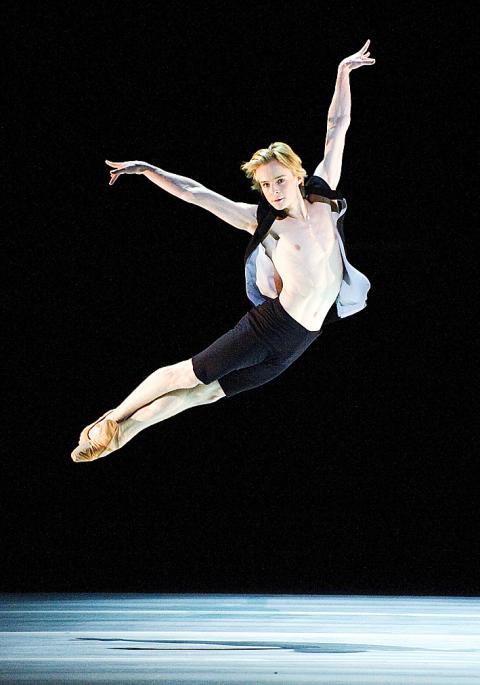 Daniil Simkin.
Photo Courtesy of Gene Schiavone
Taipei Times: You come from a dance family, but I have heard you had a rather unconventional upbringing, in terms of schooling for a dancer.
Daniil Simkin: Yes, both of my parents were dancers and both of them went through the "system" of the usual dance education in, then, Soviet Russia. They left home when they were 10 and focused on ballet from that age. The academic education became a backdrop for them, and all their energy was put into dance. It was basically decided by society for them that they become dancers, and in a way they did not have a choice, or knowledge of the world outside of ballet.
I started performing as the "cute kid" when I was 5, dancing often alongside my father. Simultaneously I started gymnastics when I was 7, and attended a regular school. When I was 9, my mother provided me with a choice of either continuing to perform onstage while starting a proper regimen of training, or continue with my gymnastics training, which I enjoyed and in which I was rather successful. I chose the stage and the daily class with my mother. My mother trained me daily for the next 10 years, simultaneous to my regular schooling. We would always try to find a free studio in the theater and time before or after my homework.
My parents didn't want to force me into dance. They wanted to provide me with a choice later in life. Only when I was approximately 16 and I won the Grand Prix at the Helsinki International Ballet competition, did I decide that I want to give ballet a shot as a profession.
TT: What do you think were the pluses and minuses of such an upbringing?
DS: On one side it was a complicated relationship in the actual dance training. You tend to speak differently to your mother than to a teacher. On the other hand, I feel privileged that I had the full attention of somebody who genuinely cared for me and my dancing. Not many dance pupils have a private coach. We were also extremely lucky that my mother's and my personalities happened to fit so well, otherwise it would have been impossible for us.
Besides the actual dance training, this education provided me with as normal a childhood as possible, considering the circumstances. Sometimes it would get logistically tedious to plan days in advance and organize ourselves in order to make everything "work," but in the end it also provided good training to handle parallel endeavors.
TT: You have a reputation as something of a "techie" for a dancer. What motivated you to get so involved with the Internet and social media?
DS: We live in exciting times. Our generation happens to be privileged in a sense that the information revolution is taking place right now. That means we are on the forefront of possibilities that we do not really know how to handle.
I grew up with an affinity for technology and was fascinated by computers and basically anything with a screen from an early age. I love following trends in technology, trying out things and trying to push boundaries. In the art world, and especially in the dance world, I feel the assimilation of new technology is [not surprisingly] rather "slow." Though dance has great potential as an art form in itself, I feel that especially with younger audiences, it has a "stale" image. By providing transparency through various channels of information, namely the Internet, I believe the dance world can educate audiences and provide a wider view on the beauty of the art, while at the same time attracting a wider range of people.
TT: About how much time do you spend traveling — on average — in a month, when you are not performing with the American Ballet Theater?
DS: Hmmm. It's kind of hard to gauge the amount of traveling I do when I'm not performing with the American Ballet Theater. It varies. My craziest three months were in the summer 2010. I flew 23 flights in three months, not counting connecting flights.
Just to give you an idea, I can give you my schedule for January, 2012. After our four-week season of Nutcracker with the American Ballet Theater, I leave for Taipei on Jan. 3, perform two shows in Taipei, before returning to New York on the 8th, only to leave for Berlin on the 9th. I rehearse two days in Berlin, before continuing to Paris, where I perform three shows. On the 16th, I fly to Beijing, where I have two more shows. I return to New York on Jan. 22 to rehearse for five days before leaving for Washington, where I'll be performing the Black Swan pas de deux for the first time with the American Ballet Theater.
TT: What are you going to be performing for the Taipei gala? Who will you be dancing with?
DS: I will be performing the Don Quixote pas de deux with Maria Kochetkova, which is one of the technically hardest pas de deux there is, and besides that, my solo Moorhuhn, which has been viewed over half a million times on YouTube. It's a little, satirical chicken dance!
This interview has been edited and condensed.
Comments will be moderated. Keep comments relevant to the article. Remarks containing abusive and obscene language, personal attacks of any kind or promotion will be removed and the user banned. Final decision will be at the discretion of the Taipei Times.