Highlight: The Escape Artist
The Escape Artist is hosting its second Christmas charity auction, with 100 paintings available for bidding online until Saturday. All artwork was created by the "paintertainment" studio's customers and celebrities, including actress and singer Megan Lai (賴雅妍), actress Sunnie Huang (黃小柔), and fashion designers Enzo Lin (林宏忠), Stephane Dou (竇騰璜) and Chang Lee Yu-gin (張李玉菁). In addition to being displayed at The Escape Artist, some of the paintings can also be seen at the following stores and cafes until Saturday: yabook secondhand bookstore (雅博客二手書店), Caffe 4mano, Carnegie's, White Rock, blah blah blah, VVG Bistro (好樣餐廳) and Lemongrass House. Proceeds will benefit Christian Salvation Services (CSS, 牧恩中途之家), a non-profit organization that provides social services to women, children and families and runs a shelter for infants awaiting adoption.
■ The Escape Artist is at 68 Wenchang St, Taipei City (台北市文昌街68號), tel: (02) 2707-0767. Hours are Tuesday from 2pm to 11pm (open until midnight on Fridays and Saturdays)
■ For more information about the auction, visit www.escapeartist.com.tw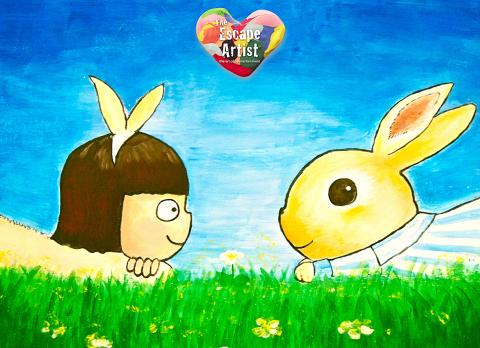 The Escape Artist is hosting its second Christmas charity auction.
Photo Courtesy of The Escape Artist
Comments will be moderated. Keep comments relevant to the article. Remarks containing abusive and obscene language, personal attacks of any kind or promotion will be removed and the user banned. Final decision will be at the discretion of the Taipei Times.