Restaurant review: Beijing Do It True 北平都一處
Having started as a food stand in Kaohsiung in 1949 and moved to Taipei in the 1960s, the family-run Beijing Do It True is a local legend. It boasts a culinary heritage from a famed relative who served as an imperial chef for Empress Dowager Cixi (慈禧太后) and it has been visited by movers and shakers of the political world such as former US president George H.W. Bush, former premier Sun Yun-suan (孫運璿), and Wego Chiang (蔣緯國), Chiang Kai-shek's (蔣介石) second son.
But to many people like myself, the restaurant is simply a place to seek solace in childhood foods.
As its English name suggests, Beijing Do It True takes pride in its authenticity. No self-respecting foodie would leave the establishment without sampling its famed northern Chinese specialty, spicy braised pork (醬肉, NT$160) wrapped in a Chinese sesame bun (芝麻醬燒餅, NT$40 each). Stewed in the restaurant's signature sauce for hours and served at room temperature, the fatty pork has a melt-on-the-tongue deliciousness, and its buttery texture makes a heavenly match with the masterfully baked bun that, unlike the dry versions served up in similar establishments, is crispy on the outside and has layers of tenderness inside.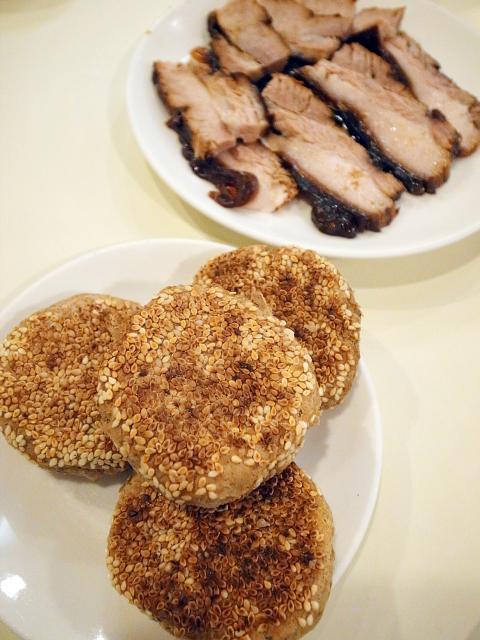 Beijing Do It True has served up authentic northern Chinese food for over half a century.
Photo: Ho Yi, Taipei Times
Chinese fried jumbo dumpling (褡褳火燒, NT$200 for four) is almost extinct in Taiwan's culinary landscape. With its shape resembling talien (褡褳), a type of bag used in northern China during ancient times, the traditional Beijing snack food is similar to pan-fried dumplings (鍋貼), but three times the size. Do It True's rendition is filled with minced pork, shrimp and leek sprouts and goes well with the green bean and millet congee (綠豆小米稀飯, NT$25).
My personal favorite is the Chinese-style deep-fried meatballs (炸丸子, NT$260). When I was little, seeing a plate of these tiny fried morsels on the dining table would make my day, and at the restaurant, they taste exactly as I remember them.
First braised with dozens of spices and then smoked using pine cones, the pine-smoked chicken (松子燻雞, NT$270) is restaurant helmer Hsu Han-hsiang's (徐翰湘) upgraded version of a perennial northern Chinese delicacy.
For those looking for something to clean the palate, the sour cabbage with bean curd stripes (涼拌白菜心, NT$160) surpasses its bland counterparts with an apt amount of tart, vinegary aroma, and the same goes for the delightful sour cabbage and white pork meat soup (酸菜白肉湯, NT$150), which can also be made into a hot pot.
Other popular dishes include the braised eggplant (燒茄子, NT$220), said to be favored by film star Brigitte Lin (林青霞). The Chinese red dates and silver ear fungus soup (紅棗銀耳羹, NT$90) is reported to have been one of Empress Dowager Cixi's favorite desserts.
Though Do It True has an extensive menu, there are still quite a few specialties not written in the book and reserved for those in the know. Among them, the pizza-sized scallion pancake (蔥油餅, NT$800) is said to require a preparation so meticulous that the chef can only produce three dishes a day (call ahead to order).
Some notes: The cold appetizers offered by the waitstaff before you order are not complementary. Food comes in small and medium portions at Do It True, and groups of four or less should stick with small dishes. The prices noted in this review are for small sizes.
Publication Notes
Beijing Do It True 北平都一處
Address: 506, Renai Rd Sec 4, Taipei City (台北市仁愛路四段506號) Telephone: (02) 2720-6417 Open: Daily from 11am to 2pm, 5pm to 9pm Average meal: NT$500 Details: Menu in Chinese, English and Japanese; credit cards not accepted
Comments will be moderated. Keep comments relevant to the article. Remarks containing abusive and obscene language, personal attacks of any kind or promotion will be removed and the user banned. Final decision will be at the discretion of the Taipei Times.