A shift in time
Ma Ting-ying was known for his research into fossil coral and the continental shift. Now the managers of his former home, a city heritage site, hope it will help educate a new generation about Taipei's history
Opened in June, Qingtian 76 (青天七六) gives visitors a rare glimpse into how prosperous families lived during the 1930s to 1970s.
Named a city heritage site last year, the 80-year-old Japanese-style residence was restored to its original appearance by Goldenseeds Education Organization (黃金種子文化) earlier this year. Once the home of geologist and National Taiwan University professor Ma Ting-ying (馬廷英), the house is now a restaurant and educational center named after its address in Taipei: 6, Ln 7, Qingtian St (青田街7巷6號). Ma's eldest son Ma Kua-kuang (馬國光) gives guided tours of his childhood home twice a week.
Constructed with maire yew wood harvested from Alishan, the house mixes Western and Japanese architecture. Original details include milk glass pendant lampshades, doors with hidden latches and retractable wooden shutters that can be pulled out to protect windows during typhoons.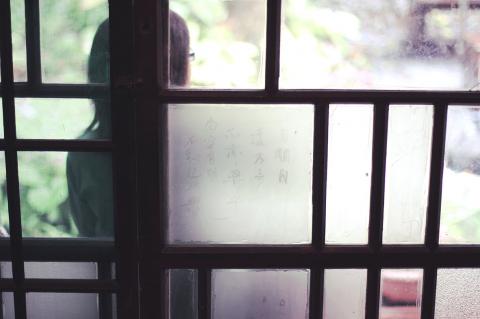 Ma Ting-ying's eldest son, Ma Kua-kuang, became obsessed with calligraphy as a schoolboy. One of his earliest attempts remains on a windowpane in the house's Japanese-style back room.
Photo: Catherine Shu, Taipei Times
Trees in the backyard, such as a coconut palm that is now as tall as a nine-story building, were planted by the house's first occupant, Masashi Adachi, in the 1930s. Adachi was an agricultural science professor at Taihoku Imperial University, which was renamed National Taiwan University in 1945. (NTU still owns the house.)
Ma Ting-ying moved into the house in 1945 and lived there until his death in 1979. Ma Kua-kuang says that he rarely returned to the house after his marriage in 1968, and only got involved with Qingtian 76 because he was invited to its grand opening ceremony this summer.
"The house was meant for a family, not a restaurant, so it was strange to see all these tables and chairs," says Ma, an author who writes under the pen name Liang Hsuan (亮軒). His recently published memoir, Bad Child (壞孩子), recalls his childhood and relationship with his father, who was known for his stringent work ethic.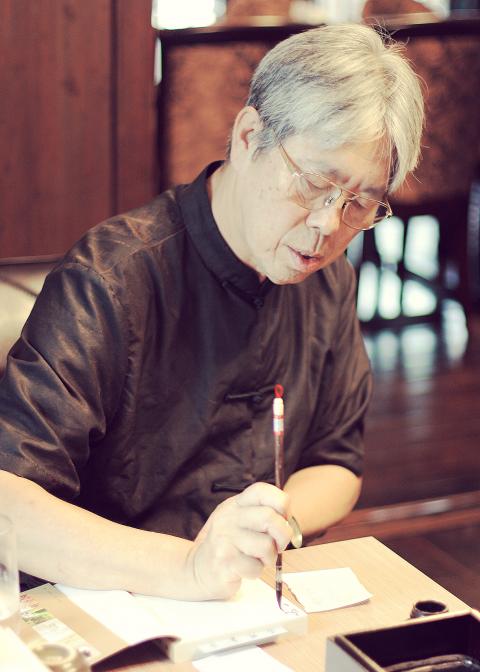 Ma Kua-kuang signs a copy of his memoir with a calligraphy brush. He gives tours of his childhood house twice a week as a tribute to his father, Ma Ting-ying, who died in 1979.
Photo: Catherine Shu, Taipei Times
Ma Ting-ying usually woke by 5am, ate one massive meal of 70 dumplings and then spent the rest of the day in his study, diligently working on his research about growth rings in fossil coral or the continental shift until 9pm.
To fuel his writing, the professor snacked on a pile of mantou. He described a research paper's length not by the number of its pages, but by the amount of steamed buns he consumed while working on it: "That was a 100-mantou article."
The professor also set exacting academic standards for his children, waking them early to start studying. One windowpane in the Japanese-style back room is still covered with Chinese characters written by Ma Kua-kuang when he became obsessed with calligraphy as a fifth grader.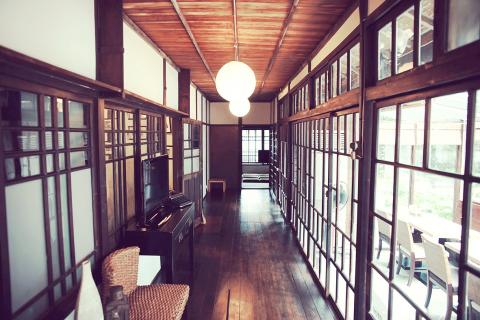 Japanese-style cuisine is served in Qingtian 76. Proceeds from the restaurant help support the renovation of the structure, which was built in 1931.
Photo: Catherine Shu, Taipei Times
"To this day, I rarely get up past 5am," he says.
Despite the demanding schedule set by his father, Ma Kua-kuang recalls a bucolic childhood in the house. The southern wall of the structure is lined with windows that allow the sun to filter in and provide warmth during the winter. In the summertime, air circulates freely through the rooms, most of which have two entryways. The Ma family planted fragrant flowers in the front yard each season, including tuberoses and sweet osmanthus, which were visible through the bay windows of Ma Ting-ying's study.
Though his childhood home was considered modern and luxurious by contemporary standards, Ma Kua-kuang recalls that in 1962, when his father married for the second time, Taipei was still filled with farmland.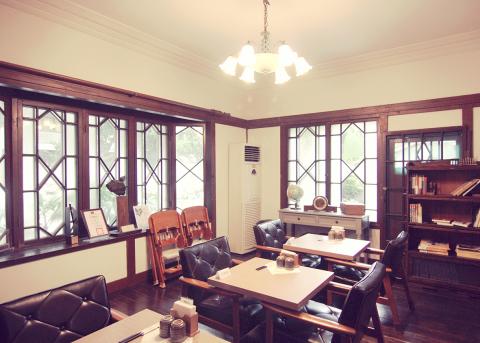 Japanese-style cuisine is served in Qingtian 76. Proceeds from the restaurant help support the renovation of the structure, which was built in 1931.
Photo: Catherine Shu, Taipei Times
"I remember there were fields starting two streets away from our house, and they stretched all the way to Xinyi District," he says.
Though he is happy NTU and Goldenseeds have preserved his childhood home, Ma Kua-kuang wishes that the government would provide more financial support.
"Goldenseeds has had to figure out how to balance running a business here with a lot of regulations" because the house is a city heritage site, he says.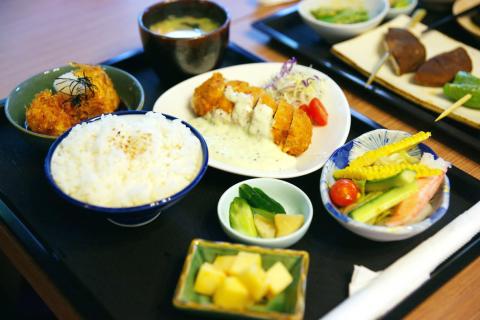 Japanese-style cuisine is served in Qingtian 76. Proceeds from the restaurant help support the renovation of the structure, which was built in 1931.
Photo Courtesy of Qingtian 76
A former earth sciences student at NTU, Goldenseeds culture director Archer Jean (簡肇成) found out that his alma mater was seeking tenants for the house from a former classmate who was creating a digital archive of Ma Ting-ying's academic publications. Goldenseeds sought out experienced woodworkers and ordered parts from Japan to renovate the structure, which had been occupied by the professor's children from his second marriage until 2008.
Qingtian 76 is among several former NTU professor residences that are now being rented out and opened as businesses. These include Mooi Trouve (找到魔椅, blog.roodo.com/mooitaiwan), a cafe that opened in June a few blocks away from Qingtian 76.
"One of the reasons it's important to preserve these houses is so kids can see them. There are so few of them left. A lot of them have been torn down and once they are gone, so are the memories that are kept with them," Jean says.
He adds that school groups who come to the house are most fascinated by the Japanese-style back room, which many of them refer to as the "Doraemon room" because it looks like the cartoon character's tatami-lined living quarters.
Though Ma Ting-ying's geological research earned him an international reputation, Jean says that most Taiwanese people outside of academic circles have never heard of him. Ma Kua-kuang's son, News98 radio DJ Ma Shih-fang (馬世芳), is better known.
Ma Kua-kuang says the main reason he returns to the house to give guided tours is to keep the memory of his father alive.
"If my father could come back, I'd show him every room, every blade of grass, every flower," Ma Kua-kuang says. "It feels like my time with him passed too quickly."
Before his tours start on Tuesday and Thursday mornings, Ma spends a few hours alone in the house. He usually works on his next book, which will be about the neighborhood around Qingtian 76 and how it has changed over the last 60 years.
"I come in by 7am. It's wonderful, because it's like coming back home. But by 9am you start to see people walking around outside," Ma says. "It's a strange feeling. I'm suddenly reminded it's not my home anymore."
To make reservations for a meal or a guided tour, visit www.geo76.tw or call (02) 2700-0693.
Comments will be moderated. Keep comments relevant to the article. Remarks containing abusive and obscene language, personal attacks of any kind or promotion will be removed and the user banned. Final decision will be at the discretion of the Taipei Times.