Nightlife: Little Bob is big Bob now
A tiny neighborhood pub has grown up: Bobwundaye moved to a new and larger space on Heping East Road (和平東路) in Taipei last month and is celebrating with an official
re-opening party tomorrow night.
In keeping with its tradition of hosting seasonal dinner parties, the bar will be serving free finger food throughout the evening for both vegetarians and carnivores, starting at 5pm. There will also be drink specials, including draft Guinness for NT$170 a glass.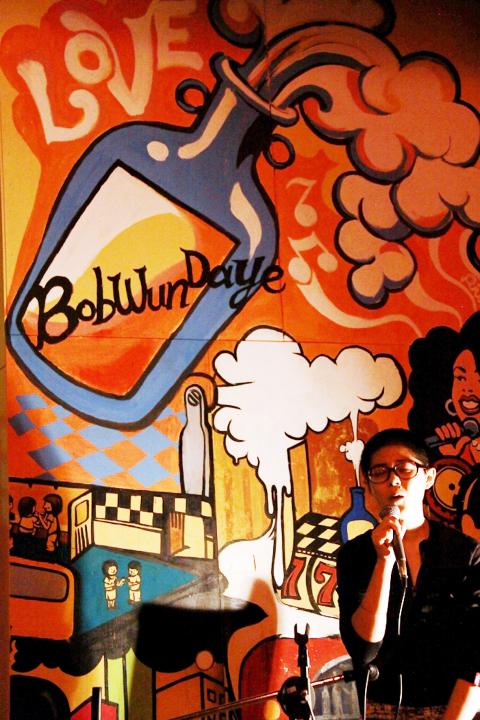 Bobwundaye has moved to a bigger space, and continues to hold an open mic every Wednesday.
Photo courtesy of Bobwundaye
Bobwundaye (a transliteration of "no problem" in Hoklo, commonly known as Taiwanese) first opened seven years ago and has come to be known for its laid-back vibe and friendly regulars, composed of a mix of long-term expats and locals.
That isn't likely to change with the new locale, which retains the same homey atmosphere of its previous home on Chongde Street (崇德街). In fact, regulars will find the new "Bob's" to be much like the old one, except bigger: The new space holds around 50 people.
Another Bobwundaye tradition that will be continuing is live music. The bar plans to host regular performances on weekends and an open mic is held every Wednesday night. Musicians who frequented the previous location were often squeezed into the back corner, as the bar took up most of the space. Now musicians have plenty of room.
The bar, which opens from 7pm to 2am and is closed on Sundays, also plans to set up a kitchen and offer a lunch and dinner menu of curries and savory pies.
Publication Notes
Event notes:
What: Bobwundaye Grand re-opening party
When: Tomorrow at 5pm
Where: 77, Hoping E Rd, Sec 3, Taipei City (台北市和平東路三段77號)
On the Net: bobwundaye.blogspot.com
Admission: Free
Comments will be moderated. Keep comments relevant to the article. Remarks containing abusive and obscene language, personal attacks of any kind or promotion will be removed and the user banned. Final decision will be at the discretion of the Taipei Times.