Highlight: Tap Together
Tap Together, the 7th annual Taipei Tap Festival, finishes up with two shows tomorrow and a free Tappers' Party in the form of an improvisational jam session tonight. The performances cap a busy week of 32 classes and lectures that began on Friday last week at the Huashan 1914 Creative Park (華山1914), with three tap professionals from the US joining Taipei's own Dance Works team in teaching everyone from tots to adults, and beginners to experienced tappers, how to polish their act. From its humble beginnings as a show outside the Shilin MRT Station (士林捷運站) in 2005, Tap Together has become one of the most important tap festivals in Asia, drawing fans and performers from Japan, Hong Kong, the US and Europe as well as Taiwan. Tomorrow's shows will feature local tap stars along with Derick Grand, Jason Smith, Chloe Arnold, Yukiko "Smilie" Misume and several others.
■ Tap Together Shows: Taipei City Government Family Theater (台北市政府親子劇場), 2F, Taipei City Hall, 1 Shifu Rd, Taipei City (台北市市府路1號2樓)
■ Tomorrow at 2:30pm and 7:30pm. Tickets are NT$600 and 900, available at the NTCH box office or online at www.artsticket.com.tw. The matinee is sold out and about 60 tickets were left as of press time for the evening show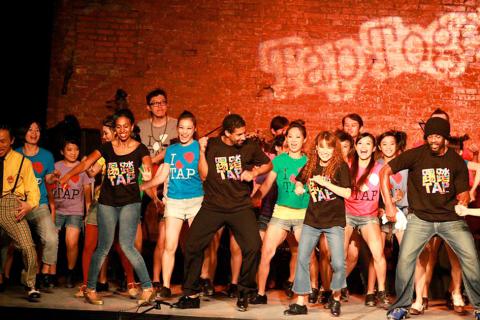 The 7th annual Tap Tap Festival will end with two shows tomorrow at the Taipei City Government Family Theater.
Photo Courtesy of Dance Works
■ Tonight's Tapper's Party will be held at the Outdoor Theater at Huashan 1914 Creative Park (華山1914), 1, Bade Rd Sec 1, Taipei City (台北市八德路一段1號) from 7:30pm to 9:30pm. Admission is free
■ More information on the festival is available online at taipeitap.com.tw/event/ or facebook.com/pages/Taipei-Tap-Fest-台北踢踏節/176495562398739
Comments will be moderated. Keep comments relevant to the article. Remarks containing abusive and obscene language, personal attacks of any kind or promotion will be removed and the user banned. Final decision will be at the discretion of the Taipei Times.