Theater: Get the kinks out
When BDSM Company (皮繩愉虐邦) staged its first public bondage/domination and sadomasochism (BDSM) show in June, two Next Magazine (壹週刊) journalists wrote a report on it using sensational language and unauthorized photographs, questioning whether the performance was "a crime against public decency" (妨害風化).
As part of the Taipei Fringe Festival (台北藝穗節), the same troupe will debut a new theatrical performance titled You Can Be the Kinky Star! (你就是SM片最佳男女主角!) about a group of BDSM enthusiasts auditioning for a BDSM movie. After the NT$500 show, audience members can pay an additional NT$500 to gain hands-on experience with the troupe. Experts will assist participants in arranging and engaging in BDSM performances, and a professional photographer will be on-hand to record it all. The activity is limited to those who have seen the performance.
Members of the company stress that while their performances are theatrical, they are not only about entertainment.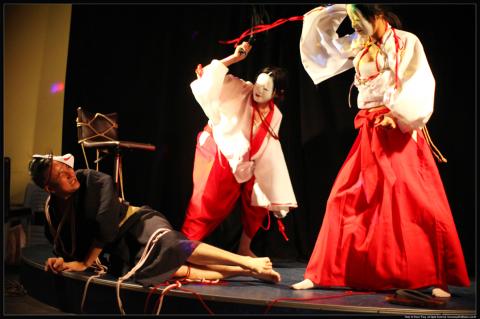 Next Magazine questioned whether BDSM Company's performance at the Comedy Club in June was "a crime against public decency."
Photo courtesy of BDSM
"We share similarities with theater people in the sense that we are more aware of the limitations our society and culture impose on our bodies," said Song Jia-lun (宋佳倫), one of the group's founders. "Theater is a medium, making BDSM more accessible to the general public ... Perhaps through performances, audiences will be more conscious of what limits and represses their bodies and try to break free. We would be happy if audiences stopped seeing [BDSM practitioners] as perverts and pick up an easy trick or two, like tying hands or blindfolding, and tried them at home."
Founded in 2004 by a group of like-minded people who met on Huakuei Sex (花魁藝色館), a bulletin board which supports the rights of sexual minorities and hosts related discussions, BDSM Company was launched as an activist group for Taiwan's BDSM community. The group is an active participant in the annual Taiwan Pride Parade. Members have given lectures and held discussions at colleges across the country, building a Chinese-language archive of BDSM-related educational materials on the company's Web site (www.bdsm.com.tw). Some members, including Song, take a more political approach and work at the Green Party Taiwan (綠黨), which supports sexual diversity.
However, the group's liberal stand on gender roles in erotic practices sometimes conflicts with BDSM enthusiasts who hold more conservative views, Song says.
"What we do now is focus on changing the negative views outsiders hold on BDSM rather than serving insiders ... Our imagination and understanding of BDSM can be vastly different from many other practitioners,'" she said.
The group holds a talk every month with the aim of raising awareness of BDSM. Anyone is welcome to share their ideas or simply chat and meet people.
"There is no topic or theme," said Song, who is better known as Shihyeh Queen (十夜女王) in BDSM circles. "What happens, happens. Maybe people will show up with ropes and start giving a bondage lesson. Who knows?"
The monthly gathering takes place every second Saturday of the month at G Straight Cafe (直走咖啡) at 18, Ln 27, Dingzhou Rd, Sec 3, Taipei City (台北市汀州路三段27巷18號). Visit the group's Web site for updates.
BDSM Company's productions on Sunday at Nanhai Gallery (南海藝廊) and on Sept. 9 and Sept. 10 at the Comedy Club sold out two weeks ago. If you don't have tickets, but still want to learn about BDSM, bondage artist Shima Malphas from Japan will perform late tonight and tomorrow ("definitely after 11:30pm," organizers say) at Show House (秀屋) at 161 Daguan Rd, Greater Taichung (台中市大觀路161號). For more information, call (04) 2251-5888 or visit www.show-house.com.tw.
Comments will be moderated. Keep comments relevant to the article. Remarks containing abusive and obscene language, personal attacks of any kind or promotion will be removed and the user banned. Final decision will be at the discretion of the Taipei Times.