A chef's challenge
Japanese food has a reputation for purity, and one of the repercussions of the Tohoku earthquake of March 11 and the related disaster at the Fukushima Nuclear Power Plant is that its reputation has been sullied to some degree.
For Toshiaki Obigane, who recently took up the position of head chef at Taipei's Far Eastern Plaza Hotel (台北遠東大飯店) Ibuki Japanese restaurant, this posed unique challenges. He found that much of the produce used at Ibuki was temporarily unavailable, or had to undergo stringent new testing, both in Japan and Taiwan.
According to Tricia Chen (陳韻如), Far Eastern Plaza Hotel's assistant communications manager, business at Ibuki has picked up after a dip immediately following the disaster.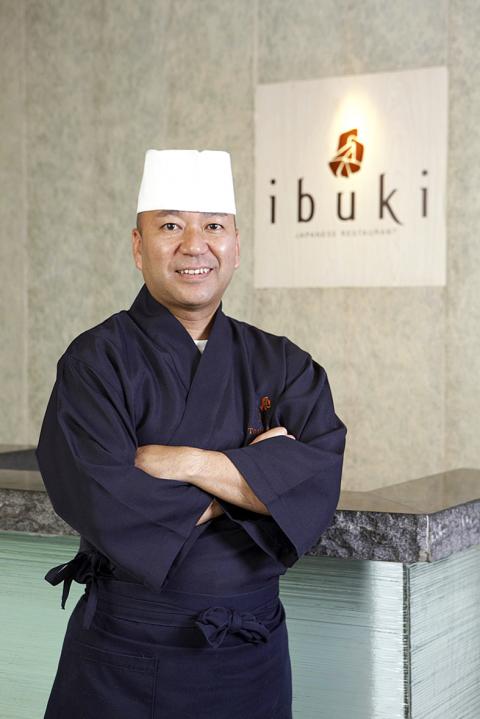 Toshiaki Obigane took over as head chef at Taipei's Ibuki restaurant four months ago.
Photo courtesy of Far Eastern Plaza Hotel
"I think customers are getting used to it," Obigane said. "It has already been some time [since the quake]. But many guests ask about the source of various foods on the menu."
This means double duty for Obigane, as he is often called out of the kitchen to explain to diners the careful selection of ingredients.
While much attention has focused on high-priced items such as seafood from Japanese waters, which is used extensively in Ibuki's menu, Obigane said that the disaster has affected everything down to the most basic of ingredients, such as soy sauce.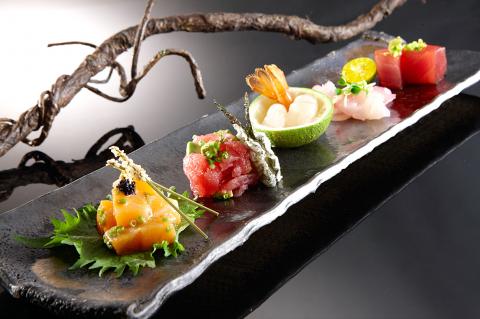 Sourcing Japanese ingredients became something of a challenge for Toshiaki Obigane after the Tohoku earthquake.
Photo courtesy of Far Eastern Plaza Hotel
"I have experimented with Taiwanese soy sauce, but the flavor was not quite right," he said. He continues to use Japanese soy sauce, but the products he chooses are subject to testing. As for seafood, Obigane says he sources a much lower proportion from Japan than before the quake.
Obigane plays games with his ingredients, such as mixing tuna with avocado to imitate the texture of toro, the fatty tuna belly that is so much loved by sashimi connoisseurs. This kind of preparation, in addition to showcasing Obigane's creativity, allows him a greater freedom in sourcing his ingredients.
Being forced to explore local sources of seafood has led to some pleasant surprises, such as the discovery of a plentiful supply of tilefish, a high-priced item on Japanese menus.
Obigane said he was delighted to see piles of tilefish at a local wholesale fishmongers. The tilefish is one of a small number of fish whose scales are usually eaten, and in Obigane's version, they are crisped in oil before the flesh is quickly sauteed and served with a light kuzu broth.
In addition to finding new sources for ingredients, Obigane said that cooking in Taiwan has tested his mettle as a creative artist. Many Taiwanese are familiar with Japanese food, he said, so it is a challenge to create new and surprising dishes.
Sometimes this creativity is expressed in the humblest of dishes, such as Obigane's take on chawan-mushi, a steamed egg custard flavored with meat or seafood. Inspired by the grilled corn that can be seen at many local night markets, Obigane created a corn-flavored version with snow crab and sea urchin.
Obigane's difficulties over the four months since he arrived in Taiwan — familiarizing himself with a new environment and dealing with the fallout from the disaster in Japan — may have given him headaches, but they have also served as a spur for the achievement of that elusive goal of making something new within the confines of traditional Japanese fine dining.
Ibuki is located on the seventh floor of the Shangri-La Far Eastern Plaza Hotel, 201 Dunhua S Rd Sec 2, Taipei City (台北市敦化南路二段210號). For reservations, call the restaurant at (02) 2376-3241. Ibuki is open for lunch between 11:30am to 2:30pm and for dinner between 6pm and 9:30pm.
Comments will be moderated. Keep comments relevant to the article. Remarks containing abusive and obscene language, personal attacks of any kind or promotion will be removed and the user banned. Final decision will be at the discretion of the Taipei Times.