Planet Pop
A judge has ordered actress Estella Warren to serve four months in a residential rehab facility after she entered a no contest plea in a drunken-driving case on Friday.
Los Angeles city attorney's spokesman Frank Mateljan says Warren was also sentenced to serve five years of informal probation.
The Planet of the Apes actress had been facing four misdemeanor charges after her arrest earlier this year for crashing into three parked cars and tussling with police.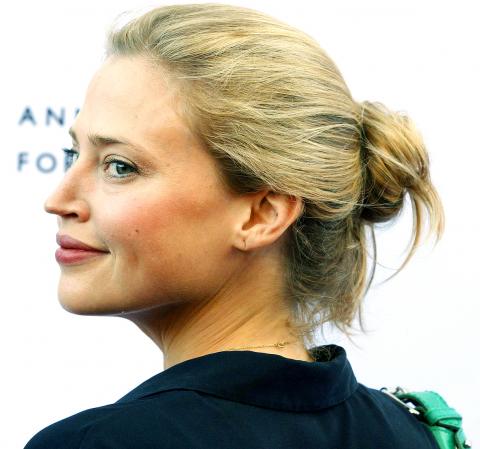 Estella Warren could be headed for rehab.
Photo: Reuters
The 32-year-old was previously convicted of drunken driving in 2007.
Mateljan says a hearing will be held on Oct. 7 to determine if Warren must pay any restitution.
She starred opposite Mark Wahlberg in Tim Burton's 2001 version of Planet of the Apes and has also worked as a fashion model.
Speaking of troubled blondes, Paris Hilton has opened a new handbag store in a Manila mall.
Hundreds of star-struck fans, local celebrities and journalists jostled to see her on Thursday, cameras ready. Wild cheers erupted when Hilton told the crowd "I love you" in Tagalog. She said she'll miss Manila and plans to be back soon to open a resort-inspired residential project.
"I will be back very soon 'coz I love it here," she said. "I've had the best time."
She signed bags bought from the Paris Hilton Handbags and Accessories store at the SM Megamall, her fourth shop in the country. She also posed for pictures with fans before rushing to catch a flight to Los Angeles.
A male fan who brought a portrait he made of Hilton got a kiss, much to his thrill.
The heiress-turned-TV star reportedly lost two mobile devices on her flight to the Philippines.
In 2005, hackers gained access to Hilton's Sidekick cellphone and famously splashed the private mobile numbers of her celebrity friends online.
Meanwhile, actor Richard Gere is going to lose more than 100 of his beloved American vintage guitars.
Christie's auction house in New York says it will be selling 110 of the guitars on Oct. 11.
Gere says he's parting with the instruments to support humanitarian causes around the world.
Christie's says Gere studied trumpet and is a self-taught pianist and guitarist.
Gere said in a statement announcing the sale that he never planned to put together a guitar collection and bought only ones he liked and that sounded good to him.
Included in the sale are brands C.F. Martin, Gibson, Fender, Gretsch and Epiphone, and guitars once owned by blues guitarist Albert King and reggae musician Peter Tosh. A selection of amplifiers also is being sold. The sale is expected to bring US$1 million.
In much darker news, reality TV show The Real Housewives of Beverly Hills is being re-edited following the suicide of Russell Armstrong in a strong indication that the network plans to go ahead with the second season.
But Bravo president Frances Berwick told showbusiness paper Daily Variety that no decision has yet been made about whether the drama-filled program will premiere as planned on Sept. 5.
A source who knew of the network's plans said the re-editing had already begun. Bravo and Berwick declined to say which parts of the show — filmed earlier in the summer — were being tweaked, but they are likely to involve appearances by Russell Armstrong, whose crumbling marriage to Housewives star Taylor Armstrong was expected to be a dominant theme of the upcoming season.
The 47 year-old venture capitalist committed suicide by hanging himself with an electrical cord last Monday, a month after his wife filed for divorce citing verbal and physical abuse.
Armstrong also was facing huge financial problems and his mother said this week that her son feared the new season was going to "crucify" him.
The original second season opener, which was given in advance to TV journalists, had Taylor Armstrong talking about being in marriage counseling and shopping for sexy underwear in a bid to improve their relationship.
The Real Housewives of Beverly Hills features the lives of six wealthy women and is one of the most popular of the drama-filled Real Housewives franchises.
Armstrong's suicide stunned Hollywood, and claims by friends and family members that his suicide was prompted partly by the pressure of being on the show have only attracted more interest in the new season.
To end on a pleasant note, Golden Girls actress Betty White apparently has the Midas touch.
White, 89, is both the most popular and most trusted celebrity with Americans and the person most likely to drive up the business of a brand she might choose to endorse, according to a poll released on Wednesday.
But the Reuters/Ipsos poll suggested that companies should stay away from Paris Hilton and Charlie Sheen if they want to promote their products.
The socialite reality TV actress and the fired Two and A Half Men star topped the list of the most unpopular and least trusted personalities and were deemed most likely to damage any brands they choose to support.
White, the only surviving member of the key cast members of TV's Golden Girls 1980s comedy, has enjoyed a career resurgence in the last few years as a saucy senior in films like The Proposal and the TV show Hot in Cleveland.
White scored an 86 percent favorable opinion in the Reuters/Ipsos poll, beating Oscar winners Denzel Washington, Sandra Bullock and Clint Eastwood in the survey of the 100 most popular personalities.
Comments will be moderated. Keep comments relevant to the article. Remarks containing abusive and obscene language, personal attacks of any kind or promotion will be removed and the user banned. Final decision will be at the discretion of the Taipei Times.