All abuzz
Insects native to Taiwan inspired UK designer Emma Bell's latest collection of offbeat, exuberantly colored clothing
Mosquitoes and other bugs are usually seen as nuisances to be swatted away, but fashion designer Emma Bell turned them into her muses during her stint at an artist-in-residence program in New Taipei City.
The eight-piece collection My Friend the Mosquito is the result of London-based Bell's three months working in Sijhih's (汐止) Dream Community (夢想社區), a New Taipei City neighborhood that organizes regular cultural events. Bell's creations were inspired by insects native to Taiwan and feature her trademark kaleidoscopic palette of brilliant colors, non-traditional materials and layering of different needlework techniques, including hand-worked embroidery, beading and three-dimensional appliques.
While at the Dream Community, Bell held costume-making workshops for residents, including members of volunteer storytelling team Sijhih Dong Tai Reading Association (汐止動態閱讀協會). The group gave Bell a reference book filled with illustrations of Taiwanese butterfly and moth species that served as the launching point for her final collection.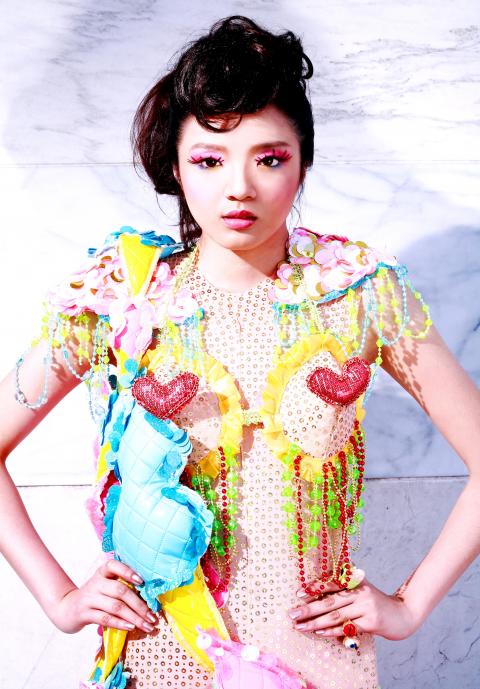 Designer Emma Bell worked with Taipei-based creative professionals, including photographer Chiu Ching-ying, to produce the final shoot for her collection entitled My Friend the Mosquito.
Photo Courtesy of Chiu Ching-ying
"It was really so colorful. I'd never seen anything like that before," says Bell, who already had insects on her mind because she was constantly fending off mosquitoes. "I thought it would be interesting to recreate the patterns they have on their wings and the different sort of shapes, but in a more surreal way."
One minidress is covered in large overlapping holographic pailettes in shades of purple, lavender, teal, royal blue and turquoise. The cool colors contrast with swaying epaulettes of neon green plastic beads and a puffy pink heart-shaped fabric brooch. A flesh-colored mesh body suit has small wings set over each shoulder layered with the same pailettes in iridescent pink.
Bell's arrival in Taiwan coincided with the Lantern Festival, and one of her pieces for My Friend the Mosquito borrows its construction from lantern-making techniques. The skirt is made from a bamboo frame layered with papier-mache, studded with tiny LED lights and complemented with an embroidered fabric bodice.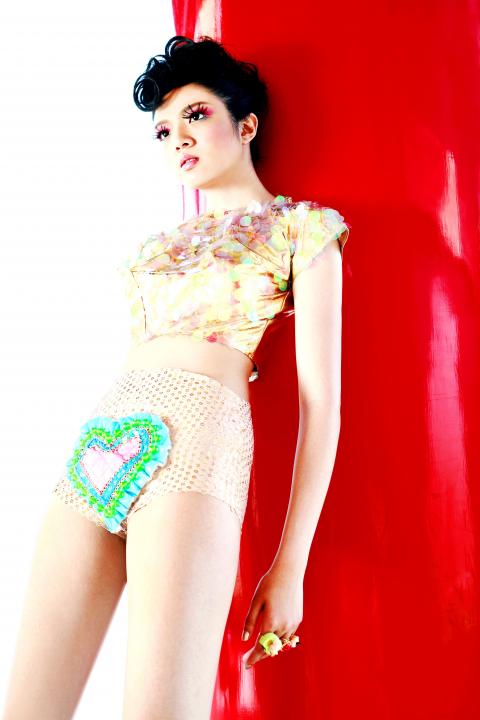 Designer Emma Bell worked with Taipei-based creative professionals, including photographer Chiu Ching-ying, to produce the final shoot for her collection entitled My Friend the Mosquito.
Photo Courtesy of Chiu Ching-ying
"With all of my work, whether I am at home in the UK or abroad, I always like to have an influence of whatever my surroundings are," Bell says. "I keep a journal and sketchbooks from day one and I never throw anything away, papers or wrappers or anything."
My Friend the Mosquito's final photo shoot took place at the Chiang Kai-shek Memorial. Bell had become enraptured with the colors and shapes of the plaza's buildings and would often return to observe the architecture in different weather and lighting conditions. Taipei-based photographer Chiu Ching-ying came up with a concept for the photographs that subtly incorporated the landmark while putting the focus on Bell's playful, richly detailed designs.
"When visitors photograph the Chiang Kai-shek Memorial's plaza, they usually take landscape shots," Chiu says. "We wanted to find details and backdrops that insiders would be able to recognize right away, without explanation, and that would not compete with Emma's over-the-top pieces."
Bell's stay in Taiwan was the final stop in an 18-month tour of artist residency programs that included stays in Vienna and Mino, a small Japanese town known for traditional papermaking. Before her year-and-a-half abroad, Bell showed collections in three London Fashion Weeks and created a line of clothing and accessories for Irregular Choice, a UK brand known for its offbeat footwear. She yearned to travel and collaborate with artists in different countries, but could not figure out a way to do so until she stumbled upon information about Austria's quartier21 artist residency program. Her Vienna sojourn was immediately followed by her trips to Japan and Taiwan.
"I got to work with a lot of different people, be involved in a different scene and create a project that was specific to where I was at the time," Bell says.
While in Sijhih, Bell also held regular workshops for Dream Community residents, including lantern garment-making classes. Her diverse group of students ranged from members of an elementary school samba band to an elderly man who wanted to create a costume based on Guan Yu (關羽), the God of War, to wear with stilts.
After the workshops were over for the day, Bell explored Taipei. One favorite haunt was the neighborhood surrounding Yongle Fabric Market (永樂市場), where Bell combed craft stores for items to add to a bag filled with trimmings, beads, glitter, scraps of paper and bits of fabric collected over the course of her design career for use in her creations.
"I always loved bright, unusual color combinations," Bell says. "I've always been interested in colorful, sparkly things, things that wouldn't usually work together."
Other places in Taipei Bell enjoyed during her wanderings included the neighborhood surrounding Zhongxiao Fuxing MRT Station (忠孝復興捷運站), Huashan 1914 Creative Park (華山1914) and the Shung Ye Museum of Formosan Aborigines (順益台灣原住民博物館).
"Even when you walk down a quiet street in Taipei, it's colorful," Bell says. "You might just see a poster in the window, and it's always so colorful. There is a lot to take from it."
For more information visit www.emma-bell.com.
Comments will be moderated. Keep comments relevant to the article. Remarks containing abusive and obscene language, personal attacks of any kind or promotion will be removed and the user banned. Final decision will be at the discretion of the Taipei Times.