Book review: Fireproof Moth: A Missionary in Taiwan's White Terror, by Milo L. Thornberry
Milo and Judith Thornberry helped Peng Ming-min escape from KMT authorities in 1970, but kept mum about it
Fireproof Moth is an autobiographical account of a Methodist missionary's stay in Taiwan in the late 1960s, but it reads like a thriller.
Author Milo L. Thornberry first describes his personal journey to becoming a minister in the mid 1950s. In 1965, the Methodist Church decided to send Thornberry and his wife Judith to Taiwan, and the couple went through preparatory sessions at Drew University and Stony Point Missionary Orientation Center north of New York. During this time he read some critical works such as George Kerr's Formosa Betrayed and Mark Mancall's Formosa Today.
Upon arrival in Taipei on New Year's Eve 1966 the couple settled down, started language school, and gradually came to experience the suffocating hold that the Chinese Nationalist Party (KMT) regime of Chiang Kai-shek (蔣介石) had on society in Taiwan. They also got to know Peng Ming-min (彭明敏), a professor who was under house arrest at the time for publishing a document titled A Manifesto for Self-Salvation in 1964.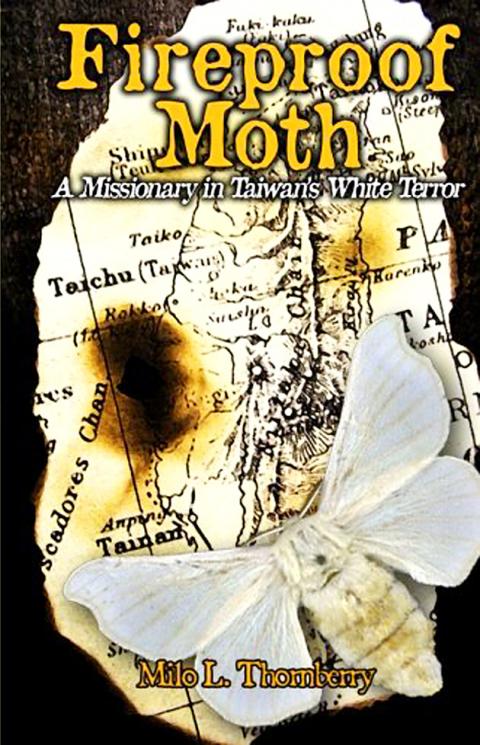 Fireproof Moth: A Missionary in Taiwan's White Terror, by Milo L. Thornberry.
The couple started to help channel support from overseas to families of political prisoners, with the help of Peng's two courageous students, Hsieh Tsung-min (謝聰敏) and Wei Ting-chao (魏廷朝). They also began producing mimeographed information sheets to inform visiting friends and colleagues overseas about the repressive political atmosphere in the country.
Together with other foreign friends in Taiwan they approached American and European reporters and supplied background information on developments in Taiwan. Fox Butterfield of the New York Times and Selig Harrison of the Washington Post were among the reporters they communicated with.
When in September 1968 Peng told the couple that he had received indications from the Investigation Bureau of the Ministry of Justice, one of the main secret police organizations at the time, that he might have an "accident," a plan was devised to smuggle him out of Taiwan. After more than a year of preparation the plan became a reality, and on Jan. 3, 1970, Peng left Taiwan using a doctored Japanese passport and disguised as a Japanese musician.
He made it safely to Sweden, where he received political asylum. Eventually Peng made it to the US, where he became a senior research scholar and visiting professor at the University of Michigan.
Oddly, the KMT authorities never discovered the role played by Thornberry and his wife in Peng's escape. They surmised that he had been helped by the CIA. The matter even came up in the February 1972 discussions between then-US national security adviser Henry Kissinger and president Richard Nixon with Chinese premier Zhou Enlai (周恩來). Zhou accused the Americans of aiding Peng in his escape, but Nixon responded with indignation: "We had nothing to do with it."
However, Taiwan's secret police agencies kept an ever tightening watch over Milo and Judith, and on March 2, 1971 — more than a year after Peng's escape — they were arrested and expelled from Taiwan. Selig Harrison visited them in their home while they were under house arrest and wrote a front-page article about it in the Washington Post ("Taiwan expels US missionary," March 4, 1971).
It wasn't until December 2003, at a reunion of human rights and democracy activists organized by the Taiwan Foundation for Democracy, that Milo and Judith — as well as the Japanese counterparts who also played a crucial role — disclosed their involvement in Peng's escape.
The book reads like a spy thriller and fills a key void in the written history of Taiwan's very recent transition to democracy. It is highly recommended.
Publication Notes
Publication Notes
Fireproof Moth: A Missionary in Taiwan's White Terror By Milo L. Thornberry 210 pages Sunbury Press
Comments will be moderated. Keep comments relevant to the article. Remarks containing abusive and obscene language, personal attacks of any kind or promotion will be removed and the user banned. Final decision will be at the discretion of the Taipei Times.