Restaurant review: Rue 216
Tucked away up an alleyway near Dunnan Eslite (敦南誠品), Rue 216 is a cozy bistro that serves French and French-inspired comfort food. The restaurant has a loyal following and was crowded on a recent Saturday night. Though the food was slow to arrive, it was worth the wait.
The pork jowls (NT$190) from the small but well-edited tapas menu were fantastic: The meat was expertly browned with crisp edges, which gave way to a succulent interior, and had an ample layering of fat that burst with a luxurious, smoky flavor.
The french fries with truffle oil (NT$230) took a little longer to prepare, but were almost as excellent as the pork jowls. The thick-cut strips were piping hot when they arrived with a small side of lemon mayonnaise. The truffle oil added just the right note of earthiness to the fries without being overwhelming. They were tasty on their own, but the lemon mayo, which had its citrus flavor tempered with tiny bits of ham and blue cheese, was a mouth-watering complement.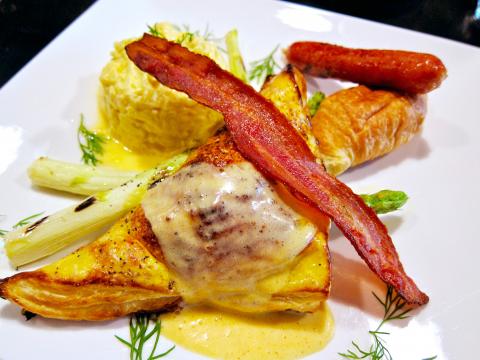 French bistro Rue 216's delicious comfort food enjoys a devoted following.
Photo: Catherine Shu, Taipei Times
Compared with our appetizers, my companion's entree, the braised short rib gratin (NT$440), was a letdown. The meat was tender and arranged thoughtfully with seafood-stuffed pasta and a tomato topped with yam, but its flavor was underwhelming and paled in comparison to its light topping of very ripe-tasting cheese.
I fared better with my bouillabaisse (NT$520), which came with toasted bread and a dollop of rouille sauce (or mayonnaise made with plenty of garlic and chili powder) served on the side. The full-bodied, mellow broth contained a delicious mixture of mussels, shrimp, calamari, baby octopus and fish.
Rue 216's drinks menu includes several kinds of Belgian beer and red and white wines from six countries. My waitress suggested the dry and crisp house white wine, a Chilean sauvignon blanc (NT$180), to go with my seafood.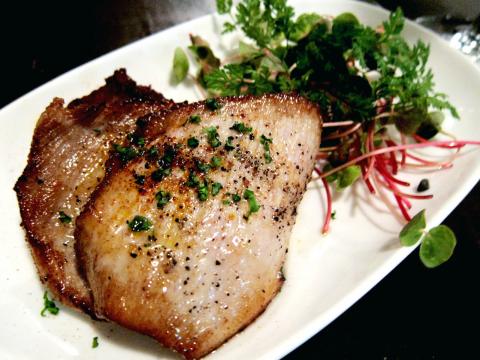 French bistro Rue 216's delicious comfort food enjoys a devoted following.
Photo: Catherine Shu, Taipei Times
From peeking at our fellow diners' tables, we saw that Rue 216's cheese and charcuterie assortment (NT$280) is a popular choice and regretted not ordering the platter, which is arranged prettily on a thick wooden cutting board. All of the restaurant's dishes are plated attractively, including the hearty brunches, which are a bargain at NT$170 to NT$220 each. (The menu says brunch is offered on Saturdays and Sunday from noon to 4pm, but I was able to order it on a Tuesday.) According to my waiter, the best-selling choices are French toast with salad and Parmesan scrambled eggs (NT$280), quiche with mushroom scrambled eggs (NT$250) and chicken puff pastry with scrambled eggs (NT$250). The latter came with grilled asparagus, sausage and crispy bacon. The scrambled eggs were fluffy and tasted like they had been made with lots of cream — in fact, they were almost too sweet. The puff pastry was just right: light and crispy on the outside and filled with juicy caramelized onions and moist chunks of chicken breast.
Rue 216 is decorated with all the hallmarks of French bistro style — a dark wooden bar, leather chairs, copper pots hanging on the walls — but pulls it off without looking like a cliche. The restaurant is a fun, bustling destination for an outing with friends on the weekend, and with picture windows and a selection of arty English-language magazines like Wallpaper and Elle Decor, it's a relaxing spot for lunch on the weekdays.
Publication Notes
Rue 216
Address: 12, Alley 4, Ln 345, Renai Rd Sec 4, Taipei City (台北市仁愛路四段345巷4弄12號) Telephone: (02) 2711-3450 Open: Mondays to Thursdays noon to 2:30pm and 6pm to midnight, Fridays from noon to 2:30pm and 6pm to 2am, Saturdays noon to 2am, Sundays noon to midnight Average meal: NT$800 to NT$1,000 (average brunch or lunch is NT$250) Details: Chinese and English menu, credit cards not accepted
Comments will be moderated. Keep comments relevant to the article. Remarks containing abusive and obscene language, personal attacks of any kind or promotion will be removed and the user banned. Final decision will be at the discretion of the Taipei Times.