Litter bugs
Pick Up America hopes its cross-country cleanup trek will leave the US a better place and raise awareness of environmental issues
Environmental group Pick Up America finds an eye-popping (and gag-inducing) variety of items during its roadside litter cleanups across the US: beer bottles, used condoms, porn magazines, vibrators, underwear and hypodermic needles.
"One of our theories is that we find things people don't want other people to see that they have in their lives. It's like dirty little pleasures," says Jeff Chen (陳奕正), Pick Up America's cofounder and director of digital media.
Pick Up America's goal is to walk across the US, cleaning up litter and participating in community outreach along the way. Since launching last year, the group has completed pick-ups in four states and Washington, DC. In nine months, volunteers cleared 33.27 tonnes of trash.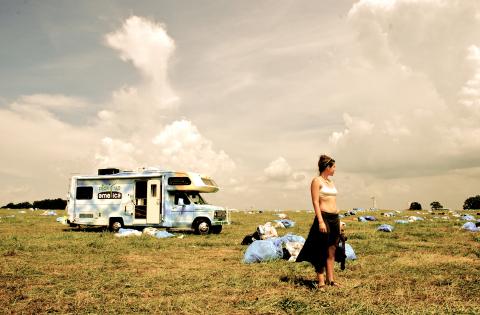 A volunteer surveys trash leftover from Bonnaroo Music Festival in Manchester, Tennessee.
Photo courtesy of Pick Up America
But the group's goals go beyond its cross-country trek. Chen also wants people to look at the wider issues behind the trash. He says many Americans have gotten used to a "culture of convenience" that values saving time with single-use packaging and disposable items over conservation.
"We manufacture so much stuff that we don't need and it doesn't bring us happiness. We want to have access to everything at any time," Chen says.
Much of the litter Pick Up America encounters is not junk, but potentially valuable recyclables like aluminum cans and scrap metal. But even recycling materials uses energy and reduces quality until what remains is finally unusable, a process called "downcycling." Manufacturing products or mining coal for energy also results in industrial waste, which Pick Up America volunteers frequently see during their treks.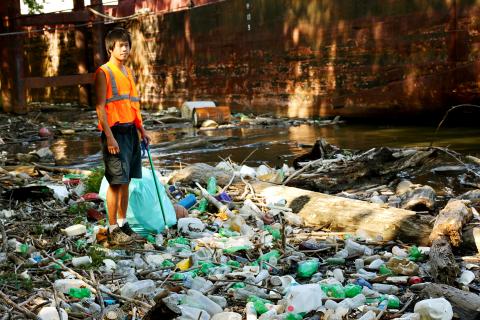 Pick Up America cofounder Jeff Chen removes litter from the Ohio River.
Photo courtesy of Pick Up America
"We walked West Virginia, where all the chemical and coal plants are that produce the stuff that we use," Chen says. "We saw acid mine drain off, which is a [by-product] from producing coal. We saw that in all these communities, where there are people who grew up thinking that streams are supposed to run orange."
Filmmakers Michael Burke and Marie Wicht met the group's organizers at a conference in Washington, DC and were intrigued by Pick Up America's approach to promoting environmental awareness.
While filming a short documentary about the group, Burke and Wicht spent five days with Pick Up America along the border of Ohio and Kentucky and were taken aback by the amount of litter they encountered. Burke recalls picking up a countless number of glass bottles on a stretch of road 12m long. Just as the group thought they had finally cleared up all the bottles, Wicht took a step backwards and heard a loud crunch.
"We looked down and realized that almost all the ground we were standing on was actually glass bottles that had been there so long that dirt and grass and plants had grown over them," Burke wrote in an e-mail.
Encountering seemingly interminable mounds of litter can be frustrating. "It's pretty discouraging sometimes. It's the same types of trash everywhere we go and it could be easily avoided," Chen says. Pick Up America's volunteers are encouraged by the people they meet in different towns, who sometimes spontaneously join in the clean up.
But the group still faces a fund-raising challenge. It has raised 10 percent of a US$55,000 goal, which will go toward outfitting its truck to run on waste vegetable oil, compensation for nine full-time volunteers and community outreach activities. "We run on unicorns and rainbows," Chen jokes.
Pick Up America's volunteers are currently on hiatus for the winter and plan to resume their walk from Ripley, Ohio to California on March 4. The itinerary comprises eight states.
Chen is taking advantage of a vacation in Taiwan to contact local media, which he hopes will help him spread the group's message to Taiwanese and Taiwanese Americans. Growing up in a Taiwanese American family taught him the value of conserving resources, Chen says.
"I think Taiwan does a better job of recycling than America does, probably because it is an island nation. Across the political spectrum, everyone knows that they should recycle and reuse things," Chen says. "In Taiwanese culture, at least for me growing up, my parents taught me to conserve and not use what I don't need."
The idea for Pick Up America came to Chen during a college internship as a ranger in Yosemite National Park. While hiking Half Dome, Chen was appalled by the amount of litter he saw on one of the park's most famous landmarks.
"On our way back, a friend and I just picked up every piece of trash along the trail. Yosemite is a national treasure. Why is there trash in a place we all decided we care about?" Chen says.
Chen says that people can reduce waste by taking small steps like flushing the toilet less, carrying reusable shopping totes, bringing thermoses to coffee shops and not buying bottled water.
"There is so much that is hidden beneath our consumerist culture," Chen says. "I'm not wishing for a bad economy. I feel like we can be productive, but also consider our environmental and social impact."
For more information or to donate, visit www.pickupamerica.org
Comments will be moderated. Keep comments relevant to the article. Remarks containing abusive and obscene language, personal attacks of any kind or promotion will be removed and the user banned. Final decision will be at the discretion of the Taipei Times.