Bridges abides
A cinematic giant known for his laid-back attitude, Jeff Bridges is in line for an Oscar again after his reprise of the 'True Grit' role made famous by John Wayne
At a recent soiree in the rarefied surrounds of the Paley Center in Beverly Hills, Jeff Bridges attended an unusual movie premiere. Instead of a film featuring him playing a big role, the movie was about his life.
The star-struck crowd at Paley watched an 82-minute documentary, part of the PBS channel's American Masters series, detailing Bridges' escapades in Hollywood. Afterwards he indulged in a Q&A with the crowd. The experience, he said, had been just like watching a "giant home movie."
So it should be. For Bridges, who grew up next to Beverly Hills, has spent most of his life in the Hollywood system. He was born into a show business family, had his first role aged four months in 1950 and now, at 61, has made more than 60 films.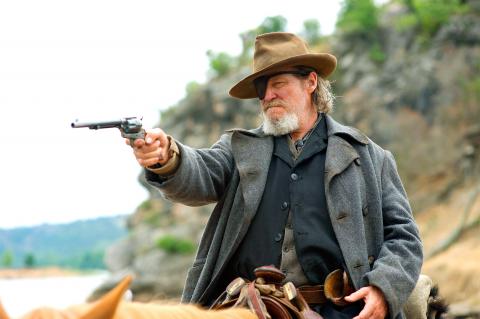 Jeff Bridges is shown in a scene from the film "True Grit," directed by the Coen brothers.
Photo: Reuters
Now he is nominated once again for the best actor Oscar; for his role as Rooster Cogburn in the Coen Brothers' True Grit. That follows his best actor win last year for his portrayal of a drunken country music singer in Crazy Heart. With six Oscar nominations to his name, Bridges has finally blossomed into his birthright: he is Hollywood royalty.
Yet there is a potential obstacle to this latest success, and it comes in the shape of Colin Firth. The British actor's portrayal of a stuttering monarch in The King's Speech is generating the hottest buzz in Tinseltown, especially as Firth's strong performance last year in A Single Man lost out to Bridges. "Those two were up against each other last year. They are nose to nose again, but I think this is Colin's year," said the celebrity interviewer Gayl Murphy.
Firth may be cracking open Hollywood and finally becoming a big star. But Bridges has lived his life as one. Whether he wins an Oscar for playing the cigar-chomping Cogburn is almost irrelevant. His position in Hollywood is now so exalted that he cannot lose.
"He is the male equivalent of Meryl Streep," said Richard Laermer, a cultural critic at the Huffington Post. "Everything he does from now on will get a nomination. People love him. They love him the same way as they love Jack Nicholson."
Almost everything Bridges does appears to exude the Zen-like calm of a man already at the top of the mountain. Few know that better than Murphy, who has interviewed him about 15 times. Bridges is almost unique, she says, in being relaxed in a Hollywood world usually defined by high-octane egos, controlling PRs and staggering narcissism. "He's mellow. He's out there. He's interested and interesting and when you interview him he always asks you questions, too," she said.
Bridges is, in short, a little similar to one of his most famous roles: that of The Dude in the Coen Brothers' comedy The Big Lebowski. The Dude was a stoner, at peace with a confusing world, standing slightly above the concerns of others and pursuing his own form of happiness.
For an actor known to practice meditation (and smoke a little marijuana) and play with a band in his hometown of Santa Barbara, it was not a huge jump. "He'll show up in a Hawaiian shirt to an interview. He's sort of like the Jimmy Buffet of acting. He is just so grounded," Murphy said.
Perhaps his rare sense of equanimity can be accounted for by the fact that Bridges did not have to break into Hollywood. His story was not one of arriving in California from some Midwestern town with a dollar and a dream. He was born within sight of the Hollywood sign to an acting couple, Dorothy and Lloyd Bridges. Jeff and his older brother, Beau, had occasional appearances on his father's hit shows, Sea Hunt and The Lloyd Bridges Show.
Jeff was a natural talent. His first Oscar nomination came with his first major role — in The Last Picture Show in 1971 — and he has hardly looked back. Granted, his early film career contains its fair share of misses — King Kong and Heaven's Gate, for instance — but his filmography also includes some of the great classics of modern American cinema. From The Big Lebowski to Starman to The Fisher King to The Fabulous Baker Boys, Bridges has embraced a variety of roles from hippy to alien to radio shock jock to errant bad-boy musician. But through it all he has maintained a fundamental likeableness that endears him to audiences of all ages even as it brings in big box office. He is hailed as one of the great actors of his generation with a range of ability that far outweighs many of his rivals.
Yet, unusually for such a high-profile male Hollywood star, there is no dramatic personal life to speak of. Not for Bridges the disastrous private life of Charlie Sheen, whose drug and hooker problems regularly hit the headlines. Not for him flirtations with Scientology or divorces from other A-list names. Instead he chose the Paul Newman route: eschewing the temptations brought by his sex appeal and plumping for a settled married life.
Bridges met Susan Geston, who was to become his wife, in 1974. They remain happily married and have three daughters. He lives, in many ways, an ordinary life.
"He loves his wife and loves his family. He lives in Santa Barbara and plays guitar in his band. You can go and see him play locally. He is just a real-life guy," Murphy said.
Well, to a degree. He is the sort of humble guy who was brave enough to take the True Grit role of Rooster Cogburn and his famous eye-patch, stepping into the role John Wayne created. Yet Bridges — helped greatly by the Coen brothers' direction and script — took on the part and made it his own. The film, which its directors are at pains to point out is not a remake of the film but an adaptation of the book, has stunned many by becoming an instant hit.
"Bridges, in the old John Wayne role, plays a man, not a myth; you can sense Rooster's stink and his nasty intelligence," wrote the New Yorker critic David Denby.
"It's hard to imagine bigger boots to fill than the ones that earned John Wayne his Oscar in True Grit, and yet Jeff Bridges handily reinvents the iconic role," said Variety's Peter Debruge.
Even the unlikely figure of New York Times political writer Frank Rich joined the chorus. He devoted an entire column to the themes raised by the work and went so far as to say the movie encapsulated the yearnings of modern America. "The one-eyed man is king," Rich wrote. He might well have added that the man who played him is, too.
With back-to-back best actor nominations, a public that loves him and a pack of critics that worships him, Bridges has the pick of any role he could possibly want. No doubt many more nominations lie ahead.
"He is the grand old fellow of Hollywood. He will just keep getting nominated from now on," said Laermer.
That is why no upstart actor like Firth is going to make much of a difference. "Colin Firth has peaked with The King's Speech," said Laermer. "There is nothing more that he can do now. Bridges will just keep rolling in and rolling out."
It is a rare place to be, occupying a spot alongside a handful of names — Jack Nicholson, Gene Hackman and Morgan Freeman. But Bridges is, as always, likely to be unfazed. Like his famous cinematic alter ego, The Dude, Bridges' mellow nature is likely to accept all his success with a shrug and a wink. No wonder, perhaps, that the documentary celebrating his life as an actor took its title with from an oft-quoted line from The Big Lebowski. It was called The Dude Abides. And so he does.
Jeff Bridges — a brief filmography
The Last Picture Show (1971)
The young Bridges made his name in this critically-acclaimed story of 1950s high schoolers coming of age in west Texas.
Tron (1982)
Bridges reached a new audience in this sci-fi tale of a computer hacker who is drawn into a digital world and forced to compete in gladiatorial contests.
The Fabulous Baker Boys (1989)
Stars alongside brother Beau in this story of two siblings who scratch a living as club singers and whose lives are changed when they meet a former escort.
The Fisher King (1991)
Plays a suicidal former radio DJ who finds redemption by helping a deranged homeless man in this Terry Gilliam classic.
The Big Lebowski (1998)
A career-defining role as bowling slacker who is mistaken for a millionaire by inept criminals in this Coen Brothers cult classic.
Seabiscuit (2003)
Tugs at the heartstrings as the owner of an undersized racehorse that lifted American hopes during the great depression.
Crazy Heart (2009)
Bridges finally won an Oscar for his portrayal of a faded country musician whose relationship with a single mother causes him to reassess his life
Comments will be moderated. Keep comments relevant to the article. Remarks containing abusive and obscene language, personal attacks of any kind or promotion will be removed and the user banned. Final decision will be at the discretion of the Taipei Times.