Disturbing pasts, distracting presents
Malaysian artist Wong Hoy Cheong receives the treatment he deserves with his solo show Days of Our Lives at Eslite Gallery
Even though the year has just begun, the sampling of photography, sculpture, installation and videos by Malaysian artist Wong Hoy Cheong currently on view at Eslite Gallery will unquestionably be one of the best gallery shows of 2011.
From the effective renovation of the gallery space to accommodate Wong's wildly diverse interests to the artist's attention to detail in the depiction of weighty themes that edify but don't overburden the viewer, Days of Our Lives is sure to leave art aficionados wondering why this is his first solo show in Taipei. It even offers an afternoon's entertainment for the whole family.
Thinking of catching a Hollywood thriller at the movie theater? Save yourself the cash and check out Wong's series of noirish photos entitled Chronicles of Crime. Forget buying a book at Eslite, located two floors below the gallery: The Definitive ABC series, which comprises dictionaries of gibberish, offers all the reading you'll need.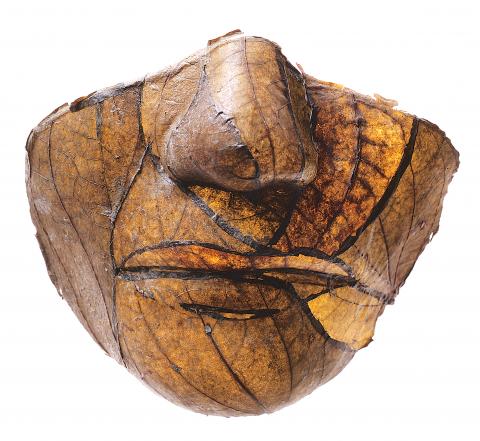 Wong Hoy Cheong, Indigenous Skins: Betel Leaf (detail) (1998-2000).
Photo courtesy of Eslite Gallery
There is even a section geared toward kids: Oh Sulukule, Darling Sulukule, a video about Turkey's Roma children, is presented in an oasis-style tent with puffy pillows and colorful plastic chairs. And Text Tiles, a floor installation, offers you the opportunity to sit on dictators like Pol Pot, Mao Zedong (毛澤東) and Chiang Kai-shek (蔣介石). What could be more fun than that?
Underlying Wong's playfulness is a serious inquiry into Asian and world history, society and politics as seen through the lens of Malaysia's colonial and post-colonial experience.
"I am interested in the waves of migration and globalization that have swept the world from time immemorial; the retrieval of marginalized and forgotten stories drowned in the grand narrative of history and nation states; unraveling the slippery boundaries between past and present, fact and fiction, language and image," he writes in his artist statement.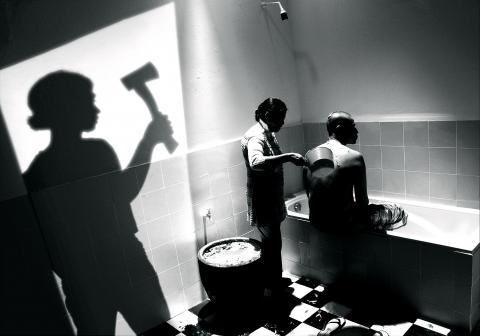 Wong Hoy Cheong, Chronicles of Crime: Mandi Bunga/Bath of Flowers (2006).
Photo courtesy of Eslite Gallery
Yes, yes, yes: Wong's Harvard education means that we are going to be presented with a lot of dichotomies. But he avoids the didacticism found in much art based on critical theory, and explores Asia with a panache that will appeal even to those disinclined to think much about history.
Though Text Tiles draws on Malaysia's racial and ethnic divisions following its independence from Great Britain in 1957, the installation's narrative fragments should be readily comprehensible to those familiar with Taiwan's own ethnic constituencies — especially benshengren (本省人) and waishengren (外省人).
Wong pulped school textbooks, history books and political biographies on and by the world's dictators and sealed the fragments — some burned, others torn — onto 270 floor tiles. An additional 20 tiles, placed diagonally, interrupt the grid and show scuffed up headshots of leaders including Stalin, Hitler and Kim Il-sung.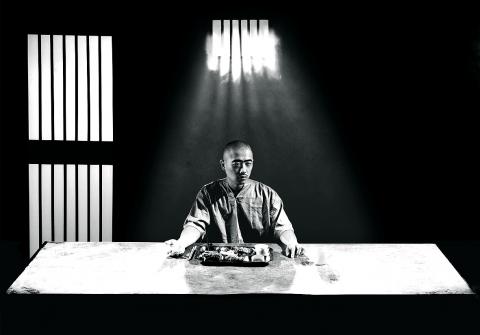 Wong Hoy Cheong, Chronicles of Crime: Last Supper (2006).
Photo courtesy of Eslite Gallery
By placing together the writings of Asian and Western dictators, Wong demonstrates that totalitarian tendencies aren't culturally or geographically exclusive: Instead of universal human rights, we are presented with universal human wrongs. Asian leaders such Malaysia's Mahathir Mohamad and Singapore's Lee Kwan Yew promote an ideology of repression while espousing doctrines of cultural essentialism under the guise of so-called Asian values. Authoritarianism is authoritarianism, Wong suggests, regardless of where it exists or who practices it.
The Definitive ABC of Government and The Definitive ABC of Ethnography, two handmade mock reference books bound in leather, also subvert textual authority.
The fascist notions and racial stereotypes found in Adolf Hitler's Mein Kampf and Mahathir Mohamad's The Malay Dilemma are put under the knife, both literally and metaphorically, in The Definitive ABC of Government, while the exoticism of the "other" as decoded by anthropologist Margaret Mead in The Coming of Age in Samoa and travel writer V.S. Naipaul in Faith Among the Believers receive the same surgical treatment in The Definitive ABC of Ethnography.
By mulching and reconstructing the texts, Wong deconstructs the original words and meanings into a new work of nonsense, which effectively dismantles the "taxonomy of truth, logic and hierarchies" that forms the underlying presumptions of authoritative books.
Whereas The Definitive ABC series unravels racialism textually, Non-Indigenous Skins and Indigenous Skins does so sculpturally. The "skins" are masks molded from Malaysia's non-indigenous and indigenous plants and cast from people who are the offspring of racially mixed parents. Displayed inside vitrines complete with cards containing binomial nomenclature, as though Linnaean specimens, they comment on issues of hybridity and question ideas of authenticity.
These sculptures are perhaps the clearest expression of the meticulous work that Wong puts into his art. His Chronicles of Crimes series, with its months of research and meticulous use of lighting and staging, is similar in this respect — though that's where the similarities end.
The 10 black-and-white staged photos re-imagine archetypal scenes of crime by adopting a visual language of stylized violence culled from film noir.
Chronicles of Crime: Swimming Pool depicts a bound man drowned in a pool — an intentional rip-off of the opening scene of Billy Wilder's film noir classic Sunset Boulevard. Chronicles of Crime: Mandi Bunga/Bath of Flowers recalls the iconic bathroom murder scene in Hitchcock's horror film Psycho. The series skillfully visualizes the sordid sensationalism of sex and murder common in today's mass media that both repels and captivates the contemporary imagination.
In our media-saturated times, where the focus is on the sound bite, the scurrilous and the sexy, Days of Our Lives, with its juxtapositions of disturbing pasts and distracting presents, suggests that our ability to fully comprehend the former is continually stymied by the latter. Mostly, however, this is just an enjoyable, thoughtful show.
Publication Notes
Exhibition Notes:
What: Days of Our Lives: Wong Hoy Cheong Selected Works 1998-2010
When: Open Tuesdays to Sundays from 11am to 7pm. Until Jan. 23
Where: Eslite Gallery (誠品畫廊), 5F, 11 Songgao Rd, Taipei City (台北市松高路11號5摟), tel: (02) 8789-3388 X1588
Comments will be moderated. Keep comments relevant to the article. Remarks containing abusive and obscene language, personal attacks of any kind or promotion will be removed and the user banned. Final decision will be at the discretion of the Taipei Times.