Brake away bikes
Transplanted from Japan and the US, fixed-gear biking has quickly grown to become a familiar sight in urban Taiwan
Many of Taipei's best-known cyclists gathered outside Ximen MRT Station (西門捷運站) on a recent Saturday night. Peng Wen-yan (彭文彥), better known as A-bao (阿寶), arrived with his team Skunk. Members of the Nabiis (www.nabiis.net), a pioneering fixed-gear bike group, looked agile in their professional outfits, while riders from BreakBrake 17 (breakbrake17.com) were in high spirits after winning the trick competition held outside Zhongshan Hall (中山堂) earlier that day.
Tension mounted as the designated time approached. "Ready, go!" a timekeeper shouted at 9pm sharp, beginning the third alleycat race organized by Beardude (貝哥哥, beardude.com), an online community for fixed-gear enthusiasts. More than 170 young cyclists wasted no time in blocking traffic on Zhonghua Road (中華路) and racing to the first station at the Bopiliao Historical Block (剝皮寮歷史街區) in Wanhua (萬華) District.
Twenty-seven minutes later, the first racer dashed to the fifth and final checkpoint at Huashan 1914 Creative Park (華山1914).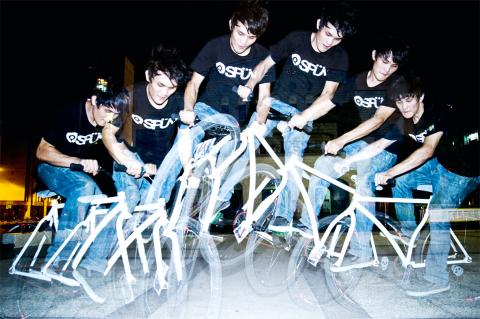 Photo courtesy of Chang Chiao-ling from FGGT
Fixed-gear bicycles, or fixies for short, are a back-to-basics mode of transportation with one gear, one sprocket and one brake (if any). The vehicle's rear cog is attached to the wheel, which means the pedals are synched with the wheel's motion. In other words, if the bike is in motion, so are the pedals and the rider's legs. Cyclists slow down or stop on a fixed-gear bicycle by resisting the turning pedals with their legs. A front brake could help, but many cyclists choose to ride without.
With their streamlined design, fixies were ridden in the early days of the Tour de France and used for track racing on the velodrome. Then derailleurs and multiple gears came along and forced fixed-wheel cycling to the sidelines. Years later, fixies were adopted by bicycle messengers in New York City.
It is hard to pinpoint when and how urbanite fixed-gear biking achieved its current hipster status in countries like Japan and the US, but it is commonly agreed that the trend took off in the past decade, complete with a utility-based street chic that encompasses skinny jeans (to avoid getting caught in the bike chain), narrow sneakers (to fit into the pedals) and large single-strap messenger bags. The 2007 documentary film Mash SF is said to set the benchmark for the street culture of fixed-gear cycling by capturing the adventures of bike messengers weaving through traffic, doing tricks and whooshing down the steep hills of San Francisco.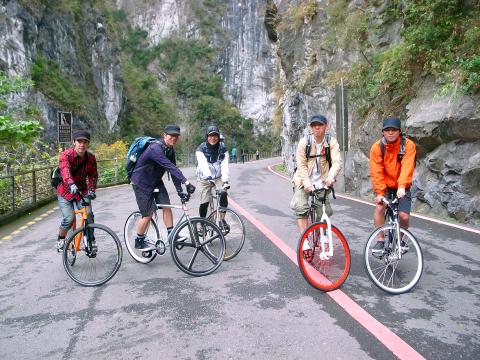 Members of fixed-gear team Braised Pork Foot take to the hills.
Photo COURTESY OF BPF
When riders such as A-bao and the Nabiis cyclists started weaving in and out of traffic on the streets of Taipei more than four years ago, fixed-gear bicycles were virtually unknown here. "When we first became interested in this type of bike, we couldn't find components and frames at local shops or online emporiums. Bike store owners thought we were crazy to want to ride a bicycle without brakes," said 26-year-old Hsieh Chia-cheng (謝佳成), cofounder of Nabiis.
It didn't take long before fixed-wheel fever took hold around the country. The population of fixie riders has swelled in the past couple years, and bike clubs and teams have proliferated in cities such as Taipei, Taichung, Tainan, Kaohsiung and Hualien.
"You can determine the rise in popularity from the volume of online shopping for fixed-gear bicycles. About three years ago, you couldn't find any entry online. A couple of years ago there were about 20 to 30 pages of items to browse through, and the number jumped to 70 last year," said Kenny Lai (賴昇鍵), owner of fixed-gear shop Calorie in the Ximen District (西門町).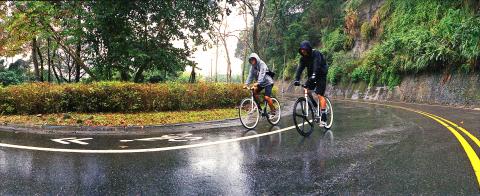 Members of fixed-gear team Braised Pork Foot take to the hills.
Photo COURTESY OF BPF
Now fashion publications like GQ are writing about them, Japan's street fashion brand MSPC is selling the hip fixer-look to Taipei's scenesters in the capital's East District (東區), and a young demographic has embraced fixed-wheel cycling.
"People who were first attracted to fixies were more creative types like artists and designers. It wasn't until one to two years ago that young people started jumping on the fixie wagon after reading about the trend in street fashion magazines like Bang and Cool," said A-bao, who set up his fixie workshop Swirly Whirly in 2009.
Fixed-gears may be trendy, but the enthusiast culture surrounding customized bikes means they are also valued as a means of expressing individualism.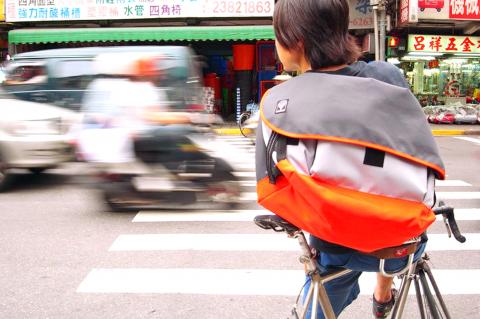 Fixies offer an elegant simplicity with their single gears, single sprockets and optional brakes.
Photo Courtesy of Nabiis
"I choose to ride fixies because I want to be different," said 20-year-old Tseng Shih-hsiu (曾士修) from fixed-gear team Braised Pork Foot (台灣滷肉咖, BPF), whose members are mostly musicians and designers. "There is no end to how unique you can make your ride, and the bike always reflects the personality of its rider."
Simplicity is another frequently mentioned attraction of fixed-gear bicycles, which have a clean, elegant look. Unlike geared bicycles, with their abundance of parts and accessories that can break, fixed-gear bikes require little more than a few drops of oil on the chain every once in a while.
"Fixed-wheel is a return to a simpler time when no fancy accessories were needed. There is a sense of freedom in it, and you become a little boy again, just wanting to ride with friends and have fun," novice biker Lo Tien-yi (羅天羿) said.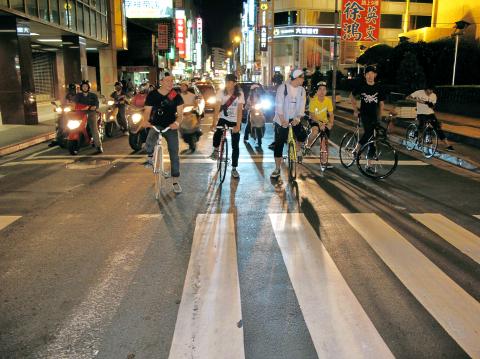 Fixies offer an elegant simplicity with their single gears, single sprockets and optional brakes.
Photo Courtesy of Nabiis
A host of fixed gear-related activities have sprung up in Taipei over the past two years. They range from alleycat races and trick competitions to bike polo games and social rides. Hosted by Nabiis, Friderday is a well-known event composed of cycling activities and games as well as large races. One recent effort to promote fixie riding is Pop 5, a get-together of riders who pedal around the city every Friday night. Lots of Vans, tight jeans and tattoos were in evidence at a recent edition of the weekly event that saw some 30 fixed-gear cyclists assembling outside the Sogo department store's Fuxing branch (復興館) on Zhongxiao East Road (忠孝東路) in Taipei.
However, a mixed crowd is not a common sight, as each bike team has its own territory in the city. Members of BPF are sometimes sighted practicing tricks on the square in front of Taipei 101. The Nabiis team trains by cycling up the mountains in Waishuangxi (外雙溪) on a weekly basis. Skunk, led by A-bao, maintains a presence in the Minsheng neighborhood (民生社區) across town.
The riverside park under the Dazhi Bridge (大直橋) has become a favorite spot with riders from BreakBrake 17, a swanky fixed-gear shop near Sun Yat-sen Memorial Hall (國父紀念館). The riverside area has recently been furnished with mobile toilets and extra lighting at night, thanks to the large crowds attending the nearby Taipei International Flora Exposition.
The country's population of fixed-gear bicycle riders has swelled in the past couple years, with bike clubs and teams proliferating in cities including Taipei, Taichung, Tainan, Kaohsiung and Hualien.
Photo Courtesy of Chang Chiao-ling From FGGT
Though the urban biking scene is dominated by males, Fixed Gear Girl Taiwan (FGGT, fixedgeargirltaiwan.blogspot.com) is undoubtedly the most noticeable and eye-catching team in town. The group was set up in June 2009 by several young female riders in the hope of encouraging more women to take up riding fixies. When these amiable lady bikers hang out and practice tricks outside Zhongshan Hall along with an all-male gang of BMX bikers, they chat about anything from how to match clothes with bicycles to the limited range of small frames for Asian women.
But when it comes to business, competition is unavoidable. Both Lai of Calorie and Ken Su (蘇豐建), owner of BreakBrake 17, point out that the past few years have seen great efforts made to capitalize on the fixed-gear trend as manufacturers, both new and established, rush to produce new frames and components.
Since Taiwan has a strong bicycle-manufacturing base, it is not much of a surprise to see local fixed-gear brands such as Favor Bikes (favorbikes.com) and Steel Fixed Gear (鋼鐵單車) expanding their ranges, selling Made-in-Taiwan designs not only to riders at home but to cyclists in countries including China, Japan, Thailand, Australia and the US.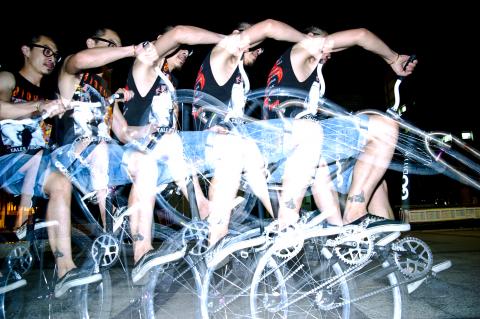 The country's population of fixed-gear bicycle riders has swelled in the past couple years, with bike clubs and teams proliferating in cities including Taipei, Taichung, Tainan, Kaohsiung and Hualien.
Photo Courtesy of Chang Chiao-ling From FGGT
"Skateboards and BMX bikes have developed in the West for over two decades, but it has only been a few years since fixed-gear bicycles took over the street. The way I see it, we stand a chance of taking Taiwanese designs to a global market," the 32-year-old Lai said.
Cyclists and extreme-sports enthusiasts are drawn to the two wheelers, Lai said, because fixies enjoy a variety of advantages over other bikes: "You can simply ride them, go airborne or do tricks."
Gen Tsuchihashi, a Japanese messenger who rode for By-Q for five years in Tokyo before setting up the courier company Prodorapid (www.prodorapid.com.tw) in Taipei, said that when he worked as a messenger in 2005, the majority of Tokyo urbanites didn't know about fixed-gear bikes. "But now they're everywhere," he said. "The fixed-gear craze is a global phenomenon."
And what do enthusiasts who identify themselves with the messenger culture and regard themselves as skilled riders think of trend-chasing kids riding fixed-gears with bulky frames in crazy colors?
"It's all good as long as people are having fun," A-bao said.
Comments will be moderated. Keep comments relevant to the article. Remarks containing abusive and obscene language, personal attacks of any kind or promotion will be removed and the user banned. Final decision will be at the discretion of the Taipei Times.