In the wrong place at the wrong time
Police informant Piet Hoffman's last job goes horrifically wrong in this Larsson-esque tale of skullduggery and corruption that takes aim at Sweden's police authorities
This is the sound of music, for those who publish mystery novels these days: "He accelerated after Slussen, along Stadsgardskajen, then braked and turned off just before Danvikstull bridge and the municipal boundary with Nacka. Down Tegelviksgatan and then left into Alsnogatan to the barrier that blocked the only road up to Danviksberget."
In other words: Sweden. Even better, it's Stockholm, aka the place where Stieg Larsson lived, died and somehow managed to write his blockbuster Millennium trilogy along the way. The passage is from Three Seconds, which is not the first book written by the odd-couple team of Anders Roslund (journalist) and Borge Hellstrom (ex-criminal). But Three Seconds is the first Roslund and Hellstrom book that has been wishfully packaged to suggest that The Girl With the Dragon Tattoo has a second cousin.
Three Seconds spent the better part of a year on Swedish best-seller lists. Its authors won a prize — the Swedish Academy of Crime Writers' Award for Swedish Crime Novel of the Year — that has also been awarded to Larsson and Henning Mankell. They know how to deliver the kind of stilted, world-weary verbosity that somehow quickens the pulses of this genre's readers. Even better, they are on a first-name basis with the Seven Dwarfs of Scandinavian Noir: Guilty, Moody, Broody, Mopey, Kinky, Dreary and Anything-but-Bashful.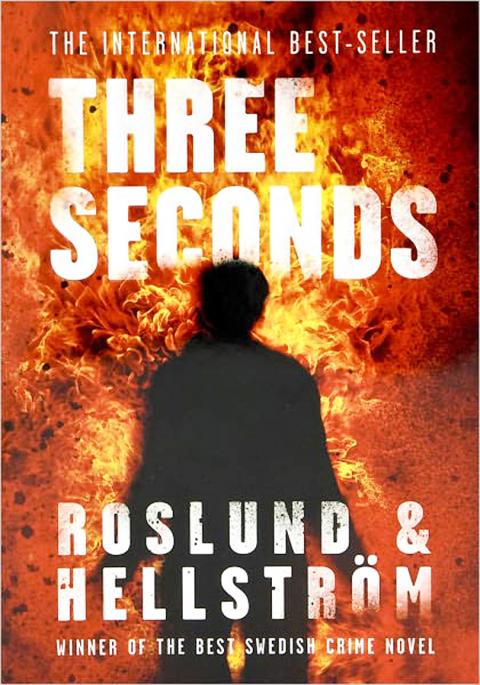 THREE SECONDS
Roslund and Hellstrom know better than to make Three Seconds short, no matter what kind of brevity its title describes. So this is a nearly 500-page book with a many-faceted plot, and the authors are in no hurry to bring their story into focus. They begin with a kind of party exhortation: "Eat, drink, and throw up." Those are the instructions given to drug mules who have ingested small rubber parcels of amphetamines and have successfully transported them into Sweden from Poland.
There's a nugget of social criticism at the heart of this plot idea. The Polish mafia's plan to expand into Sweden involves supplying drugs to Swedish prisons, euphemistically referred to as "the closed market" in this story. A scheme like this necessarily involves two Swedish authorities: the police and the Prison and Probation Service.
The book ascribes malfeasance to both sides, saying that "the Police Service has for many years used criminals as covert human intelligence sources," that the police conceal and deny this process, and that prison authorities quietly condone it. "If prisoners were not high on chemical substances," the authors write in an afterword, "the Prison and Probation Service would be forced to improve skills and competence at a cost that we, society, would not be prepared to pay."
That brings us to Paula, the mysterious character who appears in the book's violent opening. Paula is one of the drug mules on the Poland-to-Sweden route. Paula is the code name for a man, Piet Hoffman. And Piet is a Swedish police infiltrator whose dealings with top-level Polish gangsters have put him in an exceedingly dangerous situation. He is also a bona fide ex-con, since the police believe that it takes a real criminal to impersonate one.
The drug deal turns violent. A second Swedish police informant is killed by the mobsters. Piet escapes and is on the run. To add to his troubles, he is saddled with the trumped-up criminal record that the police created for him, so that he appears to be a much more dangerous character than he actually is. And Piet, though a stereotypically devoted family man, knows that he is headed for prison. So he concocts the elaborate scheme that is at the heart of Three Seconds and which eventually makes this a nail-biter of a book.
Most of this plan's particulars are too clever to be given away here. But as a sample, consider Piet's use of tulips. Just before he's scheduled to report to prison, he buys fresh, tightly closed tulips. He warms them until they open. He inserts a packet of amphetamines inside each flower. He then cools the flowers at exactly the temperature that will keep them shut for 24 hours, by which time they will be on the desk of a prison official, ostensibly as a gift from local businessmen.
Fans of the genre are more apt to appreciate the devilishness of such plot details than the tiresome, vaguely ungrammatical character development that comes with them. Here is Piet, going to a meeting before he heads to prison: "Piet Hoffman stopped a couple of meters from the door, emptied himself as he always did of all thoughts, all feelings, pushed them aside and kicked them down and then he had put on his armor — that thick, horrible layer, his goddamn shield, he was good at it, at not letting himself feel anything — one more time, one more bloody time." There are too many bloody times when Three Seconds bogs down this way.
Perhaps something is lost in translation.
Certainly something will be lost on those who, in reading Three Seconds, are entering the authors' Ewert Grens series in midstream. Grens is Piet's main antagonist in Three Seconds and is presented as a bleakly eccentric character with a heart-rending back story. Grens is in deep mourning for his wife, who spent much of her life in a nursing home after being accidentally run over by her husband. Grens is obsessed with a vintage Swedish pop singer who means more to him than she will to you. He is a loner who lies on the floor a lot. But he has the aura of a beloved curmudgeon, and he is liable to be back in other half-decent Millennium knockoffs along the lines of this one.
Might as well get used to him.
Comments will be moderated. Keep comments relevant to the article. Remarks containing abusive and obscene language, personal attacks of any kind or promotion will be removed and the user banned. Final decision will be at the discretion of the Taipei Times.