POP STOP
Does Jay Chou (周杰倫) have a new squeeze? The superstar and his mom were recently spotted dining with a young woman, with tabloids reporting that the pretty lady grabbed food for the King of Mando-pop with her chopsticks.
The Chairman quickly dismissed the rumors, joking at a press conference that it's been so long since he's had a girlfriend that the media freaks out if they see an attractive female in his vicinity.
Gossip rags identified the woman in question as model Connie Luo (羅康妮), who quickly found herself under a microscope. The Apple Daily reported that although Luo's manager says she was born in 1985, Luo herself told the newspaper 1984. The confusion was compounded when a former classmate declared online that not only is Luo practically an old maid at 28, but also wore braces in school. The horror!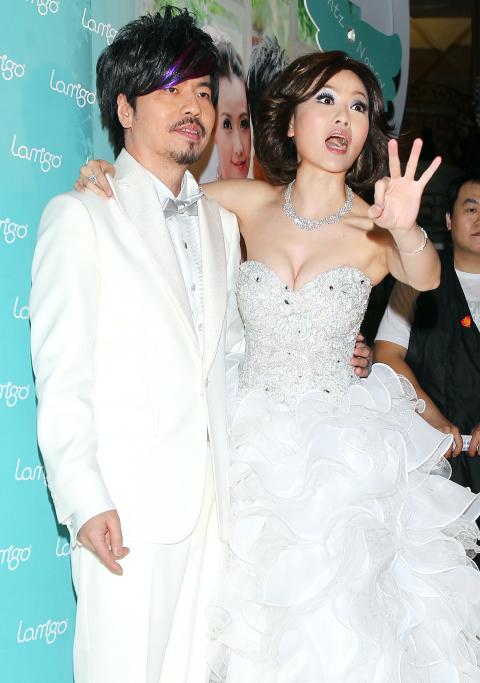 Huang Kuo-lun, left, and Nancy Kou listen attentively when money talks.
Photo: Taipei times
Pop singer Huang Kuo-lun (黃國倫) and wife Nancy Kou (寇乃馨) also found themselves picked over by the media last week when they were accused of turning their wedding banquet into an over-the-top money-making venture.
The Liberty Times (The Taipei Times' sister newspaper) reported that even before the banquet, Kou had earned the sobriquet "the queen of cash grabbing." With an "astonishing head for business," the TV host sent out 900 invitations and "worked her connections" to make sure that 50 of those went to business tycoons like Terry Gou (郭台銘).
But even with Gou's reported gift of NT$200,000 (US$6,700), the duo finished up in the red — and that doesn't mean swimming in red envelopes (紅包). The Apple Daily reports that the two expected to reap NT$5,000,000 in gift money, but only received NT$3,500,000. They reportedly spent NT$7,000,000 on the lavish event, which included a concert.
The two married in a quiet ceremony in Jerusalem earlier this year, but the Liberty Times says their greed took off as soon as they started planning their Taiwan banquet. Huang and Kou asked companies to provide them with free xibing (喜餅, traditional wedding treats), gowns, jewelry and transportation.
Perhaps in a bid to deflect attention from the stories that painted them as skinflints, Huang and Kou donated NT$1,000,000 to a child welfare organization immediately after their banquet.
The couple should have brushed the money signs from their eyes and paid more attention to their seating charts. Media reports said that awkwardness ensued when model and TV host Amber Ann (安心亞, real name Liao Ching-ling, 廖婧伶) was seated at the same table as not one, but two men she had been romantically linked with. One was actor Ken Lin (林暐恆) and the other was producer Chen Chih-hung (陳志鴻).
Ann and Lin were spotted on vacation together in Japan this spring, but Lin reportedly dumped Ann in October, breaking her heart and leading her to take a one-month leave of absence from her hosting duties. Ann and Chen were also linked, but she denied the rumors, saying their age difference was too great for a romantic relationship.
The Liberty Times reported that "Ah-Ken" (阿Ken) spent the evening joking loudly while Ann conspicuously ignored him, fiddling with her cellphone and downing red wine.
Actress Barbie Hsu (徐熙媛, otherwise known as Big S) and 29-year-old Chinese restaurateur and multimillionaire Wang Xiaofei (汪小菲) have been bathed in the glow of new love since their own secret wedding last month. Crew members on Hsu's new film, however, aren't benefiting from her marital bliss. Hsu has reportedly been showing up late — when she shows up at all — to the set of My Kingdom (大武生), which is currently shooting in Shanghai. Reports say her flakiness has slowed production, but Big S is supposedly too busy "cooking" for Wang in their hotel room.
Director Gao Xiaosong (高曉松) laughed off the gossip as "too gossipy" (太八卦).
"What a story. We rest when we need to and we work when we are supposed to. [Our shooting schedule] has nothing to do with anyone's cooking or romancing," he told reporters.
Comments will be moderated. Keep comments relevant to the article. Remarks containing abusive and obscene language, personal attacks of any kind or promotion will be removed and the user banned. Final decision will be at the discretion of the Taipei Times.