In the hoop
Isaac Hou, Taiwan's only performer of the Cyr wheel, schedules up to 20 gigs a month yet still manages to spend many of his weekends busking in Xinyi District
On weekends, shoppers at Xinyi District's Shin Kong Mitsukoshi (新光三越) complex are treated to an awe-inspiring sight: a man spinning while balanced in a giant hoop. Muscular and handsome with a shaved head, he looks like Leonardo Da Vinci's famous Vitruvian Man drawing, his long limbs outstretched in the wheel, which is wider in diameter than his 183cm height.
Taiwanese American Isaac Hou (胡啟志) is Taiwan's only performer of the Cyr wheel, an acrobatic art popularized less than a decade ago. When his schedule is free and the weather is agreeable, the 30-year-old spends Saturday and Sunday afternoons busking in Xinyi District, as he has for the past two years. (Before that, Hou performed in Ximending.) Most of Hou's income, however, comes from performing at events like Carina Lau's (劉嘉玲) recent birthday party in Shanghai and last year's World Games in Kaohsiung. In a busy month, Hou has as many as 20 gigs.
His repertoire includes the Cyr wheel, torch juggling and contact juggling, in which Hou maintains contact with a sphere (or spheres), creating the illusion of it floating weightlessly between his fingers or along his arms and shoulders. Hou also studied partner acrobatics and slackrope walking at circus arts schools in Copenhagen and Moscow.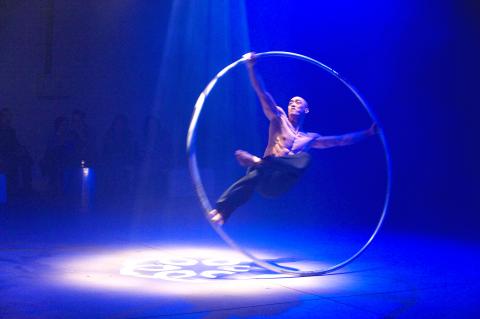 Made from stainless steel and PVC. performer Isaac Hou's Cyr wheel weighs 15kg. His repertoire also includes torch and contact juggling.
Photo courtesy of Tony Su
Although Hou has been interested in juggling since he was a high school student and first busked as a 16 year old on summer vacation in Amsterdam, it took a few more years for him to decide on a performance career.
Hou's parents, immigrants from Taiwan who settled in New Jersey, originally wanted their son to get into a "well paid, well respected" profession, he says, preferably in engineering or the sciences. (Hou and his brother are named after Isaac Newton and Albert Einstein.)
But Hou was ambivalent about following in his parents' footsteps because "they just worked themselves to death." After finishing high school, he traveled around the world instead of heading straight to university, supporting himself with a variety of odd jobs. Before settling in Taiwan, Hou cleaned rooms at a hotel in London, ran errands on a tourist boat in Israel, studied kung fu at Shaolin Temple and lived in Denmark, Russia, Sweden, Spain, Turkey, Egypt and Greece.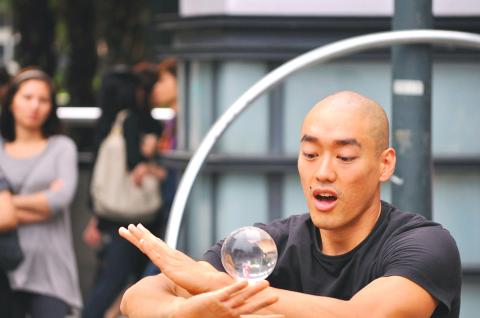 Taiwan's only Cyr wheel performer, Isaac Hou sees the acrobatic art as a metaphor for life.
Photo courtesy of Tony Su
While in London, Hou worked as a torch juggler's assistant, refueling her torches during nightclub performances.
"This sounds bad, but everyone was really impressed and I thought, 'I could do that, that doesn't look so hard,'" Hou says. He was earning very little as a janitor and figured torch juggling would allow him to go clubbing for free.
Hou eventually decided to attend a university in Sweden. While preparing for the Swedish language proficiency test, however, he was hired for several torch juggling performances that were much more lucrative than his club gigs. Encouraged, he changed his plans and enrolled in the Academy of Untamed Creativity in Copenhagen, where he studied partner acrobatics. After a stint as a street performer, Hou continued his training in Russia at the State University of Circus and Variety Arts (better known as the Moscow Circus School).
Afterward, Hou moved to Taipei to earn money teaching English, a job he says he performed poorly. Feeling aimless and depressed on his 25th birthday, Hou decided to cheer himself up by torch juggling on a busy street in Ximending. Buoyed by the crowd's reaction, he began busking regularly and by the end of 2006 he'd gotten his first performance job in Taiwan.
"It was very intimidating to try to busk by myself in Taiwan compared to Denmark," where Hou had performed with friends. "But it went really well and slowly, slowly, I ended up here, still doing this kind of work."
Most of Hou's street performances begin with contact juggling and end with the Cyr wheel. They require very different skills, but he says he's attracted to both because "they're very simple, they're very clean and they flow."
The Cyr wheel was designed by acrobat Daniel Cyr in 2003 and Hou, who had seen Cyr perform in Paris, initially had trouble finding information about it. After moving to Taiwan, Hou cobbled together his own wheel from stainless steel tubing and taught himself some basic moves. (The learning curve included a gash on his head that required stitches.) Hou eventually traveled to Montreal to train with Cyr and returns every year to learn new techniques.
Despite his busy performance schedule, Hou still makes busking a priority, and says that he thrives on the challenges of performing in a public space.
"Dogs bark, kids start crying, things happen and the audience tension goes around. It's interesting," he says.
Hou's non-traditional career choice didn't always win him support from his family. A year after he began busking in Ximending, Hou's uncle, the patriarch of the family, asked Hou to pay him a visit in California.
"He wanted to straighten me out, to tell me that I was wasting my time and to go to school and do something with my life," Hou says.
But while in California, Hou gave a street performance. Impressed, his uncle changed his mind about his nephew's plans and encouraged Hou's parents to do the same.
Tony Su (蘇健宏), Hou's agent, first saw him perform three years ago on TV show Variety Big Brother (綜藝大哥大). Su, who was then a producer on the show, says he was impressed by Hou's dedication.
"I feel like he really puts his heart into it. Every time he performs, you see something different," Su says.
Hou himself sees the Cyr wheel as a metaphor for life, both in the way the wheel glides across a surface, carefully steered by its human cargo, and in its potential for development. "It's easier when you know the path and you know the goal," Hou says. "But sometimes you only suspect that something is there and you have to make the path to find out if it even exists. You just try to make your way."
For more information, visit showtime168.pixnet.net/blog
Comments will be moderated. Keep comments relevant to the article. Remarks containing abusive and obscene language, personal attacks of any kind or promotion will be removed and the user banned. Final decision will be at the discretion of the Taipei Times.