The road to ruin
David Nutt, the former UK government's adviser on drugs, explains why his latest research named alcohol as the most dangerous drug
If someone were to invent a perfectly safe ecstasy pill, what would be done about it? It's the sort of scenario clubbers like to speculate about, usually at around 6am, a little the worse for wear after a big night out. It's less common to hear it from a neuropsychopharmacologist and former government scientist — but it is, David Nutt says earnestly, "the key question." So what does he think the British government would do?
"They would ban it. They would find some pretext to ban it. I think they would, because beneath all their posturing about health lies a moral position where they don't think young people should have fun, other than being drunk," Nutt says.
This is just the sort of opinion that got Nutt sacked. It is a little over a year since he was fired from his post as chair of the Advisory Council on the Misuse of Drugs, for publicly stating that alcohol and tobacco were more harmful than LSD, ecstasy and cannabis. "He cannot," declared Alan Johnson, then home affairs minister, "be both a government adviser and a campaigner against government policy." Nutt in turn wondered why the government wanted a scientific adviser, if it wasn't interested in hearing scientific facts.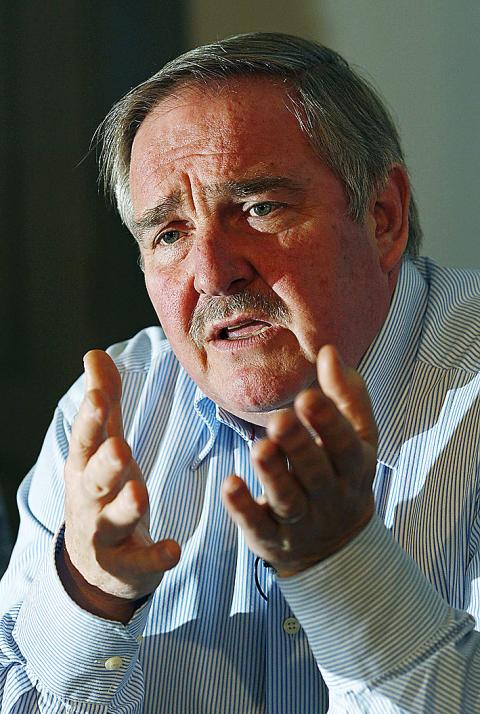 After being fired from his position as chair of the UK's Advisory Council on the Misuse of Drugs, David Nutt formed the Independent Scientific Committee on Drugs.
Photo: Reuters
Five other members of the advisory council resigned in protest in the days following Nutt's dismissal. A philanthropic hedge fund manager then unexpectedly "came to our rescue," offering to fund an alternative foundation, which duly launched in January as the Independent Scientific Committee on Drugs. Its mission statement is to "investigate and review the scientific evidence relating to drugs, free from political concerns," and Nutt has called repeatedly for an evidence-based approach to policy, rather than one based on prejudice or, worse still, political self-interest masquerading as public morality.
You do not need to hold a particular position on drug use to think that this would be a good idea. Like many people, I'd always thought Nutt sounded like an unusually objective voice of reason in a notoriously emotive and muddle-headed debate, and had imagined him to be rather in the mould of Richard Dawkins — rational to the point of austere, with a scientist's faintly otherworldly detachment.
But he's a big jolly man, relaxed and appealingly quick to laugh, and much more fun than I'd expected. He is also very good at exposing the confusion of much political thinking on drugs, as well as the baseless alarmism of media commentators "who don't want facts to get in the way of prejudice." But I have to say that I didn't find him quite as clear-sighted or rigorously dispassionate as I'd thought he would be.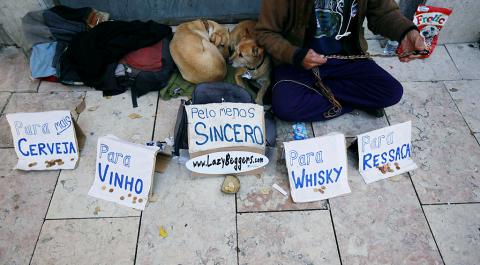 A Spanish beggar at the Pedro IV Square, Portugal, asks for money to buy alcoholic drinks with five signs reading, from left to right: "For more beers," "For wine," "At least I'm honest," "For whisky" and "For the hangover."
Photo: Reuters
Last month, Nutt's new foundation published its first major report in The Lancet, which ranked 20 different drugs according to 16 different harms they do, both to users and to wider society. Alcohol came top, higher than heroin, crack and crystal meth, while ecstasy and LSD were ranked among the least damaging. It was, undeniably, the most comprehensive study of their respective risks ever conducted. But its shortcomings seemed pretty glaringly obvious, even to someone as unscientifically minded as me.
The rankings did not allow for the drugs' current legal status — and therefore availability — and so as Nutt himself has acknowledged: "Overall, alcohol is the most harmful drug because it's so widely used." But by that token, I suggest, one could say that drinking tea is more dangerous than climbing Mount Everest. Just because lots of people have been scalded by a popular drink, this tells us little about the risks of a minority sport such as mountaineering. If we're trying to establish the objective danger of a specific substance, in order to formulate policy, surely we can only calculate its harm in the context of its prevalence? Nutt looks a bit miffed.
"Well, you've got to start somewhere. We're pretty chuffed with what we did, to be honest. And doing it is not easy, 'cos you've got 16 variables and 20 drugs. It's a huge undertaking."
He points out that factoring in the impact of each drug's current legal status and availability would be almost impossible, as "there are so many unknowns there" — which is probably true. But then he seems to contradict himself, saying firstly that if their legal status were to change, "their relative harms could change a lot," then saying later: "The ranking wouldn't change enormously, I don't think, if many or even all of them were legal."
Nutt admits that he still can't fully answer the question people really want to know, namely: If you took a standard dose of alcohol, cocaine, heroin or ecstasy, which would be more harmful? This is because there is no agreed standard unit dose, and even if there were, this wouldn't allow for repeat use, which would vary according to each substance's addictiveness.
"So what we've done is, in essence, told people our best estimate, on those 16 parameters, using the best science we have available now," Nutt says. And given all the unknowables, that sounds about right. But phrases such as "best estimate" don't offer the certainty that the report appeared to promise.
Does he think there's a legitimate place in the debate for members of the public who are vehemently anti-drugs, but have no scientific qualifications at all?
"Oh, there's no problem in people having moral debates about drugs," he says, to my surprise. "The moral dimension is the key dimension. But people don't want to talk about the moral dimension. People want to talk about the scientific dimension, because the moral dimension scares them."
I thought he was going to say the very opposite — that drugs are a scientific matter, and to discuss them in any other terms is meaningless.
"No, the moral dimension is at the heart of it, because the science is clear. We've done the science. The paper in The Lancet tells us the relative harm of drugs. What the last government has done, systematically, is pretend that there's a science that we need to be concerned about, with drugs like cannabis and ecstasy, which is the justification for doing what they did — making cannabis class B and keeping ecstasy class A. And that's immoral. Because the science does not direct policy making in that direction.
"But why are we still arguing about the science? Because people don't want to argue about the real issue. When the government decided to keep ecstasy as class A they said it's because we don't know what it might do in the long term. But when we say to the government, 'But we do know that alcohol kills you now, and is killing millions of people in the long term, why aren't you doing anything about that?' they ignore the question. And that's what I find offensive."
And then he is off into a rant about alcohol — "I've seen alcohol wreak much more damage than ecstasy in my children's generation, much more. Clearly alcohol changes people's behavior more than any other drug, it causes unwanted pregnancies and so on. And government policy actually encourages alcohol damage, there's no question about it."
Why would the government do that? Because, he says, drinking is the only acceptable form of fun to them. "I think for Labour it reflects a traditional view, that beer and fags is what people do," Nutt says.
His arguments tend to jump about all over the place. It's hard to escape the impression that, for all his scientific training, his experience at the hands of the government has left him more emotionally bruised and less detached or impartial than he might wish to be.
So if Nutt were God, and could devise all our drug laws without any regard for political pragmatism or historical precedent, what would they look like? He has an appealing willingness to think out loud, and ponders the question carefully for a while.
"Hmmm. Well, none of them would be available in the way alcohol is today, absolutely not," he says. He thinks some more. "I think the space between alcohol and caffeine — which includes tobacco, speed, cannabis and ecstasy — I would allow regulated access to all of them, such as the Dutch coffee shop model. I would allow regulated access controlled by the site of availability and sensible pricing to prevent excessive use. But drugs more harmful than alcohol — which would be cocaine, crystal meth, strong opiates and heroin — I would not want available in any way." He wouldn't criminalize drug users, but would offer medical treatment and civil sanctions to deter use.
It's hardly the narcotic free-for-all some of his fans have mistakenly imagined. Nutt himself has tried "a bit of cannabis, and speed once or twice," but the only drug he consumes now is alcohol, making him neither, as he keeps pointing out, a prohibitionist nor a hedonist. But I'm not quite convinced that even he would create drug laws based purely on science alone.
Comments will be moderated. Keep comments relevant to the article. Remarks containing abusive and obscene language, personal attacks of any kind or promotion will be removed and the user banned. Final decision will be at the discretion of the Taipei Times.