Party politics
This year's Taiwan LGBT Pride parade takes issue with government policies that exclude same-sex couples, and politicians who fail to make good on election promises to engender equality
With its throngs of muscled men in swim trunks and drag queens wearing flamboyant costumes, today's Taiwan LGBT Pride parade, the largest of its kind in the Chinese-speaking world, may look like one big, boisterous party, but the message is serious.
The event is part of efforts by the nation's lesbian, gay, bisexual and transgender (LGBT) communities — and their supporters — to raise awareness and demand basic human rights.
With this year's theme of Out & Vote (投同志政策一票), the organizers of the event's eighth edition are calling on supporters to come out, speak up, and demand the implementation of policies giving the country's LGBT citizens the same rights that their heterosexual compatriots enjoy.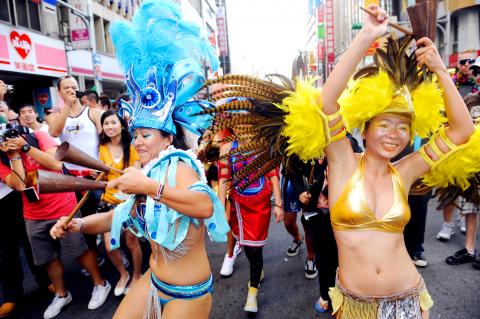 Revelers enjoy the Taiwan LGBT Pride parade in Taipei last year. Organizers expect 30,000 participants at this year's event.
Photo: Taipei Times
"The gay rights movement has marched into its third decade in Taiwan. The notion that love is genderless is too superficial by now," said Lu Hsin-chieh (呂欣潔), convener-in-chief of the march and director of policy advocacy at Taiwan Tongzhi Hotline Association (同志諮詢熱線協會). "Homosexual rights are not just about two homosexual persons being allowed to love each other, they're also about a couple's relation to society and where they stand in this system."
"We want to see real policies that will benefit us," she said.
According to Lu, policies such as the young family establishment initiative (青年成家方案) and the second-generation health insurance reform (二次健改) proposed earlier this year exclude same-sex couples, which are not included in the traditional definition of what constitutes a family.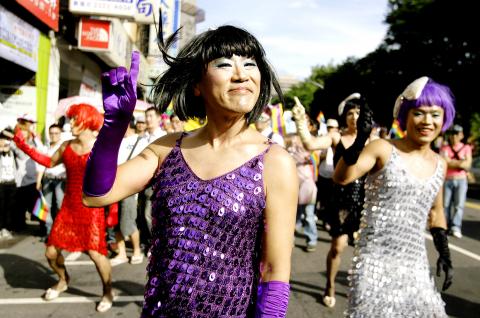 Revelers enjoy the Taiwan LGBT Pride parade in Taipei last year. Organizers expect 30,000 participants at this year's event.
Photo: Reuters
"The concept of 'partner' (伴侶) does not exist in Taiwan," Lu said. "Taiwan's Civil Code (民法) defines a couple as 'a husband and a wife.'"
Taiwan's politicians are quick to issue promises to woo voters during election time, said Lu, but have failed to pass any major law that introduces equality.
The Basic Human Rights Law (人權基本法), a bill approving same-sex marriage, was drafted during former president Chen Shui-bian's (陳水扁) term, but never saw the light of day in the legislature.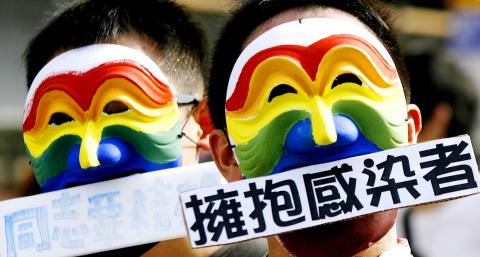 Revelers enjoy the Taiwan LGBT Pride parade in Taipei last year. Organizers expect 30,000 participants at this year's event.
Photo: Reuters
The Tong-Kwang Light House Presbyterian Church (同光同志長老教會), a co-organizer of the annual parade, supports gay marriage and adoption by same-sex couples.
One of the LGBT movement's main goals is to pressure politicians into amending or repealing antiquated laws that infringe on human rights, such as Article 235 of the Criminal Code (刑法), which criminalizes the distribution, sale and public display of indecent writing, images, or other media, and Article 80 of the Social Order Maintenance Act (社會秩序維護法), which condones the sex trade but forbids advertisement for such transactions.
"Sex rights are the most basic form of human rights," said J.J. Lai (賴正哲), the owner of Gin Gin's Bookstore, the country's first bookshop specializing in books, music and DVDs related to homosexual topics. "People have very diversified sexual needs. The government shouldn't attempt to regulate our sex acts."
This year's theme coincides with three openly gay candidates running in Taipei City Government's legislative elections: Wang Ping (王蘋), secretary-general of the Gender/Sexuality Rights Association in Taiwan (台灣性別人權協會); Sung Chia-lun (宋佳倫), a member of BDSM Company (皮繩愉虐邦); and Wang Chung-ming (王鐘銘), who campaigns for the rights of homosexual deaf people. All three candidates will appear on-stage at the parade to discuss their political platforms.
The parade will pass through Ximending, home of the Red House district, which after years as a dilapidated group of buildings was rejuvenated in 2004, largely because a cluster of gay bars opened there. The area, also known as Red House Rainbow Plaza (紅樓彩虹廣場), became Taiwan's first openly gay neighborhood. However, until recently the city government's informational materials placed in the Red House main building ignored the gay community's presence.
In August, a petition demanding credit for the gay community's contribution to the area's redevelopment was launched on Facebook.
A few weeks after the Red House Comes Alive Because of Homosexuals (紅樓因同志而美麗) campaign began, more than 3,000 Facebook users had signed the petition, which was sent to the city government.
After reviewing the petition, the city government made changes in its policy to include information about the plaza in guided tours of the area.
"I'm glad about Internet users' support of this campaign and am positive about how the city government responded to this issue," an organizer of the online campaign told the Taipei Times, who requested anonymity because his family and employer do not know he is gay. "Taipei ranks right next to Bangkok as one of the most gay-friendly cities in Asia. We should use this rainbow resource well and try to attract more international tourists to Taipei."
From a modest beginning of 500 participants in 2003, Taiwan LGBT Pride attracted 25,000 attendees last year. Organizers estimate 30,000 will attend this year. Previous editions of the parade have included groups from the UK, US, Malaysia, Singapore, Japan, Hong Kong and China.
This year's parade features Mando-pop superstar Chang Hui-mei (張惠妹), better known as A-mei (阿妹), as the Rainbow Ambassador for the second year in a row. Chang will perform in the end-of-parade concert at the intersection of Gongyuan Road (公園路) and Ketagalan Boulevard (凱達格蘭大道).
Comments will be moderated. Keep comments relevant to the article. Remarks containing abusive and obscene language, personal attacks of any kind or promotion will be removed and the user banned. Final decision will be at the discretion of the Taipei Times.