Pride and prejudice
The ambitious Walk With Pride photography project documents the similarities and differences between gay pride events throughout the world
Photography project Walk With Pride showcases the results of a year's work exploring a spectrum of gay pride events around the world, from the exuberant Sydney Mardi Gras to banned parades in Belarus and Russia.
Taipei-based travel photographer Charles "Chad" Meacham and partner Sarah Baxter, a freelance writer, have traveled to 15 countries for the project, including Turkey, the Philippines, Croatia, Bulgaria and Israel. Walk With Pride will come full circle when Meacham photographs this year's Taiwan Pride on Saturday. He was inspired to launch Walk With Pride after attending last year's event, the biggest of its kind in Asia.
"I had never been to a pride parade before or really known anyone in the [gay] community, but for us it's a very basic human right," Meacham said. "I thought, 'These things go on all over the world, so we can probably link them together to show what is going on right now, but in different cultures and in different communities.'"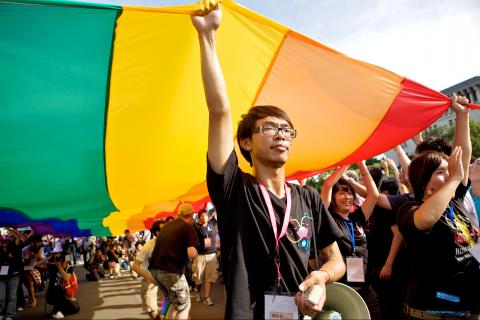 Charles Meacham and Sarah Baxter were inspired by Taiwan Pride 2009 to launch the Walk With Pride project.
Photo courtesy of Charles Meacham
The pride events covered by Meacham and Baxter vary dramatically. The Sydney Gay and Lesbian Mardi Gras, one of the largest pride events in the world, is a major source of tourism revenue for the city.
This year's Slavic Pride Parade in Minsk and Moscow Pride, on the other hand, were both held despite bans by city authorities. Former Moscow mayor Yury Luzhkov, who once referred to gay pride parades as "satanic," had prohibited Moscow Pride events since 2006. (Luzhkov was dismissed last month by Russian President Dmitry Medvedev.)
Russian gay rights activist and lawyer Nikolai Alekseev, the founder of Moscow Pride, says that projects like Walk With Pride are important because they not only publicize gay pride events, but also leave a record.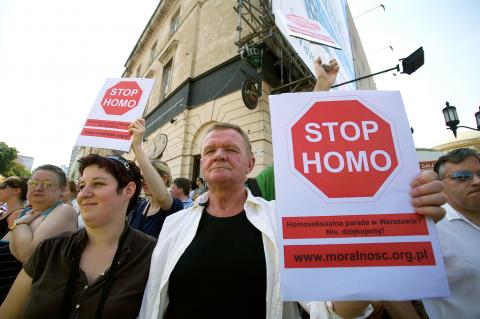 Protesters hold up anti-gay signs at EuroPride in Warsaw, Poland in July.
Photo courtesy of Charles Meacham
"I believe it is important that we leave a track of our actions so that in the future, others will see what we did. When I started with LGBT rights in 2000, I was looking at what happened in Russia [on the subject in the 1980s and 1990s]," Alekseev wrote in an e-mail. "There is no information available. Simply because no one documented anything."
The atmosphere before the banned parades in Minsk and Moscow was "very cloak and dagger," says Meacham, who accompanied organizers as they attended court hearings and held meetings to discuss the possibility of violence by anti-gay protesters. "Those are totally different kinds of [pride parades]. They're not the ones where you're out and about," he said.
One of Meacham's favorite photos shows gay activist Maria Yefremenkova in a quiet moment before Moscow Pride in May, holding a rainbow pride flag and looking out the window. In defiance of the city ban, 30 to 40 participants unfurled the flag and marched with it for a short distance.
Maria Yefremenkova, the head of activism group Gay Russia in St Petersburg, takes a moment to reflect just before leaving for Moscow Pride in May.
Photo courtesy of Charles Meacham
"This was a moment where she's reflecting. We're right about to leave for the parade. We don't know if there will be arrests or skinheads and she's holding the flag and very quietly looking at it," Meacham said.
During his year of covering pride events, Meacham has witnessed homophobia manifested differently across cultures.
"The struggle for most of the Taiwanese [gay] community is more of a legal fight, but if you go to Eastern Europe where homophobia is very ingrained and mixed with right-wing extremism, you are dealing with violence and skinheads," he said.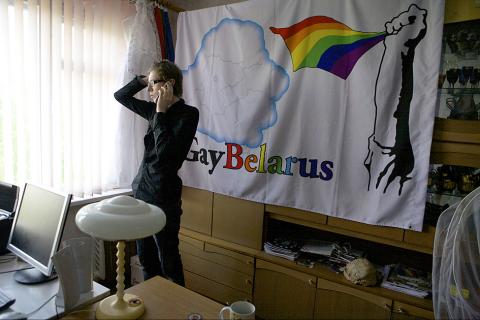 Sergey Yenin, an organizer of the gay pride parade in Minsk, Belarus, receives a phone call from a printer refusing to publish the first edition of Minsk's only gay magazine.
Photo courtesy of Charles Meacham
Organizer Sergey Yenin was arrested and detained in Minsk after marching in the banned parade there in May. During the first pride parade held in Lithuania, which also took place in May, a crowd of about 1,000 anti-gay protesters outnumbered the 400 marchers. In Zagreb, Croatia in June, demonstrators made Nazi salutes. Other protesters at different events carried signs or banners with slogans like "Play in Hell" or "Stop Homo."
In contrast, Meacham and Baxter were moved by the support shown for the first Istanbul Trans Pride parade in June, which was held in response to violence against transgender people.
"We thought it would be 15 to 20 people walking down the street and it was hundreds," Meacham said.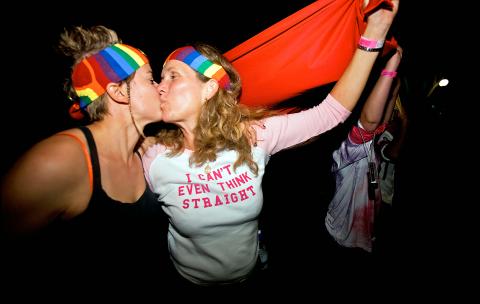 Attendees celebrate at the Sydney Gay and Lesbian Mardi Gras in February.
Photo courtesy of Charles Meacham
"You really see how different communities are when they have pride events," Baxter said. "Some places are so against it, they have all these nuts going around, it's almost like they are scared of the whole thing. And other places are much more accepting even when it's something like the first transgender pride [parade]."
The Walk With Pride project is self-funded and Meacham and Baxter have already spent US$15,000 to US$20,000 on expenses. Hearing about the impact of homophobia, including a recent string of suicides by gay teenagers and ongoing debate over the repeal of the "don't ask, don't tell" law in the US, spurs the couple on.
"Homophobia is everywhere. I don't know why it's still okay for a bunch of guys sitting around to say 'you're gay, that's gay.' You'll watch a movie and there are jokes about gay people. It really stands out to me now," said Meacham, who plans to revisit Belarus and Russia next year.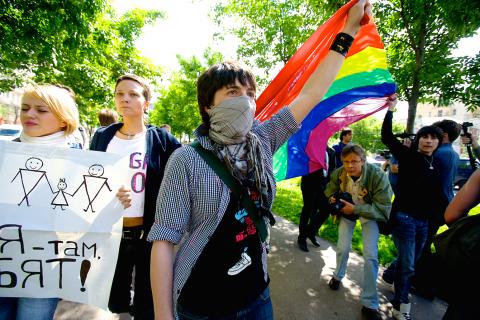 In defiance of a city ban on Moscow Pride, about 30 to 40 participants march with a rainbow flag while chanting anti-homophobic slogans.
Photo courtesy of Charles meacham
Meacham hopes that his photographs will encourage people to take part in pride events and combat homophobia, regardless of sexual orientation.
"I think most people don't know the situation and what goes on in a lot of countries because, honestly, I really didn't," he said. "I hope they see the photos and they understand this is an important issue in the world and it needs to change."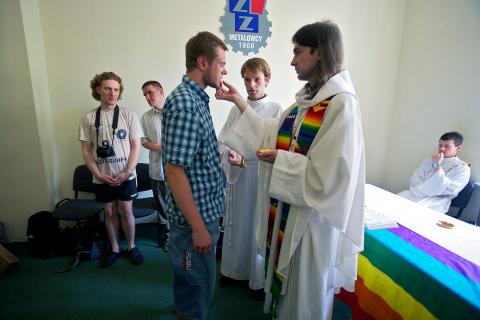 Reverend Szymon Niemiec from the Christian United Church gives a sermon and blessing to marchers before EuroPride.
Photo courtesy of Charles Meacham
INFORMATION
Details: Photos from the Walk With Pride project will be exhibited in cities around the world (including Taipei at a to-be-determined location) for the next International Day Against Homophobia and Transphobia (IDAHO) on May 17. For more information visit www.walkwithpridenow.com and www.dayagainsthomophobia.org
WHAT: Taiwan LGBT Pride (台灣同志遊行)
WHEN AND WHERE: The parade sets off on Saturday at 2pm from Ketagalan Boulevard (凱達格蘭大道), in front of the Presidential Office, and will proceed along Gongyuan (公園), Xiangyang (襄陽), Chongqing South (重慶南) and Hengyang (衡陽) roads into Ximending (西門町), before returning to Ketagalan Boulevard
HOW TO GET THERE: From NTU Hospital MRT Station (台大醫院捷運站) Exit 1, walk south along Gongyuan Road (公園路), or from Chiang Kai-shek Memorial Hall MRT Station (中正紀念堂捷運站) Exit 6, walk north along Zhongshan South Road (中山南路) to the assembly point
On the Net: twpride.net
Read Page 16 of Saturday's edition of the Taipei Times for full coverage of Taiwan LGBT Pride
Comments will be moderated. Keep comments relevant to the article. Remarks containing abusive and obscene language, personal attacks of any kind or promotion will be removed and the user banned. Final decision will be at the discretion of the Taipei Times.