This is the way the carnival ends: with a bang
Today's anniversary party in Ximending will be the last monthly event staged by the coalition of artists behind the Campo Life Art Carnival
After three years of organizing free outdoor parties showcasing local DJs and artists, Campo Life Art Carnival (CAMPO生活藝術狂歡節) is going out with a bang today in Ximending (西門町). Organizers of the street fair/outdoor party have planned an afternoon and evening of film, music and the chance to meet local artisans and performers.
The 3rd annual anniversary party for Campo — Cinema Art Music People Originality — marks the closing of a chapter for the group. Organizers are postponing their monthly events after this weekend's party because of lack of funding. They will, however, maintain their Web sites and they intend to continue to stage annual bashes and other "spontaneous" events.
Campo was formed as a local coalition of artists in 2005. Its members wanted people in Taiwan to turn off their televisions and get out of their houses to attend daytime parties. Founder Lin Hsin-yi (林欣儀) said in an interview on Monday that when she turned 27 she told herself, "You should start doing something you really like." Monthly flea markets, featuring hand crafted and second-hand goods, with free performances by DJs, merged art and music and brought like-minded people together.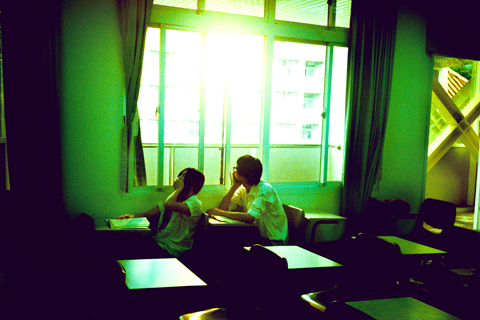 A scene from the short film Chicken Soup, produced by Campo and directed by Chung Wai Kit.
PHOTO COURTESY OF CAMPO
At the parties, DJs from Species Records — cofounders of the event — and other scheduled turntablists would play, but the decks would be open: anyone who wanted to spin could have a turn.
This afternoon's party with live bands and DJs in Ximending Cinema Park (西門町電影公園) is free and is followed by an evening of dancing at Paris Night Club. Performances include music by Taimaica Soundsystem (台買加環繞音效), which will be playing a second set later, Monkey Pilot (猴子飛行員), and electronica doyen Lim Giong (林強).
"Simple Is Beauty," a show Lim started in 2007, "is mainly put together with Hou Hsiao-hsien's (侯孝賢) classic film clips and Lim's live music," said Lin. "By rearrang[ing] and remixing both the video clips and the music, Lim is going to give you another take on the films."
There will also be a game show-type contest. Starting at 3:45pm, 10 contestants will undergo makeovers with the help of independent clothing designers and stylists and will compete for the title of the Superstar of Cinema Square.
A Campo documentary (短片放映), and the short film Chicken Soup (雞湯) by director Chung Wai Kit (鍾偉杰) will show from 8pm to 8:30pm. The documentary is a work in progress, as footage from today's event will be added later.
Chicken Soup is about a young man contemplating, through flashbacks and flashforwards, whether he lived his life the way he wanted to. Lin said the film deals with "remembering the valuable things in life." Originally, Campo was hired by SET-TV to make the film. Lin said that despite "contracts being signed and script approved," SET-TV later decided during shooting that it wanted to "change certain details about the script to make it more dramatic — making the chicken soup have some sort of magical healing powers." Lin said they refused to "change a good script into some melodramatic soap opera," so SET-TV pulled funding, "making up some excuse [that] 'the script will never pass the board.'"
Lin said she and other Campo members "decided to pay out of our own pockets to finish the film and hope that showing the film will help [attract] attention to this issue."
DVDs of the short will be sold during the screening.
New Hong Kong Hair City is scheduled to kick off the evening's entertainment at the nearby Paris nightclub at 8:30pm. The schedule is ambitious: live bands and DJs alternate until 1am, with DJs spinning 20 minute sets and bands playing for 40 minutes each. Acts include DJs Keith, Hsin, Kay, and Poverty, with live bands Public Radio and Johnny Fatstacks, which will be screening its new video. The live bands stop at 1am, after which DJs BB (我的生活), Coffeepot and Arthur (阿舌) will do their thing until 3am. The dress code is vintage: expect to see hip artsy types decked out in original fashions.
Publication Notes
FESTIVAL NOTES
WHAT: Campo 3rd Anniversary Vintage Party
WHERE AND WHEN: Today from 3pm to 8:30pm at Ximending Cinema Park (西門町電影公園), 19 Kangding Rd, Taipei City (台北市康定路19號); evening party from 8:30pm to 3am at Paris Night Club (夜巴黎舞廳), 5F, 89, Wuchang St Sec 2, Taipei City (台北市武昌街二段89號5樓). The venue is located above the IN89 (Hoover) movie theater in Ximending
TICKETS: The event at Ximending Cinema Park is free; advance tickets for the Paris Night Club party are NT$350 or NT$400 at the door, and can be purchased at the following locations: Sababa Heping branch, 8, Alley 54, Ln 118, Heping E Rd Sec 2, Taipei City (台北市和平東路二段118巷54弄8號); Species Records (有種唱片行) 2F, 20, Ln 96, Kunming St, Taipei City (台北市昆明街96巷20號2F); Mo!Relax, 20, Ln 60, Taishun St, Taipei City (台北市泰順街60巷20號)
ON THE NET:Campolive.blogspot.com; or search for Campo 3rd Anniversary on Facebook
Comments will be moderated. Keep comments relevant to the article. Remarks containing abusive and obscene language, personal attacks of any kind or promotion will be removed and the user banned. Final decision will be at the discretion of the Taipei Times.