[BOOK REVIEW] Figures of past come together in Rushdie tale
The Booker Prize-winner has pushed the boundaries of magical-realism with a work that beguiles with its stories within stories
Salman Rushdie's new novel could be considered a hall of mirrors, but only if someone were to come along and straighten it out into a hall. It's more a series of stories, frequently stories within stories, or stories about stories — written on a Moebius strip, and said strip reflected in a moonlit pool.
Characters change their names, for various reasons. Some are mirrors of one another, and one, a servant girl, is literally named Mirror. Real people become imaginary, and vice versa. Woe unto the reader who latches on to the trappings — pirates, emperors, courtesans, adventures — and thinks this is a straightforward historical novel.
And yet that's what it is, for lack of a better classification: a mashup of real historic characters (the 16th-century Mughal emperor Akbar the Great, the Florentine Niccolo Machiavelli, even a little cameo by Vlad the Impaler), interwoven with Rushdie's lively inventions. (The author appends a six-page bibliography at the end, purporting to indicate how much history has been poured into the foundation of this palace of fiction. How much of this is just more Rushdian misdirection is a topic for some budding future doctoral candidate.)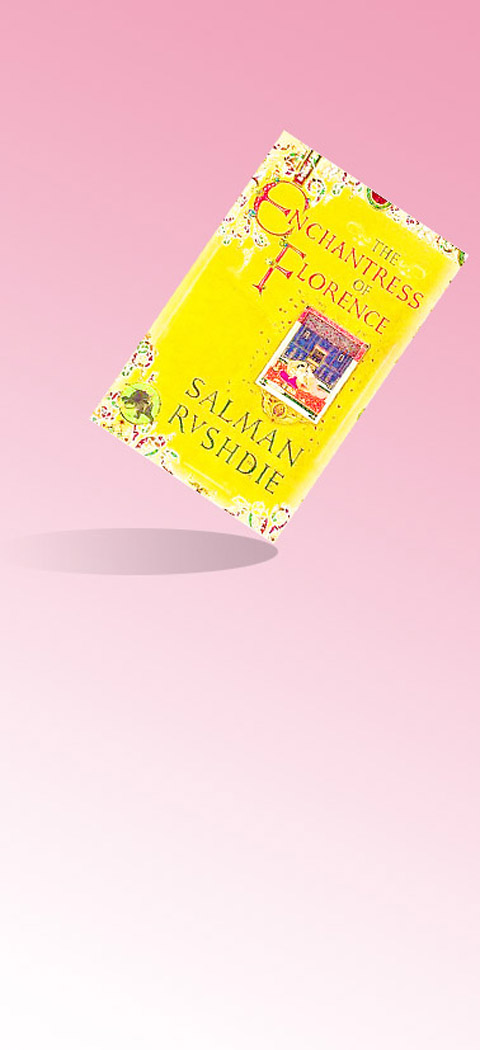 The Enchantress of Florence By Salman Rushdie 357 pages Random House
The tricky, sometimes maddening structure of the tale makes summary a challenge and, in some ways, beside the point. But straightening out the Moebius, here goes.
An adventurer and storyteller who goes by many names, one of which is Argalia, arrives in the court of Akbar the Great, an emperor beset by doubts and insecurities. Eventually, we learn that Argalia is from Florence, Italy, home of the Medicis and spring of the Renaissance, where he was a friend to Machiavelli and a cousin to Amerigo Vespucci. He convinces Akbar that they share a common relative in their past, a mysterious dark beauty named Qara Koz, who was once known as the Enchantress of Florence. All this comes pouring out in a phantasmagorical flood of magic realism, post-modern winking, and wonderfully pungent eroticism, rendered in prose that sometimes feels like Rushdie has devoured numerous historical romances and let the juice run down his chin. Sample sentence: "The emperor felt within him a surge of the same blind fury that had caused him to tear off the Rana of Cooch Naheen's moustache." Another: "In her youth, her brother the Beaver King had been besieged in Samarkand by an Uzbeg warlord named Lord Wormwood."
Can you read those without giggling? Should you? And we haven't even gotten to the mad elephant, the 42 Unclean Things, the four albino Swiss giants, and the Great Uzbeg Anti-Shiite Potato and Sturgeon Curse. Rushdie, who is a distinguished writer in residence at Emory University in suburban Atlanta (where much of Enchantress was written), is even more priapic than usual. Akbar's city of Fatehpur Sikri and Argalia's Florence are both suffused with the pleasures of Dionysus; at one point, Rushdie even offers what sounds like an early version of Viagra: "One day she ordered the castration of a male goat and boiled its testes in milk, after which she salt and peppered them, fried them in ghee, and finally chopped them up into a delicious-tasting mince. This preparation ... she fed to the prince on a silver spoon."
But beneath this concupiscence lurks anxiety. "Women think less about men in general than the generality of men can imagine," says one of the novel's concubines in a moment of candor. "Women think about their own men less often than their men like to believe. All women need all men less than all men need them."
The women of Enchantress have no power, and they have all the power. They are defined by the men, who generally want to move them from prostitute to princess or back the other way. But the men cannot control their thoughts, just their bodies.
And the people who control the stories control everything.
Comments will be moderated. Keep comments relevant to the article. Remarks containing abusive and obscene language, personal attacks of any kind or promotion will be removed and the user banned. Final decision will be at the discretion of the Taipei Times.