Let there be light
Lin HH Dance Company uses lightness and darkness to probe audiences' fears and loves
The Lin HH Dance Company (林向秀舞團) is looking at both sides of the story this weekend with its new production The Other Side of Darkness (光的另一邊). And having a little fun with the audience at the same time, as bilingual dance lovers will be able to tell just by looking at the title. The meaning of the Chinese characters is the exact opposite of the English translation.
Choreographer and dancer Lin Hsiang-hsiu (林向秀) said the aim was to get the audience thinking how they go through life - searching for the spotlight or trying to stay in the dark, hiding from their fears or confronting them - or perhaps see similarities in people they know.
She said she and co-choreographer Wang Wei-ming (王維銘) wanted to explore what people fear the most, and what they love. The program follows two couples, Lin and Wang and Lin Ku-tai (林谷玳) and Chen Wei-ning (陳維寧), although there is no story line and no narrative. But by the end of the evening, she hopes the audience will be able to figure out each character's history and why they have behaved the way they do.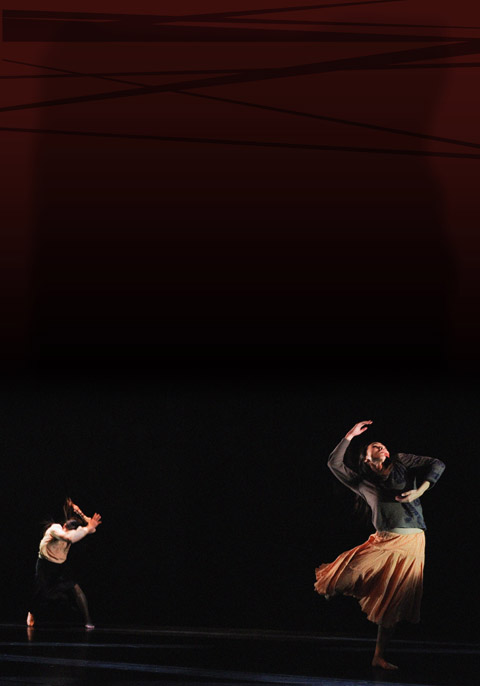 PHOTO: COURTESY OF LIN HH DANCE COMPANY
"But our bodies, our gestures tell something about the characters. It's more dramatic than last year's piece [Tilt]," she said. "Wei-ming is very dramatic. He's also an actor, so he brings acting into this year's production."
Lin Hsiang-hsiu paired up with former Cloud Gate Dance Theatre member Wang for the first time last year for a piece (Happy Anniversary) she created for the National Theater birthday Duets program. She had known him for several years at that point, but they had never worked together. Their partnership worked out so well that they started talking about working together again, but for a whole evening's program.
"At first we thought about just an evening of the two of us, just duets," she said. "But then we thought it would be too tiring."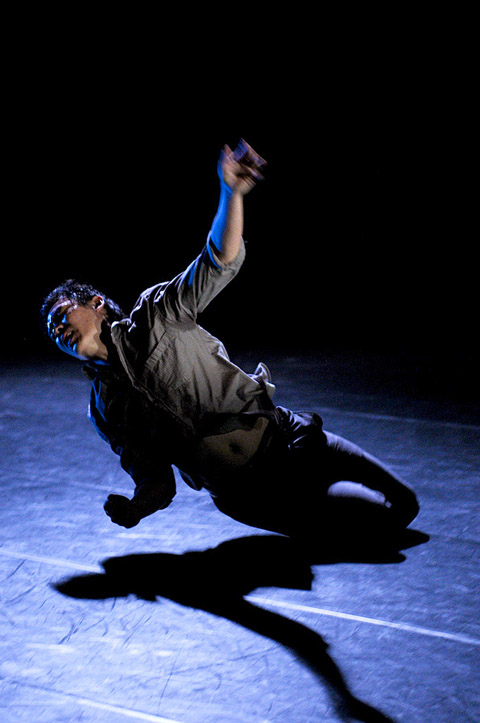 PHOTO: COURTESY OF LIN HH DANCE COMPANY
"People always ask me why I like to do duets. It's because it is easy to see pairs interacting - in families, in society, in relationships - every day," she said.
She said they decided on the Experimental Theater because they wanted a clear stage, no set - just a black box - which is a pretty good description of the small venue on the third floor of the National Theater complex. They also liked the intimacy the Experimental Theater provides, the closeness with the audience.
"Wei-ming's choreography is very detailed, from the tiniest movement of his fingertips to the way he moves each muscle in his back, so the audience needs to be close to see the nuances," she said, especially because in some of the pieces he is trying to avoid the spotlights on the stage.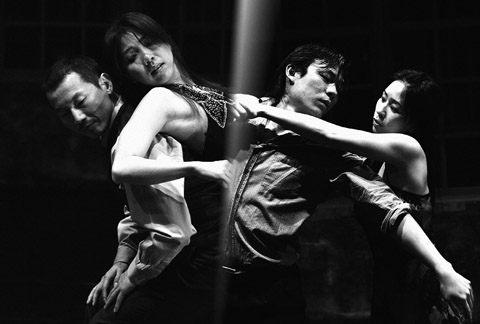 PHOTO: COURTESY OF LIN HH DANCE COMPANY
"In my solo I am always reaching for the light but the light disappears. In Wei-ming's solo he is always trying to avoid the light and he ends up pushed into a small corner as he tries to stay out of the light," she said, adding the lighting is crucial to the show because of the lack of a set.
"We each choreographed our own solos and some of the duets and then that inspired the other in their work," she said, adding that the feedback they gave each other was crucial in developing the show.
"Wei-ming's choreography before was VERY dark; now people see a balance," she said.
They also each contributed one other dancer to the piece. Lin Hsiang-hsiu brought in Lin Ku-tai, one of her former students whom she used in Tilt last year.
"He's from Malaysia and he's got this ... fun quality. He's also big," she said.
Wang brought in Chen, a graduate student in the dance department at the National Institute for the Arts, who had seen some of his work years ago, got in touch with him and asked that he him to keep her in mind for a future piece.
Lin Hsiang-hsiu said she had only asked Wang to find another woman who "is someone who is not afraid to stand on the same stage as me."
Chen apparently isn't afraid of much. She had always wanted to be a dancer but her parents didn't think it was much of a career choice, so she got a bachelors degree in psychology from Kaohsiung Medical University.
"She kept dancing on the side until she finished her BA, then she told her parents, 'OK, I have done what you wanted, now I am going to dance' and went to get a graduate degree in dance," Lin Hsiang-hsiu said.
Lin Hsiang-hsiu knows about perseverance as well. The former Limon Dance Company dancer formed her company in 2003 with the goal of providing an opportunity for young Taiwanese dancers and choreographers to collaborate with leading dancers and artists from around the world. But The Other Side of Darkness will be the last production for the company for at least a year.
"This is my sixth year, so it is time to reflect and decide on the next step," she said, after talking about the pressure of trying to keep a company going administratively, financially and creatively, when you are also the modern dance teacher for Cloud Gate, an instructor at two universities and a mom.
"Even though each of my productions has gotten good critical reviews and a lot of support from the dance community, I need time to figure out what to do next, how to make the company stronger, what our next goal should be," she said.
Hopefully her hiatus will give her the time and space to recharge both her and the company's batteries and give dance lovers something to look forward to in 2010.
For those who want an advance peek at the program, there are four short video clips available on Lin's company's blog (www.wretch.cc/blog/lindance). They certainly are tantalizing.
Publication Notes
Performance notes
WHAT: Lin HH Dance Company (林向秀舞團), The Other Side of Darkness (光的另一邊)
WHEN: Tonight and tomorrow at 7:30pm; tomorrow and Sunday at 2:30pm
WHERE: The Experimental Theater (實驗劇場) 21-1 Zhongshan S Rd, Taipei City (台北市中山南路21-1號)
TICKETS: NT$450; available at the NTCH box office, by calling (02) 3393-9888 or online at www.artsticket.com.tw
Comments will be moderated. Keep comments relevant to the article. Remarks containing abusive and obscene language, personal attacks of any kind or promotion will be removed and the user banned. Final decision will be at the discretion of the Taipei Times.