[RESTAURANT REVIEW] Win House (贏家): The Buffalo Wings Expert
Some people take pride in discovering a new restaurant and passing it on by word of mouth and in the process making the place their own.
A few years ago I made such a discovery, Win House: The Buffalo Wings Expert. More food stand than restaurant, it was nestled between two clothing stores across the street from Yongkang Park (永康公園) and served the best buffalo wings I'd ever had in Taiwan.
Then, almost as soon as it opened, the place closed. Fortunately, Win House (贏家) reopened six months ago in a somewhat expanded location in the same area across the street from Mister Donut, just off Xinyi Road.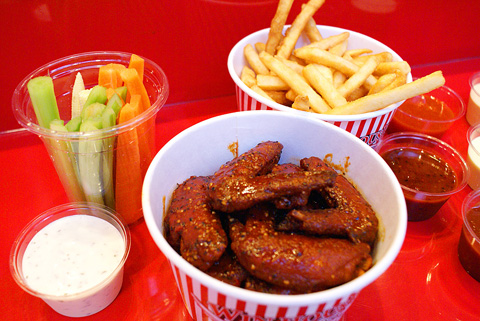 At Win House, the buffalo wings are steeped in one of nine homemade marinades, then deep-fried.
PHOTO: NOAH BUCHAN, TAIPEI TIMES
What went wrong the first time? Owner Jason Su (蘇宏卓) gave me the skinny: the popularity of his other restaurant meant he didn't have time to attend to his burgeoning buffalo wings business.
Su does his buffalo wings old style. No sacrilegious breading here, just a proper interpretation of marinade and carefully timed deep-frying.
Old standards such as buffalo hot, which come in mild, medium and hot, and the slightly sweet Moroccan hot, which also come in mild, medium and hot, appear alongside honey mustard, smoky and spicy honey mustard. For local palettes, Su added Taiwanese-style hot buffalo wings.
The buffalo hot was, well, just that: hot. I went for dala, or big spicy (大辣). The vinegar and cayenne flavor crept up and remained pungent long after the juicy and surprisingly un-greasy wings were devoured.
The four-piece chicken wings portion (NT$60) is a little expensive so it's better to order the 10-piece portion (NT$140) as there's a buy-10-get-two-free special. Another NT$60 will get you crudites (carrot and celery with a side of ranch dressing or any of the sauces applied to the wings) and French fries. Buy 100 wings (NT$1,150) and get 20 free.
The flour tortillas — vegetable and chicken (NT$60), meat sauce (NT$65) and chicken with meat sauce (NT$70) — are also recommended.
Win House comes in for two small criticisms. Four low-cut stools at the front of the store provide the only seating, so the menu is essentially for takeout. Secondly, and perhaps more distressing for veteran buffalo wing lovers, there is no blue cheese dressing on the menu. But Su said he will try to remedy this in the future. — NOAH BUCHAN
Publication Notes
Win House (贏家): The Buffalo Wings Expert
Address: 186, Xinyi Rd Sec 2, Taipei City (台北市信義路二段186號)
Telephone: (02) 2395-4849
Open: Daily, 11:30am to 10pm
Average meal: NT$150
Details: Chinese and English menu; credit cards not accepted
Comments will be moderated. Keep comments relevant to the article. Remarks containing abusive and obscene language, personal attacks of any kind or promotion will be removed and the user banned. Final decision will be at the discretion of the Taipei Times.