[RESTAURANT REVIEW] Pie Boy
This is the third week in a row that pies have featured in the Taipei Times' restaurant review section. Too much of a good thing? Given that prior to March there was a dearth of decent, tasty handmade Western-style pies sold at reasonable prices, perhaps not.
The latest offering is Pie Boy, tucked in an alley off Zhongxiao East Road. The small restaurant is an intimate affair, with Venetian red walls, black wood paneling, two four-seater tables and one two-seater table inside, and a two-seat table on the narrow deck outside. Paper cutouts of two tiki, Maori symbols, and a New Zealand fern leaf adorn the back wall.
David Bernhartt, who was born in the UK but grew up in New Zealand, opened Pie Boy on March 15 as an alternative to the ubiquitous burgers and pasta served in typical ersatz Western joints. The menu is reassuringly simple: steak and cheese (NT$95), chicken and vegetable (NT$90), mince beef (NT$90), vegetarian (mushroom, broccoli and cheese, NT$90) and breakfast pie (NT$90).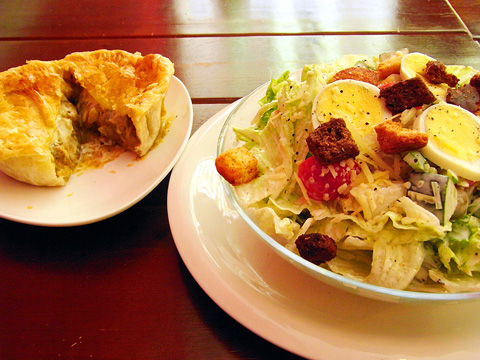 One can never have too many pies.
PHOTO: STEVE PRICE, TAIPEI TIMES
The pies' bases and sides are made of shortcrust pastry and flaky pastry is used for the tops, which provides a subtle combination of textures. Combos are available. But be warned: the steak and cheese pie and wedges (NT$135), which are hand cut and sprinkled with a piquant seasoning and served with either aioli or salsa, is a belly-busting meal deal.
Although a far cry from the purist's version, Pie Boy's Caesar salad (NT$100), which uses iceberg lettuce, three slices of boiled egg, green olives, cherry tomatoes, onion, croutons, green pepper, cucumber and grated Parmesan, is a meal in itself and can be ordered with a pie in a combo deal (add NT$70 to the pie's price for a salad and drink). Compared to Subway's vegetable salad, which costs NT$95 plus NT$10 for dressing, Pie Boy's salad comes out on top for value and taste, especially as the fast-food chain recently reduced the amount of processed cheese slices it uses.
The breakfast pie, essentially an omelet in a pastry shell, is a drier alternative to the gravy-filled versions and is, therefore, easier to cut into segments and transport. The vegetables used in the filling — green pepper, onion and tomato — are crunchy and contrast nicely with the velvety texture of the cooked egg.
To get there from the junction of Zhongxiao East and Fuxing South roads, walk westward along the north side of Zhongxiao East Road and turn right at the first traffic lights. Pie Boy is two blocks up the alley on the right. —STEVE PRICE
Publication Notes
Pie Boy
Address: 1, Alley 3, Ln 251, Zhongxiao E Rd Sec 3, Taipei City (台北市忠孝東路三段251巷3弄1號)
Average meal: NT$150
Telephone: (02) 2773-2881
Open: Monday 11 to 3pm; Tuesday through Friday 11am to 3pm and 5pm to 9:30pm; Saturday 11am to 9:30pm; Sunday 11am to 7pm
Details: English and Chinese menu
Comments will be moderated. Keep comments relevant to the article. Remarks containing abusive and obscene language, personal attacks of any kind or promotion will be removed and the user banned. Final decision will be at the discretion of the Taipei Times.