The Silk Road passes through Taipei
Omar Faruk Tekbilek fits the romantic vision of a musician one might encounter on the Silk Road.
The Turkish-born multi-instrumentalist has performed on six continents, worked with many accomplished musicians, and seeks to promote peace through music. Then there is his spiritual journey: at a young age he studied to be an imam in a mosque, later immersed himself in Sufi mysticism, and now practices yoga, tai chi and qigong.
Tonight audiences in Taipei have the chance to imagine a musical encounter on the Silk Road — the theme of this year's Taipei Traditional Arts Festival (2008台北市傳統藝術季), as Tekbilek appears with the Taipei Chinese Orchestra (台北市立國樂團).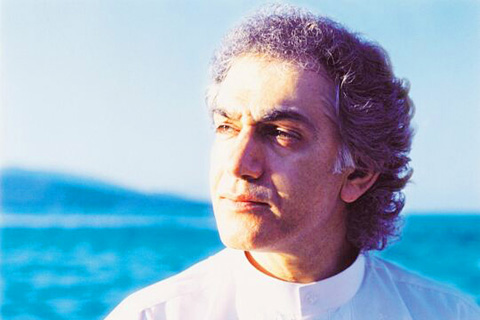 US-based Turkish multi-instrumentalist Omar Faruk Tekbilek performs tonight with the Taipei Chinese Orchestra.
PHOTO COURTESY OF TREE MUSIC
Tekbilek's sound derives from a blend of classical Turkish, Arabic and Greek influences found in his hometown, Adana, a city on southern Turkey's Mediterranean coast. He is considered a virtuoso on a number of instruments from the region: the zurna, a double reed instrument similar to the oboe; the oud, a Middle Eastern lute; the baglama, a long-necked lute; and the ney, a long bamboo flute.
For Tekbilek, "music is a prayer." It is also joy. He beamed throughout a small press conference in Taipei on Wednesday, speaking enthusiastically about working with the orchestra, musical technique and Sufism.
Tekbilek was studying to become an imam at age 8 when he picked up his first instrument, the kaval, a wooden flute found in southeastern Europe and Turkey. This lured him away from the mosque, and he started playing music professionally at age 12. After moving to Istanbul to work as a session musician as an adult, Tekbilek became interested in Sufism, a set of mystical beliefs and practices in Islam.
The Sufi concept of unity of mind and body plays an important role in Tekbilek's musical expression. "[A teacher taught me] when you play, you must have meaning, intention in your mind," he said.
As a player of several wind instruments, Tekblilek focuses on breathing technique. He recalls another lesson from his Sufi teacher in playing the ney. The teacher told him to blow into the flute until the last of his breath was gone. "When there's no breath left, you're connected with God." This concept led to Tekbilek's interest in yoga, tai chi, and qigong, which he practices daily and considers a part of his music training.
Now based in the US, Tekbilek has enjoyed success on the world music scene. He won the Golden Belly musician of the year award in 1998 and 1999 and was nominated for a BBC Middle Eastern music award in 2003. He was also named a UNESCO Artist for Peace in 2005.
Past collaborators include legendary Pakistani singer Nusrat Fateh Ali Khan, jazz trumpeter Don Cherry, and drummer Ginger Baker, one of the founding members of Cream.
Tonight Tekbilek will play percussion, the baglama, and the ney with the orchestra, whose 50 members play traditional Chinese instruments. Also joining the orchestra is the Iranian percussion ensemble the Chemirani Trio, which will play a new composition written by conductor Yiu-Kwong Chung (鍾耀光). Chung says he looks forward to tonight's concert, which will be in the "true spirit of Silk Road music."
Publication Notes
Performance notes
What: Colorful Whirling From Istanbul (來自伊斯坦堡的彩旋), with Omar Faruk Tekbilek, the Taipei Chinese Orchestra and Iranian percussion group Chemirani Trio, as part of the 2008 Taipei City Traditional Arts Festival (2008台北市傳統藝術季)
When: Tonight at 7:30pm
Where: Zhongshan Hall (中山堂), 98 Yenping S Rd, Taipei City (台北市延平南路98號); Ximen MRT Station (西門捷運站), exit No. 5
Tickets: NT$200 to NT$1,000, available through NTCH ticketing or at the venue
Comments will be moderated. Keep comments relevant to the article. Remarks containing abusive and obscene language, personal attacks of any kind or promotion will be removed and the user banned. Final decision will be at the discretion of the Taipei Times.