POP STOP
The Olympic torch landed in China last week and the glitterati were among the torchbearers. These included Andy Lau (劉德華), Kelly Chen (陳慧琳), Zhang Ziyi (章子怡), Jackie Chan (成龍) and Emil Chow (周華健).
The stars unanimously said it was a great honor to be part of an ancient ceremony that spreads the message of peace and love. (Actually, it's not an ancient ceremony. The torch relay was invented by the Nazis to promote their Aryan ideals at the 1936 Berlin Olympics.) But Jackie Chan and company have to know about China's bloody crackdown in Tibet and the demonstrations held by pro-Tibet and human rights activists across the globe.
To be fair, the damage these stars would suffer to their careers if they offended Beijing would be much greater than that faced by Steven Spielberg or Richard Gere. Still, Pop Stop thinks the stars can go overboard in their support for China's authoritarian regime. Anyone remember the movie Hero (英雄)?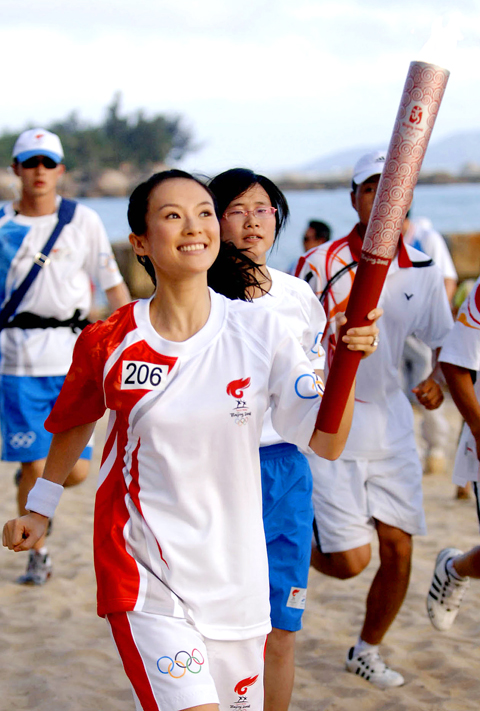 Zhang Ziyi did her patriotic duty last week.
PHOTO: TAIPEI TIMES
Also using China as a stage is former local pop diva Elva Hsiao (蕭亞軒), who is attempting to reenter showbusiness after signing with EMI last month in Beijing. Following the deal she did a commercial shoot in Shanghai that reportedly earned her more than NT$20 million. Rumors about the man-magnet's latest romance promptly did the rounds.
Reports surfaced last week that Hsiao was the guilty third party standing between top model-turned movie-star wannabee Lin Chih-ling (林志玲) and her sweetheart Scott Qiu (邱士楷), heir to the HCG corporation (和成集團), which sells toilets and other bathroom equipment. The reliable source was said to be a Chinese man named Li Jianjun (李建軍), who is reportedly blessed with supernatural powers. Qiu sought his advice on the menage a trois.
Meanwhile, Hsiao responded to eager press inquiries by saying: "the toilet I use at home is a TOTO, not an HCG." Lin's reply: "Well, my family and I use HCG toilets."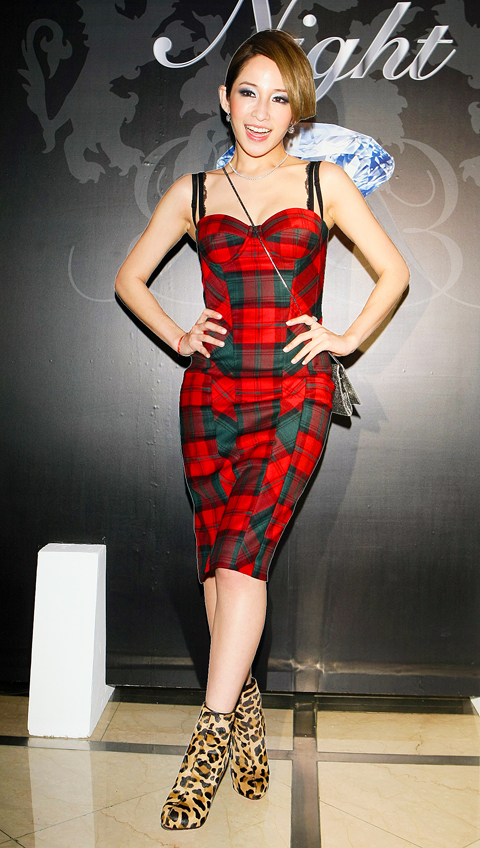 Elva Hsiao says she does not bow to the porcelain HCG.
PHOTO: TAIPEI TIMES
It's reassuring to know that Taiwan's top model is in fact a mere mortal and answers the call of nature like the rest of us.
Answering to a different call of nature, foppish plastic surgeon Li Jin-liang (李進良) has made up with his starlet wife Hu Ying-zhen (胡盈禎), also known as the daughter of entertainer Hu Gua (胡瓜). Readers will recall that local paparazzi caught Li visiting a hostess bar and love motel with a group of men and women last month that did not include Hu.
The honey-I-am-sorry gift was a pair of shoes that cost NT$3,480 and also conveniently doubled as a Mother's Day present. Apparently Li is able to get away with more and more as Hu's role morphs from girlfriend to wife to baby mama. In 2003, he dropped NT$20,000 on a Labrador retriever because he played away from home and in 2006 he bought a pricey Tiffany necklace to make up for spending a night with porn star Hinano Miduki (觀月雛乃). Now he just has to buy a lousy pair of shoes. In Pop Stop's view this would hardly suffice for saying sorry for not doing the laundry, let alone embarking on a sexual safari.
Comments will be moderated. Keep comments relevant to the article. Remarks containing abusive and obscene language, personal attacks of any kind or promotion will be removed and the user banned. Final decision will be at the discretion of the Taipei Times.