[ THE WEEKENDER ] Perseverance pays off for ESO's conductor
Gernot Schmalfuss is the most charismatic conductor now working in Taipei. On Thursday, he limped onstage with his foot in a hefty plaster cast — ironic, as his name in German means "narrow foot." He'd had an accident on his motorcycle, apparently. Musically it didn't matter an iota, though, and he conducted the Evergreen Symphony Orchestra (ESO, (長榮管絃樂團)) with humor, zeal and panache that were instantly infectious.
He was obliged to operate sitting on a high steel-and-plastic office-type chair. It had a spring somewhere inside it, and as a result he rose and fell with increasing dynamism as his enthusiasm for the music mounted. This was rarely less than total, however, so that when the time came for Khachaturian's ferocious Saber Dance, played as an encore, I more than half expected to see a gleeful Schmalfuss catapulted into the air, conducting the final bars from on high, meters above the orchestra.
Every time I hear the ESO my opinion of the orchestra goes up. It seems capable of anything, and a delicate clarity alternating with a sonorous crescendo is second nature to its members. The ESO is, apparently, the only orchestra wholly funded by a business corporation anywhere in the world, and if it is representative of what private enterprise can achieve, then the more we have of such things the better.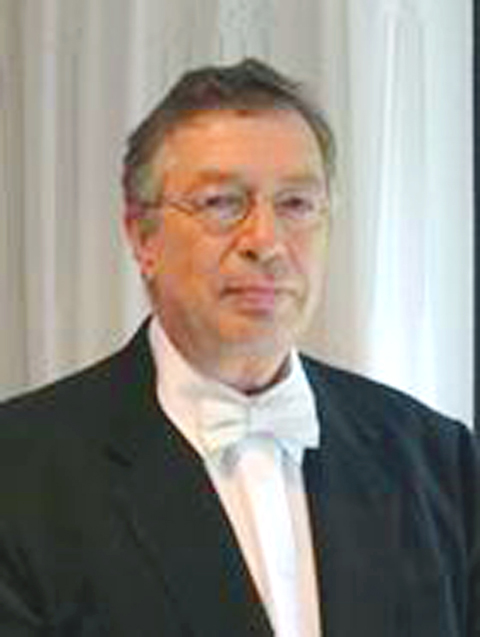 Conductor Gernot Schmalfuss didn't let a motorcycle accident get in the way of an enthusiastic performance on Thursday.
PHOTO: COURTESY OF ESO
The second reason why this was such a splendid night was that the guest violinist, China's Lu Siqing (呂思清), matched Schmalfuss in general charisma and stage presence. One of China's most celebrated classical mavericks, he behaved like a pop star, leaning backwards, shooting his bow skywards, and alternately assaulting and caressing his violin. Musically he was inspired, and even after he'd given three solo encores the audience had difficulty letting him go.
The Taipei Symphony Orchestra's (TSO, 台北市立交響樂團) concert the night before was most remarkable for the huge number of uniformed school children in the audience — maybe 30 percent of the total. It has always seemed to me that a concert given by a government-supported organization there should never have any empty seats. The taxpayer is funding it, after all, and if need be tickets should be given away free half an hour before the start. If Martin Fischer-Dieskau, whose first appearance in the TSO's current season this was, has any such plans, then he can count on my enthusiastic support.
No one was more surprised than me to discover that at the TSO's other appearance last week, on Friday in Da-an Forest Park, the act of Les Contes d'Hoffmann offered concerned the unsullied Antonia rather than the call-girl Giulietta. What had been advertised was the opera's third (and final) act. Offenbach placed the Giulietta act in third place, and though Antonia is often performed last, these days directors tend to revert to the original order. It didn't matter, and the famous barcarolle was played anyway, first as an opening duet, and then again over the loudspeakers as the medium-sized crowd was leaving. The soloists all gave good measure, with radio microphones rightly in use for this outdoor venue.
Comments will be moderated. Keep comments relevant to the article. Remarks containing abusive and obscene language, personal attacks of any kind or promotion will be removed and the user banned. Final decision will be at the discretion of the Taipei Times.