Like music to your ears
Nathan Davis, a drummer and DJ who performs tomorrow at the Nanhai Gallery (南海藝廊), was enjoying an experimental concert at last November's City on the Move Art Festival when he overheard the following discussion.
Guy: "I mean, what am I supposed to do with this?"
Girl: "You just have to kind of let go and don't think about it."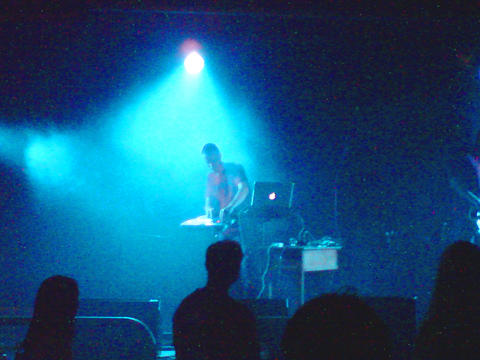 Nathan Davis uses a Roland hand sonic and laptop computer during a show with post-rock group To a God Unknown last year at the Wall.
PHOTO COURTESY OF JO HUANG
Guy: "Yeah, but I just don't get it."
Girl: "I don't think you're supposed to get it."
A lot of people have probably been having similar conversations recently in Taipei, home to a growing sound art community and festivals like City Fables, Weather in My Brain (腦天氣影音藝術季) and last weekend's TranSonic at the Guling Street Avant-Garde Theatre (牯嶺街小劇場).
The scene thrives to a large degree because of city and central government funding for the arts - not ticket or album sales. While some practitioners like electronica collective KbN (凱比鳥) and pop star-turned-DJ Lim Giong (林強) might make what the ordinary listener would call "music," there's a lot of stuff going on - such as putting microphones in water and sampling the sound lights make - that most people would just register as "noise."
"I guess it's like a lot of things," says Davis, who sat down for an interview Wednesday night at Salt Peanuts cafe in the Shida (師大) neighborhood, where he deejays on Friday nights. "You probably really like it or you really don't."
Tomorrow's show, called Meditations, could serve as a useful introduction for anyone who wants to learn more about sound art or experimental music. It's also a good excuse to get acquainted with the Nanhai Gallery, which hosts avant-garde performances in a cafe-like setting on Friday and Saturday nights. The gallery serves inexpensive coffee, tea and Heineken, and is a short walk from The Source bar.
Also at Nanhai tomorrow, Andre van Rensburg, a South African alternative musician-turned professional avant-garde composer, will play a live solo set with an acoustic guitar.
"Anything bizarre, mystical and out of the ordinary attracts me," Van Rensburg writes under the Influences section of his MySpace page. His music, he says, sounds like "John Zorn, Marc Ribot, Arvo Part, John Cage, David Lynch, Derek Bailey, Marcel Duchamp, Tom Waits, Nick Cave, Gorecki, Harry Partch, the world around you, ancient music, future music, industrial spaces … ."
Davis - who has also played with KbN and visiting musicians like Austin, Texas, world music group Atash - will do an acoustic set using a djembe hand drum and, possibly, a drum kit and/or some "random objects." He will improvise on the drums and run the beats through his Macbook Pro laptop computer. It's hard to describe exactly what this will sound like without using abstract words like "textural," "dynamic" and "Minimalist."
"I'm going to basically sample myself live," says Davis, who performs under the name (Sounds) In Transition. "Most people who didn't know what it was would probably use the word 'weird' to describe it."
So what is the uninitiated listener supposed to do?
"As lame and cliched as it sounds, I guess just experience this."
Nanhai Gallery is located near the CKS Memorial Hall MRT station. Leave from exit number 2, then walk west on Nanhai Road (南海路) past a Starbucks and a police station. Lane 19 will be on your right.
Publication Notes
Performance notes
What: Meditations, with Andre van Rensburg and (Sounds) In Transition Where: Nanhai Gallery (南海藝廊), 3, Ln 19, Chongqing S Rd Sec 2, Taipei City (台北市重慶南路二段19巷3號). Call (02) 2392-5080 or go to blog.roodo.com/nanhai for more information When: Tomorrow at 7pm Tickets: NT$200 tickets can be purchased at the door On the Net: (Sounds) In Transition, myspace.com/theatx; Andre van Rensburg, myspace.com/andrevanrensburg
Comments will be moderated. Keep comments relevant to the article. Remarks containing abusive and obscene language, personal attacks of any kind or promotion will be removed and the user banned. Final decision will be at the discretion of the Taipei Times.