Golden oldies take on a new luster
Kenneth Pai's classic dance hall story, 'The Last Night of Taipan Chin,' has been given the musical treatment
At around the time when the colored lights of Taipei's bustling Ximending District came on, the stairs of the Paris by Night nightclub resounded with the clatter of high heels as ten or so seriously fashionable young ladies, with Taipan Chin at their head, sauntered elegantly up to the second floor ... . " So begins Kenneth Pai's (白先勇) classic short story The Last Night of Taipan Chin (金大班的最後一夜), which tells the story of a young woman who survives, and too some extent finds success and respect, in the nightclub scene of wartime Shanghai and post-war Taipei. It was made into a popular film in 1986 and was subsequently adapted for the stage. The highly acclaimed Chinese production, which premiered in 2005, has wowed audiences around China and in Singapore, and will open in Taipei tonight.
The performance is an event on a whole range of levels. Unlike Chinese dramas that have come to Taipei in recent years, such as the Beijing People's Art Theater's (北京人民藝術劇院) performance of Lao She's (老舍) Tea House (茶館) in 2004 and Cao Yu's (曹禺) Thunderstorm (雷雨) in 2006, the story on which the play is based is by a Taiwanese writer and includes scenes set in Taipei. Moreover, the Ximending of the story is little different from that which local residents may remember of the area just 15 to 20 years ago, giving the whole story a greater immediacy and familiarity for local audiences. That these scenes are interpreted by a cast from the Shanghai Dramatic Arts Center (上海話劇藝術中心), adds piquancy to the theatrical experience.
The Last Night of Taipan Chin is part of the short story collection Taipei People (台北人, 1971) in which Pai grafted his strong classical Chinese literary sensibility onto a base of Western literary modernism to produce one of the great works of modern Chinese literature and a defining portrayal of the Chinese diaspora. (A Chinese-English bilingual edition was published by the Chinese University of Hong Kong in 2000.) With its emotional highs and lows as the protagonist battles circumstances and a string of men with only one thing on their mind, and its rollicking dialog rooted in the jitterbug social scene of Shanghai's nightclubs, this is one of Pai's most accessible creations.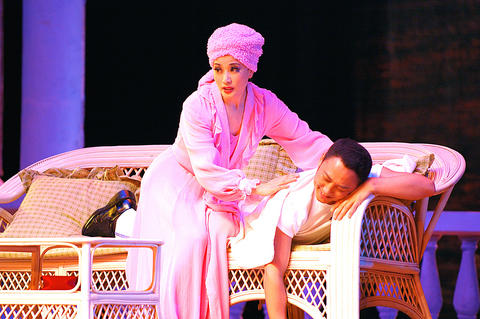 The decadent, dark and sometimes seedy goings on of the nightclub scene in wartime Shanghai and post-war Taipei is being brought back to life by the Shanghai Dramatic Arts Center and a leading lady whose own personal life has seen its fair share of high drama.
PHOTO: COURTESY OF NEW ASPECT
The story is ideally suited for adaptation into a musical since it is set in what might be described as China's Jazz Age, a period of fin de siecle decadence that pervaded Shanghai in the early years of World War II. Many golden oldies, now familiar to almost every Chinese person of a certain age, where first sung in the nightclubs which attracted a crowd of war profiteers, gangsters and sons of rich families. Over 30 of these songs have been incorporated into the musical, many to be sung by the star of the show, Liu Xiaoqing (劉曉慶), around whom the show has been built.
Liu is a superstar of the old school, having not only made her name for memorable roles on the silver screen, but has also made herself one of the richest women in China through her ventures in real estate, and is one of the most gossiped about people for both financial and romantic scandals. She saw the inside of a prison cell after being charged with tax evasion, but despite being one of the most watched women on the Chinese celebrity circuit, she manages to retain an almost impenetrable urbanity. During a live TV linkup with Taiwanese media last week, when asked whether her husband would be joining her in Taipei, she quipped: "Which one? ... You must define your terms," a response which ended that line of questioning.
Her media savvy, mercurial character and resilience in the face of adversity and condemnation have prompted comparisons between her and Taipan Chin. "I've never worked as a taxi dancer," she responded, "and while we've both had a number of romances in our lives, what woman hasn't?" The ability to balance a sharp tongue and an easy smile are something that she and her character certainly do share in common.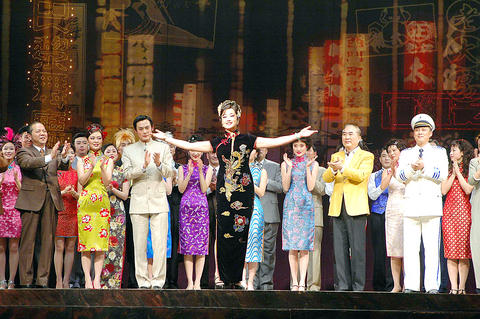 PHOTO: COURTESY OF NEW ASPECT
Liu, who prior to The Last Night of Taipan Chin worked mostly in cinema, has already made her mark with her stage debut. She commanded the stage for nearly the whole two-hour-plus show, during which time she acts, sings and performs a number of ballroom dance set pieces. This tour de force has somewhat overshadowed other members of the production team.
Xie Jin (謝晉), director and screenwriter for the celebrated film Hibiscus Town (芙蓉鎮, 1986), a bittersweet take on the Cultural Revolution, is artistic director for this production. Yu Chiuyu (余秋雨), the doyen of Chinese letters, has been brought in as the literary consultant, and Chen Gang (陳鋼), the composer of the hugely popular The Butterfly Lovers violin concerto (梁祝小提琴協奏曲), and whose father Chen Gexin (陳歌辛) composed a number of the golden oldies featured in the show, is behind the music. How effectively Liu can bring back the heady days when songs like When Will He Come Again? (何日君再來), In the Mood for Love (花樣年華) and Nighttime in Shanghai (夜上海) ruled the dance halls remains to be seen, but given the reviews from China and Singapore, Taiwanese audiences should be in for a treat.
Publication Notes
Performance notes:
What: The Last Night of Taipan Chin (金大班的最後一夜)
When: Today, tomorrow and Monday through Wednesday at 7:30pm and Sunday at 2:30pm
Where: National Sun Yat-sen Memorial Hall Auditorium (國父紀念館) at 505, Renai Rd Sec 4, Taipei City (台北市仁愛路四段505號)
Tickets: NT$1,200 to NT$4,000 seats are still available for most performances and are available through NTCH ticketing
Comments will be moderated. Keep comments relevant to the article. Remarks containing abusive and obscene language, personal attacks of any kind or promotion will be removed and the user banned. Final decision will be at the discretion of the Taipei Times.