[PLANET POP]
Italian film and opera director Franco Zeffirelli is offering his services to Pope Benedict as an image consultant, saying the German pontiff comes across as cold and needs to review his wardrobe.
Zeffirelli, acclaimed for movies such as Romeo and Juliet and Jesus of Nazareth, said in an interview with La Stampa daily on Saturday the 80-year-old pope did not have "a happy image."
"Coming after a media-savvy pope like John Paul II is a difficult task ... . Benedict XVI still communicates coldly, in a way that is not suited with what is happening around him," Zeffirelli said.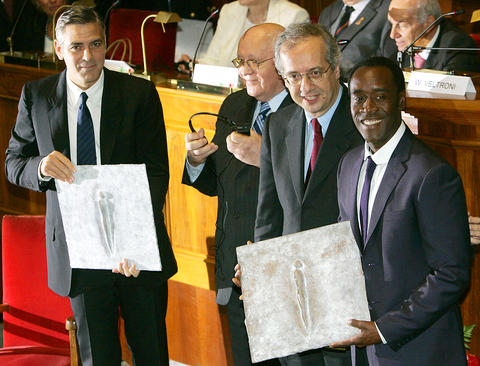 US actors Don Cheadle, right, and George Clooney, far right, are helping keep the Darfur crisis in the public eye.
PHOTO: AP
"It's an issue I have been discussing with people who have key roles in the Vatican," said Zeffirelli, who has directed some Vatican television events.
"The Pope does not smile much, but he is an intellectual. He has a very rigid Bavarian structure," he said.
Zeffirelli, 84, added that papal robes were "too sumptuous and flashy." "What is needed is the simplicity and sobriety seen in the other echelons of the Church," he said.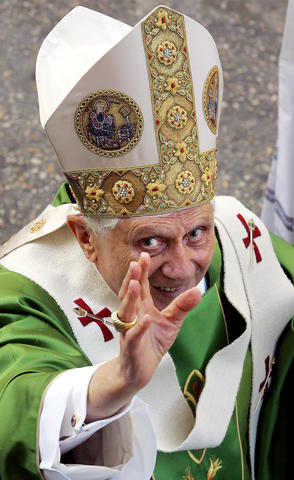 An Italian director says Pope Benedict, left, should ditch the fancy robes.
PHOTO: AP
"If they officially give me a supervisory role, I will do it full-time."
Also in Italy, George Clooney and Don Cheadle brought their Darfur campaign to Rome, where the Hollywood actors received a peace award for their efforts to raise awareness on the humanitarian crisis in the region.
"We do concerts, rallies, where thousands of people show up and say how terrible it is," Clooney told a news conference. "But the truth is not one single thing has changed. Now it's time to turn that corner." The actors have raised money and attention to stop a conflict that has claimed more than 200,000 lives and uprooted 2.5 million people since ethnic African rebels took up arms against Sudan's Arab-dominated government in 2003.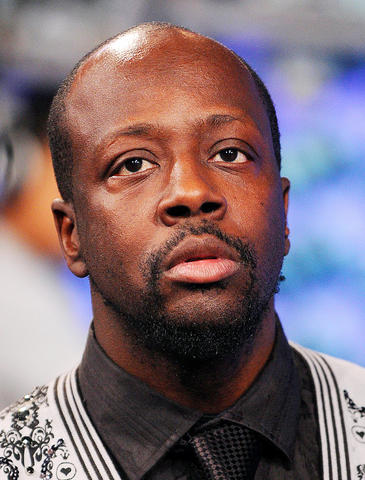 Haitian hip-hop star Wyclef Jean thinks his homeland gets a bad rap.
PHOTO: AP
On Thursday, they asked world leaders to provide helicopters for a joint UN-African union peacekeeping force scheduled to take over security in the Sudanese region later this month. UN Secretary-General Ban Ki-moon has appealed for the aircraft, which he said are critical to protect both military personnel and civilians.
"If we get 24 helicopters in there we can protect 4 million people," Clooney said. "If they are lucky enough to escape rape, torture, murder ... and survive malaria and AIDS and starvation, (they) should at least have the chance to live." The two - co-stars in the Ocean's installments - were presented with a bronze statue by Italian sculptor Oliviero Rainaldi. Organizers credited "their efforts to pacify the tormented region of Darfur and help save lives." The ceremony marked the opening of a yearly meeting of Nobel Peace Prize laureates organized at the city hall by a foundation headed by former Soviet leader Mikhail Gorbachev. The meeting gathered Gorbachev, the Dalai Lama and other Nobel winners.
He's played stone cold killers, sexy leading men and military heroes, but John Travolta figures his best role yet may just be the woman he portrays in movie musical Hairspray.
Travolta on Thursday earned a Golden Globe nomination for best supporting actor in a musical or comedy as the overweight but always cheery mother, Edna Turnblad, of the overweight but totally cheery teen daughter, Tracy Turnblad, in the movie.
"It took a lot of cashing-in of male ego to do this," Travolta said in an interview. "But I finally said, 'You know John, acting is what you do best. You have to trust being an actor and not have this thing with the male ego get in the way."
Film producers Craig Zadan and Neil Meron spent 14 months talking Travolta into wearing a fat suit and dresses to sing and dance the role. "They swore to me that if I committed and did it, it would be rewarding," the 53-year-old actor said.
If Travolta took some coaxing to get in touch with his feminine side, Wyclef Jean has leapt at the opportunity to help his motherland.
The Haitian hip-hop star is giving an open-air concert near Port-au-Prince's presidential palace Saturday, along with Senegalese-American singer Akon.
Named Haiti's goodwill ambassador by President Rene Preval, Jean is intent on changing his country's international image.
"Speaking of change, we need big foreign stars to come over and discover our country, see how beautiful it is and find out what's happening here," Jean told reporters after he and Akon arrived in the Caribbean nation, the poorest in the Americas, on Friday.
Comments will be moderated. Keep comments relevant to the article. Remarks containing abusive and obscene language, personal attacks of any kind or promotion will be removed and the user banned. Final decision will be at the discretion of the Taipei Times.