RESTAURANTS: Chi Kan Dan Dan Mian (赤崁擔仔麵)
Address: 180, Mingzu Rd Sec 2, Tainan City (台南市民族路二段180號)
Telephone: (06) 220-5336
Open: Weekdays from 11am to 2am; weekends from 11am to 3am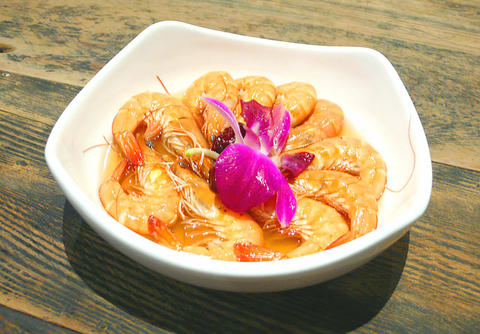 A raft of Tainan's specialties can be tasted in one visit to Chi Kan Dan Dan Mian.
PHOTO: HO YI, TAIPEI TIMES
Average meal: NT$350
Details: Menu in Chinese; credit cards accepted
On the Net: www.chikan.com.tw
Dubbed the country's ancient capital, Tainan prides itself on its past as a political, economical and cultural center. The city's rich history can be seen in its architecture and savored in its gastronomic traditions, which have given birth to many of the country's popular snacks.
Newcomer to the city's culinary scene, Chi Kan Dan Dan Mian (赤崁擔仔麵) gives traditional Tainan dishes a new level of sophistication and gloss that has caught the eyes of tourists and media as well as novelty-seeking locals.
Within walking distance of the city's famed ancient monuments, the Chihkan Tower (赤崁樓) and the Great Queen of Heaven Temple (大天后宮), the restaurant is housed in a 100-year-old building, which has been renovated, but retains an old-world aura, accentuated by antique furnishings.
The up-scale eatery offers a selection of Tainan's specialties as well as set menus for diners who wish to sample all the restaurant's signature dishes in one visit.
A local staple that goes well with other traditional snacks is dan zi mian (擔仔麵), a steaming bowl of noodles topped with shrimp and braised pork mince, served up in a pork bone and seafood soup.
The steamed milkfish fillets (NT$80), cold plate of shrimp marinated in Shaohsing wine (紹興酒) sauce (NT$150) and trotter stewed with soy sauce (NT$80) also come highly recommended.
Vegetable soup (古早味菜尾湯, NT$50) is another of the region's traditional dishes. Originally a hodgepodge of leftovers eaten in times of scarcity, the modern version is a nutritious pot containing over a dozen vegetables, seafood and fried pork skin.
Chi Kan Dan Dan Mian also offers a great variety of luwei (滷味), including dark brown tofu, duck head and chicken feet, which are ubiquitous across the nation's night markets.
We ordered a set menu of 11 dishes and desserts: Our eyes proved bigger than our bellies. The food was prepared well, though it didn't leave as lasting an impression as expected.
The bottomless, complimentary xiancao tea (仙草茶), which quenched our thirst better than any bought beverage, stood out.
The final verdict: Chi Kan Dan Dan Mian is an agreeable stopover for visitors to enjoy the local vibe.
Comments will be moderated. Keep comments relevant to the article. Remarks containing abusive and obscene language, personal attacks of any kind or promotion will be removed and the user banned. Final decision will be at the discretion of the Taipei Times.