[BOOK REVIEW] Barry Martinson delivers sermons in Chinese, books in English
A Jesuit missionary writes about his experiences working with Aboriginal groups in Taiwan's mountains in a book that may be of interest to a select few
The history of Christian missionaries in Taiwan is intriguing. It's really unnecessary to say "Christian" because no other religion engages in proselytizing activity in quite the way Christians have done, and continue to do. And certainly "the conversion of the heathen" went hand in hand with trade throughout the colonial period. What is interesting about the Taiwan experience, however, is that it was the Aboriginals who bore the brunt of the Christianization effort. To this day almost all of Taiwan's half a million Aboriginal people remain Christians of one denomination or another.
Missionaries' focus on the indigenous population may have been because the religious beliefs of the Chinese were hard to dislodge, or simply because in the 17th century there weren't many Chinese to convert. Or perhaps the Dutch and other Europeans wanted to use the Aboriginals as allies against other elements of the population.
Barry Martinson has been working in Taiwan for something like 35 years. A native of California, he trained for the Jesuit priesthood and then, in the summer of 1976, offered himself to the Father Provincial (local Jesuit supremo) in Taipei for a posting. He was sent to the mountain village of Chingchuan (清泉), near the town of Chutung (竹東) and an hour and a half's drive south of Hsinchu City (新竹市). Chingchuan Story is the record of his first six years on that assignment. It appeared 25 years ago in Chinese, but has only this month been released in English.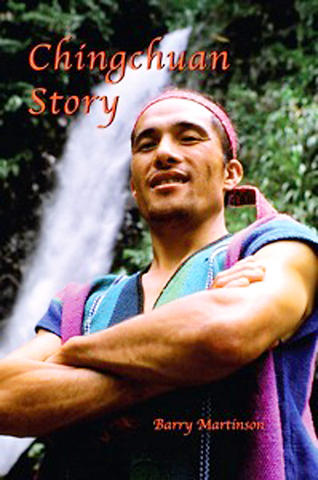 BOOK REVIEW: CHINGCHUAN STORY Publication Notes: By Barry Martinson 195 pages Tau Books
The book tells, in a sequence of vignettes, how Martinson ministered to his Tayal Aboriginal village, strumming his guitar and singing cowboy songs even as they moved in to catch and eat three of his pet dogs. There was the rhythm of the soil in their deep-souled faces, he writes, but many nevertheless had to move to Hsinchu to work in plastics factories, often with terrible effects on their health.
As "Father Ting" he conducts a marriage ceremony for a reluctant 14-year-old girl, watches carefree children turn into troubled teenagers, wins a bar of soap for running a marathon with the "best spirit," dresses a burly youth in white with cardboard wings as the angel Gabriel in a Christmas play and encourages pride in Aboriginal roots by having the villagers enact Tayal creation myths.
Meanwhile, he delivers sermons in Chinese as the white blossoms of the tung you tree fall like snow on the roads, feels at one with his parishioners as he joins in their dances and tells stories about encounters with snakes ("wily serpents" to this Bible reader).
In one admirable exploit he goes to Hsinchu and sets up a "tribal club" for the displaced factory workers. He finds Amis from Hualien doing woodwork, Bunum and Puyuma from the Taroko Gorge area laboring on light electronics, Tsou from Alishan making glassware, Paiwan from Taitung engaged in metalwork and Yami from Orchid Island doing overtime in a shoe factory.
It's when Martinson is forced to get serious that you feel there's something more that might be said. "The fir-clad hills surrounding the village have seen it all," he writes. "They have heard the cries of the young ones, watched them grow and mature. They have seen the tears of the old, felt their joys and sorrows. And they have welcomed them all, in oneness and in peace, to their earthly womb beneath the trees."
It's always impressive to read about someone giving his life to the service of others, but when sadness is refused and replaced by nature mysticism, with Catholic doctrine (rarely made explicit) somewhere in the background, you wonder exactly where, kindness apart, the author's final center of seriousness lies.
This is an unassuming book of strictly local interest. There are three categories of reader who might be interested in it - unskeptical Catholics, those studying Taiwanese minorities in the 1970s and teachers looking for a not-too-challenging text for their younger charges. Most others, I suspect, will find themselves asking questions that are never answered (such as why Father Martinson embraced Christianity in the first place).
Reading this book, it's impossible not to be reminded of another Catholic priest, Father Li in Peter Hessler's River Town (2001). When I reviewed Hessler's second book, Oracle Bones (Taipei Times, Oct. 14), I said it would become a classic. Now that I've read River Town, a description of teaching English in China's Sichuan Province in the 1990s, I see that it's even better, and indeed probably a classic already.
It's unfair to discuss Martinson alongside Hessler. Martinson's aims are good-natured and modest, whereas Hessler has high literary aspirations and writes for an international readership. Even so, there are depths of only partially-hidden feeling in Hessler's writing that I have to admit to looking for in vain in Chingchuan Story. Even death, for Martinson, characteristically brings a quick resort to prayer, and a confidence that all will be well in some other place. By contrast, Hessler tells the story of his grandfather who had briefly been a Benedictine monk, and had hoped to be sent to China but never made it. When he remembers him while saying goodbye to Father Li, he is so overcome with an inexpressible sadness that he can only hurry away.
There are no comparably revealing moments in Martinson's book, nor is there any reason why there should be. In fact, I'm mentioning River Town here largely to take the opportunity of saying that it's the most judicious, perspicacious and telling book about modern China I've ever read, and that anyone remotely interested in the region should get hold of a copy immediately. Whole swathes of it are pure gold, and as an understated but finally very moving narrative; it's hard to see how it could be improved on.
Comments will be moderated. Keep comments relevant to the article. Remarks containing abusive and obscene language, personal attacks of any kind or promotion will be removed and the user banned. Final decision will be at the discretion of the Taipei Times.