'Hell's Basement' Halloween party rocks Roxy Vibe
Despite competition from a myriad of other events, hundreds of people turned up to see a rare live music show at Vibe
The crowd at Roxy Vibe was dancing like it was 1999 on Saturday night, when one of Taipei's most notorious nightspots held only its second live music show in eight years.
Halloween, which this year falls on Wednesday, has grown into one of the biggest events in Taipei's nightlife scene, and there was plenty in the way of competition from dozens of other parties at clubs and bars across the city. But the show at Vibe, dubbed Live in Hell's Basement, managed to attract a raucous crowd of around 320 people, most of whom were wearing costumes, with more showing up after the live music was over to pack the dance floor until sunrise. There were vampires, nurses, devils and superheroes, but the man who drew the most applause to win the NT$3,000 costume competition was wearing street clothes.
"Recently nightlife in Taipei has been a bit down. There's not really the party crowd that there used to be. So it was just good to see a bunch of people out and there to stay and have fun. People were happy to hear something different," said Oliver Harley, aka Lion, who came on at 2am to spin reggae and dancehall as part of the O-Brothaz sound system.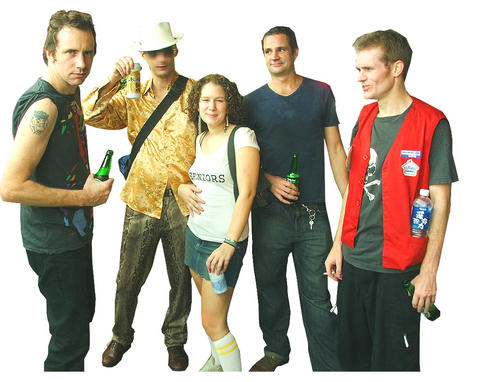 The Unrelentless, with fans, outside Vibe after their set on Saturday.
PHOTO: RON BROWNLOW,TAIPEI TIMES
Getting the evening started with a high-energy set was garage rock band The Unrelentless, in one of their last shows with guitarist Duncan Cameron. They started at 10:30pm and by the time they had finished more than 200 people had already entered the club, which usually doesn't get going until after 2am.
"The crowd was pretty good for that kind of night," said drummer Ryan O'Connell, who plays loud and had to barricade the drum kit with sandbags and fire extinguishers to keep it from moving on Vibe's tile floor. "It would be good to see regular gigs in there."
"I thought it was the best Halloween ever because the guy who wasn't dressed up won the costume award," said singer and guitarist Dave Archdall, who said his band is looking to play Driftwood on Dec. 8.
Next came neo-funk band Coach (教練), who play The Wall (這牆) on Wednesday with Cherry Bloom (櫻桃幫). They were suitably attired in pink and rainbow colored wigs and had the crowd rocking to what was the night's most lively set. It was a tough act to follow, but Public Radio, organizers of last night's party and the first live music show at Vibe's current location last Valentine's Day, generated an equally enthusiastic response from the crowd, even though one of their amps had broken and the band had to run one of its guitars through Vibe's PA system.
"I think generally people are kind of scared of Vibe. It's a frightening place," said lead singer Moshe Foster. "But it's a nice venue. It holds 300 people really well without feeling full. They're just really equipped to deal with a crowd that size." And, he added, "It's nice to have something like this. There was Halloween Massive at the [World Trade Center], there was the Luxy party. Those were all fun parties, but that's a very different atmosphere than seeing live bands."
Public Radio played an extended set that lasted until 2am, their last with guitar player Nathan Javens. Then Lion, Young Blood and Fyah B of the O-Brothaz Sound system - two other members were spinning at Bliss - warmed things up with half an hour of classic roots before switching over to dancehall.
Saturday night was their last show as the O-Brothaz. They are changing their name to Black Rain International and revamping their business plan with an eye toward building up a top-notch sound system that can perform internationally. Black Rain's first show is scheduled for Nov. 24 at Plan B. "The crowd was in a good mood and they were ready to party," Lion said. "After our set we were gonna go home but we ended up staying outside just watching people in costumes."
Comments will be moderated. Keep comments relevant to the article. Remarks containing abusive and obscene language, personal attacks of any kind or promotion will be removed and the user banned. Final decision will be at the discretion of the Taipei Times.