[BOOK REVIEW]: Channeling Irvine Welsh in Chungli
'Teaching Inghelish in Taiwan,' a rambling, bizarre diatribe that is brave and unconventional, explores the country's 'dark worlds of confusion'
If there's one thing this book isn't about it's teaching English in Taiwan. David Barton is a young Canadian professor at the National Central University in Chungli (中壢), but until recently he also ran a combined bar and art-gallery, living above the premises. This bizarre self-communing diatribe owes considerably more to the bar than to the art gallery, or indeed to academia itself. It's a brawling, pornographic, scatological exercise in self-indulgent, learned, bohemian fantasy in a tradition that stretches from J.P. Donleavy's The Ginger Man to Irvine Welsh's Trainspotting. It's extraordinarily invigorating to find such a work emanating from contemporary Taiwan, and from Chungli at that.
Teaching Inghelish is also a postmodern text replete with ancient photos and photomontages, fact and fiction inter-spliced, in-jokes and spoof shamanisms. It's a surreal narrative containing the kind of tales people tell in bars, sentences flung like arrows at a target (some missing but a few, like "the toxic rhapsody of Taiwan," hitting the bull's eye), and a sequence of high-aspiring forays penned in various states of inspiration and self-confessed quasi-madness.
The book contains some hilarious, but often touching and sometimes beautiful, extracts culled from Barton's students' essays. What is so winning about him is that he loves these inspired transpositions of Chinese urban poetry, and doesn't want them corrected but instead treasured as a special form of the language to be held on a par with Jamaican, and to hell with TOEFL and "Business English."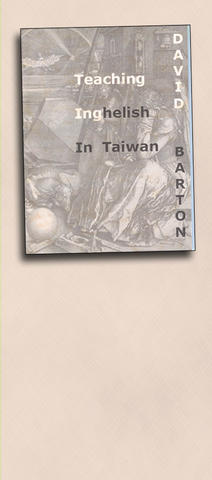 TEACHING INGHELISH IN TAIWAN By David Barton Bookman Books, Taiwan Softcover: Taiwan
Teaching Inghelish in Taiwan opens with one of these student essays quoted at length. It's like something from J.D. Salinger's The Catcher in the Rye. The writer, one of the "Strawberry Generation" - beautiful to look at but easily damaged if touched - is disappointed that at 18 he's still a virgin. Chungli is "the most cool place … full of rats and scum, just as I am," he writes. Initially I thought it was a pity the whole book didn't carry on in this vein. But Barton has other cards up his sleeve, and I wasn't disappointed. Indeed, some of the book took me onto a level where comedy and wonder mixed. It's hard to say whether it's better to read it while drunk or otherwise inspired, or simply to let it take you up to the heights on its own, often vigorous, wings.
The main part of the text alternates between the imaginary memoirs of Barton's European ancestors adrift in the South Pacific in 1902, and two modern Taiwanese trying to retrieve their badminton "bird" from a neighbor's backyard. The first includes attempting to copulate with goats, finding "a plateau of hallucination unknown to non-Oceanians" and pondering (in Buenos Aires) on "the compatibility of cocaine and the European nostril." But despite the greater comic potential of these ancestors, it's the thoughts about contemporary Taiwan that prove in the last analysis the most memorable.
There are dissertations on the color yellow, then on gold, then on Taiwan's "pollution for profit system." Taiwan is seen by turns as absurd, over-blown, over-polluted and over-rich, too profitable to leave and its women far too attractive to ignore.
There's a page written in mirror-writing, reminiscent of Laurence Sterne's squiggles across the page in Tristram Shandy back in 1759, and there are many Sterne-like digressions, as perhaps is only to be expected from such a work, and which maybe even characterize the genre. This one's most wearying is a protracted tale of a man changing into an orangutan, modulating into a celebration of a cannibal feast - the result, perhaps, of a single long session at the keyboard added to beef up the word-count.
Few writers, though, fail to have recourse to this ruse of packing in disparate material somewhere in the wilderness that often constitutes the middle of a book. Nothing is worse than writing something and then not seeing your labor put to profitable use.
The author also sees fit to include a summary of a lecture he apparently gave at McGill, arguing that 20th century literature was sick and its perpetrators should be exiled from civilized society, for which, he says, he was shortly afterwards "savaged by the administration" and fled to Taiwan.
Of course it's possible to take a very different view of this whole wild fantasy, to argue that intellectuality and pornography are two sides of the same worthless coin, and that this production partakes of both. It's true the book resorts to increasingly desperate measures as it progresses, and that the first half is much better than the second. But the heart of the matter is that this is a work of anarchic imagination, as were the very similar creations of Rabelais, and the author's courage in publishing it at all is an essential ingredient in any final judgment.
This book, then, is a wild, deliberately foul-mouthed assault on almost everything, including the author himself - "an uncontrollable laughable risk-taker riding to certain destruction" - and not least, both in its expressed opinions and in Barton's own outlandish practice, a peon of hatred aimed at "the baleful influence of the TOEFL corporation."
But it's also a brave book, hell-bent on destroying its own chances of finding a conventional publisher. It's best seen as a tribute to an historical phenomenon, the arrival here of large numbers of "addicts, drunks, mind-numbed e-ravers ... the Inghelish teachers of Taiwan," and an example of a writer seeking out his adopted home's "dark worlds of confusion." It's more than that, though, and the very fact that it's set in Taiwan at all is enough to excuse many, and perhaps all, of its shortcomings.
The book is available at Bookman Books, 2F, 88, Xinsheng S Rd Sec 3, Taipei (台北市新生南路三段88號2樓) and at the River Restaurant Art Gallery and Event, 18 Datong Rd, Chungli, Taoyuan County (桃園縣中壢市大同路18號).
Comments will be moderated. Keep comments relevant to the article. Remarks containing abusive and obscene language, personal attacks of any kind or promotion will be removed and the user banned. Final decision will be at the discretion of the Taipei Times.