Pop Stop
Minister of Education Tu Cheng-sheng (杜正勝) seems to have unwittingly educated Hong Kong's glitterati on personal hygiene and public etiquette. The Apple Daily earlier this week published images of Hong Kong diva and actress Coco Chiang (蔣怡) with her finger up her nose having a good rout at a shopping mall.
Pop Stop readers will recall Tu kicked up a stink when he was "caught" picking his nose and sleeping during a legislative session. Government Information Office (GIO) Minister Shieh Jhy-wey (謝志偉) later claimed Tu's nasal fingering was a protest to poor behavior in the legislature. Hmmm.
At least Chiang wasn't sleeping on the job.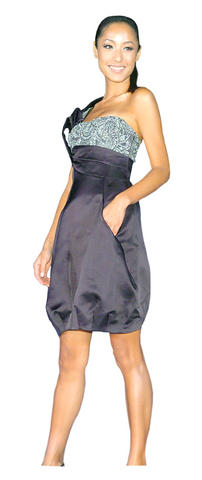 Coco Chiang has taken etiquette tips from all the wrong places.
In other Hong Kong showbiz news, Maggie Cheung (張曼玉) reportedly can't get enough of European men. The Cannes Film Festival award-winning actress, who was once married to French director Olivier Assayas, spent five days shacked up in a hotel with a German mystery man. Calling their relationship "love at first sight," the actress seems to have moved on from her other failed love affairs.
Meanwhile, at home, before Taiwanese bombshell Lin Chih-ling (林志玲) came along, there was Stephanie Hsiao (蕭薔). Once described as the prettiest "artist" - whatever that means - in Taiwan, Hsiao has struggled to get back on top of the celebrity pedestal, though she still has considerable drawing power for gossip hounds.
A Chinese blog last week showed images of Hsiao being "forced" to drink at a KTV in China. The shots momentarily shattered the philanthropic image that Hisao had cultivated with stunts such as selling 100 autographed pictures of herself to raise money for wigs to give to chemotherapy patients. The model maintained her good-girl image by telling the media that she couldn't have been forced to drink because children were present.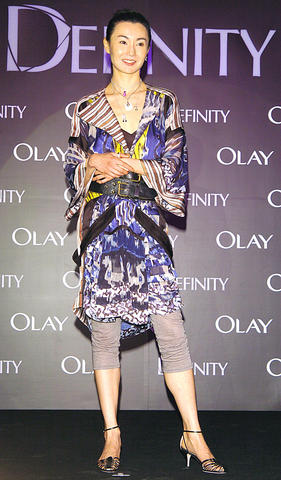 Maggie Cheung is living her movie Love at First Sight.
Suzanne Hsiao (蕭淑慎) is back on the celebrity circuit. Well, sort of. Having recently left a rehabilitation center after testing positive last year for ketamine and cocaine, which she claimed originated from augmentation surgery, the singer's attempted comeback - this time on the big screen - isn't making much headway.
Apple reports that Hsiao agreed to star in a movie in which she removed her clothes for a cool NT$800,000. At the time the straight-to-DVD director Wong Jing (王晶) said the shamed starlet's talent could make her Taiwan's next sex queen. Offers for more movies have dried up, however, as the burgeoning actress' bedroom performance has been likened to that of a dead fish (死魚).
Comments will be moderated. Keep comments relevant to the article. Remarks containing abusive and obscene language, personal attacks of any kind or promotion will be removed and the user banned. Final decision will be at the discretion of the Taipei Times.