Subversive visions remembered
During the martial law era, Kenbo Liao had a hard time getting hold of his own works - now the government uses them to argue its case for UN admission
In 1990 Kenbo Liao (廖褚健) saw a magazine article that mentioned his film The Great Ivory Wall (象牙牆), an animated short that won a Golden Harvest (金穗獎) award. He noticed that the second character in his name been changed to zuo (左), which means "left" or "lefty." Thinking there had been a mistake, he went to the Chinese Taipei Film Archive (國家電影資料館) and asked to see the movie. A woman at the counter told him they didn't have it; the reel had been destroyed in a fire. "She said I could see any other movie but that one," Liao told the Taipei Times on Thursday. "Somebody must hate me very much in order to bury me alive!"
Kenbo Liao's Life Works, Visions, Fantasies or Prophecies? - a retrospective that runs through Oct. 27 at Beat Studio - is a reminder of how much things have changed since then. When Liao produced The Great Ivory Wall, which features two cavemen who fight over boundaries and build a massive wall from mastodon tusks, Taiwan was still under martial law, and his cartoon was considered groundbreaking because it mixed politics with art. Another short, Sketch Book (畫冊), was produced on a Commodore Amiga computer and earned him a second Golden Harvest award because it was the only digital submission that year.
Liao, a US-trained moviemaker and designer who also produces still images for postcards and advertisements, believes art can influence politics. One of his favorite prints, inspired by a vision he had after suffering a head injury in a car accident, shows a paper airplane flying over a primordial Taiwanese landscape. Also inspired by that vision is a weirdly prophetic print of a Japanese biplane dropping a bomb on New York's World Trade Center.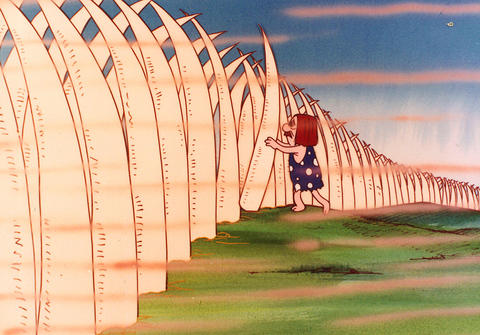 Stills from Kenbo Liao's The Great Ivory Wall.
PHOTOS: COURTESY OF KENBO LIAO
Visitors to the gallery can purchase reproductions of these and other once-subversive images on framed canvases and T-shirts. Liao will be present at the show's opening, which has been rescheduled for today because of last weekend's typhoon. Two of his films will be screened, and Hoklo poet Chen Chao-cheng (陳昭誠) will read several of his works.
Liao, 56, became less controversial after martial law was lifted. In the early 1990s he filmed Unknown Taiwan, an English-language documentary produced by now-Vice President Anette Lu (呂秀蓮), who used another of his images for presentations in Europe to support Taiwan's UN bid. The animator has yet to succeed in correcting his name in official records of his first Golden Harvest award. "The government is changing a lot of names now," he said. "I think they should change mine first."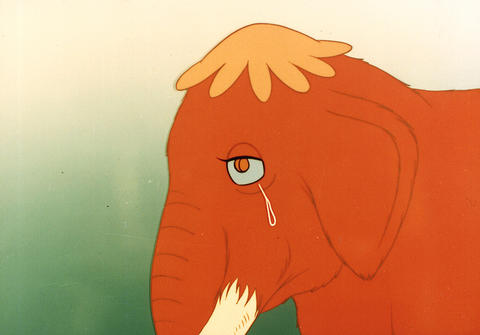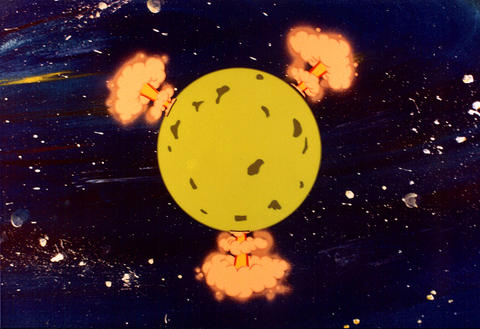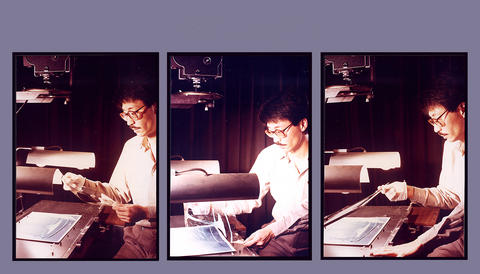 For film producer and printmaker Kenbo Liao, art and politics go hand in hand.
PHOTOS: COURTESY OF KENBO LIAO
Publication Notes
Retrospective Notes:
Where: Beat Studio is located at 4F, 14, Alley 2, Ln 359, Fujin St, Taipei (台北市富錦街359巷2弄14號4樓), north of Minsheng East Road (民生東路) and between Guangfu North Road (光復北路) and Xinzhong Street (新中街) When: Tonight's opening party runs from 7pm to midnight, and Liao's animated shorts Sketch Book and The Great Ivory Wall will be shown at 8pm and again at 10pm Tickets: Admission is free. To schedule a viewing after today call (02) 2765-9470
Comments will be moderated. Keep comments relevant to the article. Remarks containing abusive and obscene language, personal attacks of any kind or promotion will be removed and the user banned. Final decision will be at the discretion of the Taipei Times.