RESTAURANTS:Watami Japanese Casual Restaurant (和民居食屋)
Watami is like the Japanese version of Chili's or Macaroni Grill, two US chains which are also located in the Neo 19 building next to the Vieshow cinema complex in the Xinyi District. It doesn't serve the best Japanese food in Taipei; neither does it serve the worst. It's not the cheapest Japanese restaurant, and it's definitely not the most expensive. There's a bit of something for everyone, including a wide selection of drinks and deserts. And in true Japanese mass-consumer style, the restaurant seems to have five times as many items on the menu as its American counterparts.
The chain's Xinyi branch is a good place to go if you decide on a whim to see a movie at Vieshow and don't have time to make reservations. It stays open later than most sit-down restaurants in the area and seems to always have seats available. Since it offers around 90 different entrees, not including desserts, Watami is also good for large groups of people who can't decide what they want to eat. Prices range from NT$60 to NT$80 for small snacks, to NT$250 for a yakitori platter (綜合串燒) and NT$480 for a sashimi sampler (六品綜合刺身).
My favorite dishes here after two visits were the beef carpaccio salad (生烤牛肉沙拉, NT$160), thin slices of raw beef served with tangy vinaigrette dressing on a bed of lettuce, raw onions and bell peppers, and the okonomiyaki (和民風廣島燒,NT$160), which can be described as a kind of Japanese pancake or pizza that's topped with dried fish flakes. Raw fish is not one of Watami's strengths. I've ordered the sashimi twice and found it a tad less flavorful than what you can get at similar restaurants. The deserts, however, were more impressive. Both the strawberry cake and chocolate sundaes (NT$120) get high marks. In terms of drinks, Watami serves draft and bottled Asahi beer (NT$90 to NT$120) and mixes a good gin and tonic (NT$100). There are also lots of interesting looking cocktails with colorful names like To My Self and Pluplu (NT$100).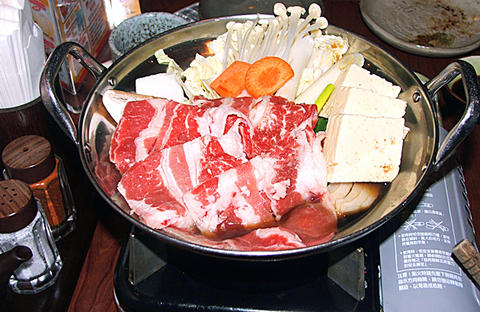 Watami is never short on variety.
PHOTO: RON BROWNLOW,TAIPEI TIMES
Red tones and wood partitions dominate Watami's decor. Much of the seating consists of groups of tables for two arranged inside mock Japanese-style rooms, which allows the restaurant to seat a large number of guests while still maintaining something of an intimate atmosphere. There is also an open area with cushioned benches that seat up to four persons, with red lanterns hanging above the aisles.
Other Watami locations in Taipei are at B1, 225, Dunhua S Rd Sec 1 (台北市敦化南路一段225號B1), across the street from Taipei Main Station on the second floor of the Caesar Park Hotel at 38, Zhongxiao W Rd Sec 1 (台北忠孝西路一段38號,凱撒大飯店二樓), in Ximending's Jun Plaza at 3F, 37 Emei St (台北市峨嵋街37號三樓) and in Shilin at 115, Zhongzheng Rd (台北市士林中正路115號). Business hours vary depending on the location. For more information, visit www.watami.com.tw.
- Ron Brownlow
Publication Notes
Restaurant review
Address: 2F, 22 Songshou Rd, Taipei (台北市松壽路22號2樓)
Telephone: (02) 2723-2623
Open: Weekdays from 11am to 1am; 11am to 2am on weekends and holidays
Average meal: NT$1,200 for two people excluding service charge
Details: Chinese and Japanese menu; credit cards accepted
Comments will be moderated. Keep comments relevant to the article. Remarks containing abusive and obscene language, personal attacks of any kind or promotion will be removed and the user banned. Final decision will be at the discretion of the Taipei Times.