Reel News
Ang Lee's (李安) new erotic spy thriller Lust, Caution (色,戒) is doing solid business in Malaysia, its distributor said this week, despite criticism by some viewers after 14 minutes of violent and sexual scenes were trimmed to placate government censors.
The Oscar-winning director supervised an edited version of Lust, Caution that was about 11 minutes shorter than the 157-minute version that is showing in the US, said Anna Ng, Malaysia's general manager for Buena Vista Columbia TriStar.
Malaysia's censorship board cut nearly 3 more minutes and rated the movie 18PL which bars viewers under 18.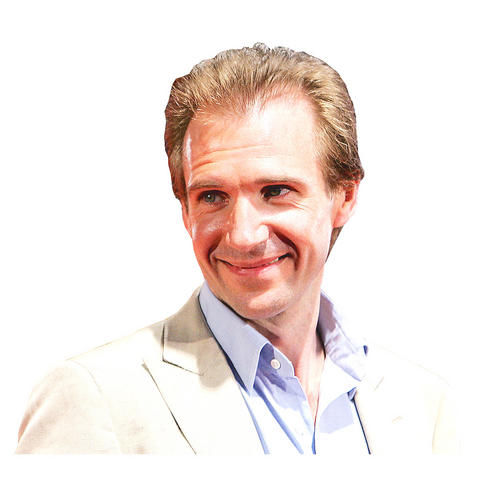 Ralph Fiennes will star in The Reader, which is filming in Germany
PHOTO: AFP
Lee "is aware of the censorship,'' Ng said.
"He understands the markets. He respects that different territories have different issues.''
Lust, Caution has grossed US$88,000 from 16 Malaysian screens in seven days, which means that more than 30,000 people have watched it," Ng said.
"It's respectable for this genre,'' Ng said. "We're happy with the response.'' Lee's previous movie, Brokeback Mountain, was not even shown in Malaysia because distributors believed its themes would not clear censors in this Muslim-majority nation.
Malaysian censors have long been strict about themes such as sex and religious or racial issues. But local film makers and audiences have criticized them for disrupting the flow of movies by excessively deleting scenes.
Some Malaysians who watched Lust, Caution expressed frustrations with the cuts.
"Guess none of us will be able to witness everything that's meant to be an integral part of the emotional arc of the characters,'' wrote blogger Edmund Yeo. "I saw many people at local Internet forums asking and praying for an uncensored version of the film for download.''
On the other side of the world, director Stephen Daldry was delighted with a run-down building on Landeskronstrasse, a street in the picturesque east German town of Goerlitz, close to the border with Poland, which he plans to use for his next movie The Reader. The film is an adaptation of Berhard Schlink's best-selling novel of the same name.
Hollywood stars Nicole Kidman and Ralph Fiennes will head the cast in the story about a teenager who has an affair with a woman in her thirties who suddenly vanishes.
Although filming started this week, Kidman is not expected to make an appearance in Goerlitz until December.
When it comes to celebrity magazines, actress Jennifer Aniston is the top cover girl, according to a forbes.com ranking of top-selling faces. The former Friends star was followed by her ex-husband, actor Brad Pitt, the only man to appear in the top 10, who came in second. Actress Scarlett Johansson, Pitt's current partner Angelina Jolie, Reese Witherspoon and Katie Holmes rounded out the top six spots.
Romanian director Cristian Mungiu found international stardom when his second film won the top prize at Cannes this year, but he says reaching a wider audience is more important to him than the glory of awards. Mungiu's 4 months, 3 weeks and 2 days, which is showing at the New York Film Festival, is based on a true story of two students in communist Romania trying to arrange an abortion.
In other news Universal Studios is working on a fourth installment of its hit Fast and Furious series, known for their spectacular car chases, Hollywood Reporter said this week.
Actors Vin Diesel and Paul Walker, who starred in the first movie, are set to resume their roles in the latest film of the series, which has been panned by critics but has won a cult following among fans earning some US$600 million at the box office.
The screenplay for the 4th film is, so far, top secret, but it will be directed by Justin Lin, a 34-year-old Taiwanese-American filmmaker, the magazine reported.
Diesel and Walker both starred in the first Fast and Furious, and Walker appeared again in 2 Fast 2 Furious. The third film Fast and Furious: Tokyo Drift was directed by Lin.
Comments will be moderated. Keep comments relevant to the article. Remarks containing abusive and obscene language, personal attacks of any kind or promotion will be removed and the user banned. Final decision will be at the discretion of the Taipei Times.