Songs for the dude and prude in you
In The Unrelentless' Guilty Pleasure Blues, a man expresses love for a woman, then excuses himself for getting drunk the night before and receiving anal sex. You're my one and only treasure, he tells her, but I'm loving this guilty pleasure. There's no irony here, no metaphor, no hidden meaning. It's vulgar, depraved and absurd. That's the point.
Lyrics like this earned singer and guitarist Dave Archdall, 34, notoriety in Australia several years ago for alternative radio hit I Punch Your Arse (With the Fist of My Cock) with Melbourne band The Sailors, which he co-founded before doing a stint in Taiwan. Violent Masturbation Blues "is literally one of the worst albums ever to soil the Australian music scene and that, unfortunately, is entirely the point," lamented a reviewer in Time Off, Brisbane, though she conceded it "would actually be a pretty decent punk album if it were not for the ridiculous lengths The Sailors have gone to in order to be as offensive as possible."
Other reviewers recognized that the band was showing the absurdity of prejudices by subverting stereotypes. Violent Masturbation Blues generally got good reviews, especially in France, and the band toured Europe and the US. Several major labels expressed interest in signing them, then backed away after reading their lyrics. The Sailors eventually imploded, Archdall said, "in a wreck of drugs and acrimony." Last year he returned to Taipei and formed The Unrelentless with lead guitarist Duncan Cameron, formerly his band-mate in The Degenerators, and drummer Ryan O'Connell, also a member of Selling Us Everything.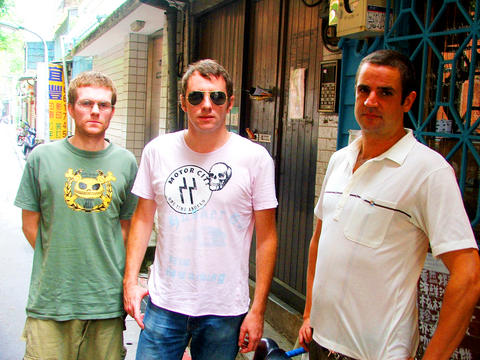 From left: Ryan O'Connell, Dave Archdall and Duncan Cameron leave little to the imagination.
Photo: Ron Brownlow, Taipei Times
O'Connell, 32, recounted the group's inception in a Shida-area cafe earlier this week: "I met Dave in Driftwood and he thought I was a complete cunt … . He eventually kept bugging me to come and play drums. I think I finally relented one drunk night in some dodgy bar [Vibe]."
"I charmed him with my robot dance," Archdall explained.
"And from there on it was love," Cameron, 35, said.
Less shambolic and over-the-top than The Degenerators or The Sailors, The Unrelentless nonetheless follow the same no-holds-barred tradition of rock 'n' roll as groups from the Dead Milkmen to Motor City 5, emphasizing direct, emotional expression over technical proficiency.
Cameron and Archdall use Fender Telecasters and overdrive pedals for a raw, simple guitar sound. With three-chord arrangements, O'Connell's driving, un-syncopated drums and Cameron's loud, discordant guitar solos, they sound at times like the New York Dolls or Velvet Underground. They have 10 original songs that for most part treat deranged sexual topics. Archdall's lyrics are absurd, not ironic. "If you take it as a satire on social norms and conventions you'll actually find it's quite funny and liberating," he said. "It's the little space I have to be a bad boy and get away with things I otherwise can't say."
As an example he listed Bring on the Asian Invasion (Ladies First). When he was growing up the "White Australia" immigration policy had ended but there was still widespread resistance to Asian immigration. "In the inner city ... you would sometimes see the slogan 'Stop the Asian Invasion' spray-painted on walls," he said in an e-mail. "I wrote a song called Bring on the Asian Invasion (Ladies First). Which doesn't really help matters at all really."
Then there's this tune on being in lust with an unstable woman: When I saw you baby I fell/ Right down deep into your well/ It was cold and I couldn't move/ But your walls were oh so soft and smooth/ I looked up for light, some kind of sign/ In your ocean I was treading time/ In these conditions my advance is slow/ You are Vietcong, I'm GI Joe.
Some of The Unrelentless' recent performances have disappointed because band-members drank too much and stayed out too late the night before. "Spring Scream (2007) was a debacle," Archdall said. "We were pretty hardcore at Spring Scream," O'Connell noted. Cameron, O'Connell and Archdall each said they would be in good form for tomorrow night's show. "We can promise the audience that we'll be in top shape," Archdall said. "No drinking Friday night," O'Connell said. "No," Archdall said.
Publication Notes
Performance notes
What: The Unrelentless play a 50-minute set tomorrow night at Bliss. Good Cop, Gay Cop, a cover band who play in a similar style, will open with a half-hour set
When: Bands take the stage tomorrow at 10pm
Where: 148 Xinyi Rd Sec 4, Taipei (台北市信義路四段148號). Call (02) 2702-4371 for more information
Admission: NT$150
On the Net: www.myspace.com/theunrelentlesstaiwan
Comments will be moderated. Keep comments relevant to the article. Remarks containing abusive and obscene language, personal attacks of any kind or promotion will be removed and the user banned. Final decision will be at the discretion of the Taipei Times.